»
Marvel et al.'s new paper on estimating climate sensitivity from observations


A guest post by Nic Lewis Introduction and summary Recently a new model-based paper on climate sensi ...

»
Reply to Patrick Brown's response to my article commenting on his Nature paper


Introduction I thank Patrick Brown for his detailed response (also here) to statistical issues that ...

»
Polar Bears, Inadequate data and Statistical Lipstick


A recent paper Internet Blogs, Polar Bears, and Climate-Change Denial by Proxy by JEFFREY A. HARVEY ...

»
Brown and Caldeira: A closer look shows global warming will not be greater than we thought


A guest post by Nic Lewis Introduction Last week a paper predicting greater than expected global war ...

»
US East Coast Sea Level Rise: An Adjustocene Hockey Stick


In 2011, Andy Revkin wrote an article (archive) entitled "Straight Talk on Rising Seas in a Wa ...

»
New Antarctic Temperature Reconstruction


Stenni et al (2017), Antarctic climate variability on regional and continental scales over the last ...

»
Reconciling Model-Observation Reconciliations


Two very different representations of consistency between models and observations are popularly circ ...

»
Part 2- The TV5 Monde Hack and APT28


In his attribution of the DNC hack, Dmitri Alperovitch, of Crowdstrike and the Atlantic Council, lin ...

»
From Nigerian Scams to DNC Hack Attribution – Part 1


In Crowdstrike's original announcement that "Russia" had hacked the DNC, Dmitri Al ...

»
Guccifer 2: From January to May, 2016


Within the small community conducting technical analysis of the DNC hack, there has been ongoing con ...

License Plate Frames
Support the Truth


"SKEPTIC"




"It`s Natural"




"Liberty"

* MORE *
Strong and durable metal license plate holder. Uses full color high resolution images. UV and Water Protection. Satisfaction Guaranteed

You can now visit us on your mobile phone! Simply goto http://GlobalWarmingHoax.com on your mobile phone or PDA to get started!
Deadliest Decade Ever For Tornadoes
Admin
, Wednesday 14 May 2008 - 04:15:46 //

comment: 40
//

// Font Size -
Increase
/
Decrease
/
Reset
We're sorry, you thought it was the current decade? Far from it. Even with the huge increases in U.S. population the deadliest decade was the 1930's, or possibly even earlier. Not only do the statistics show there were more deaths but there were more F3-F5 (strong) tornadoes as well.No Longer Supported
The top 10 deadliest years for tornadoes all occurred
before 1954
,
most of these years had below average temperatures
and were certainly before anthropogenic CO
2
would have had an affect on the atmosphere.
The ten deadliest documented tornado events
Rank
Date
Est. intensity*
State
Injuries (Deaths)
1
March 18, 1925
F5
MO, IL, IN
2027 (695)
2
May 6, 1840
Unkn.
LA, MS
109 (317)
3
May 27, 1896
F4
MO, IL
1000 (255)
4
April 5, 1936
F5
MS
700 (216)
5
April 6, 1936
F4
GA
1600 (203)
6
April 9, 1947
F5
TX, KS, OK
970 (181)
7
April 24, 1908
F4
LA, MS
770 (143)
8
June 12, 1899
F5
WI
200 (117)
9
June 8, 1953
F5
MI
844 (115)
10
May 11, 1953
F5
TX
597 (114)
10
May 18, 1902
Unk.
TX
230 (114)
* All events occurred prior to the implementation of the Fujita Scale, and intensities are estimated based on historical documentation.
The deadliest tornado decade since 1930 was the decade of the 1930's (other data indicates that the years 1850-1930 also experienced more strong tornadoes than what we're experiencing today). Tornado deaths have fallen every decade since 1930 up until the 1970's when they increased about 5% over the previous decade. The 1970's were also one of the
cooler decades
this century with below average temperatures and there isn't any clear correlation between strong tornadoes and climate temperature. Every decade after the 1970's have seen the number of tornado deaths fall. The number of deaths and the number of strong tornadoes before 1950 are probably very much under estimated due to the poor technology, more rural locations, and spotty reporting of the time period. The odds are very good that we've seen even more dramatic declines in both strong tornadoes and number of deaths over the past 150 years than what the numbers show.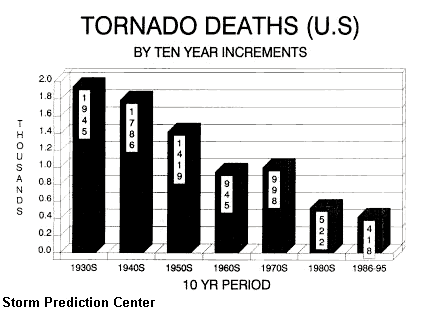 University of Nebraska-Lincoln High Plains Regional Climate Center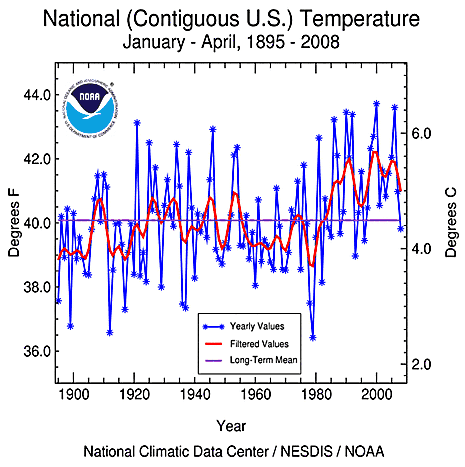 So what about news reports that show the number of recorded tornadoes nearing all time highs? This year there has been a high number of tornadoes, with 858 so far this year. A pretty interesting statistic seeing as according to NOAA
the U.S. has had below average temperatures
so far this year. The media blames increased tornadoes on "global warming" even when the temperatures are below normal. Something is wrong with that picture. The record number of reported total tornadoes in any given year was in the year 2002 when approximately 1600 were recorded. But this is the total number of tornadoes regardless of the size. Until very recently we didn't have doppler radar, storm chasers, and this many people spread out across America to report tornadoes. Some people in rural locations didn't even have phones to report them prior to the 1960's nor did they know who to report it to besides their neighbor or the local sheriff. It is also doubtful that farmers would have even reported tornadoes that didn't cause severe property damage or loss of life. The total number of tornadoes reported has gone up every year in large part because of better reporting. In the first half of the century tornadoes in the F3-F5 range were far more likely to have been reported than the smaller ones, but the number of large F3-F5 tornadoes is still far lower today than it has been in the past (see the graph below).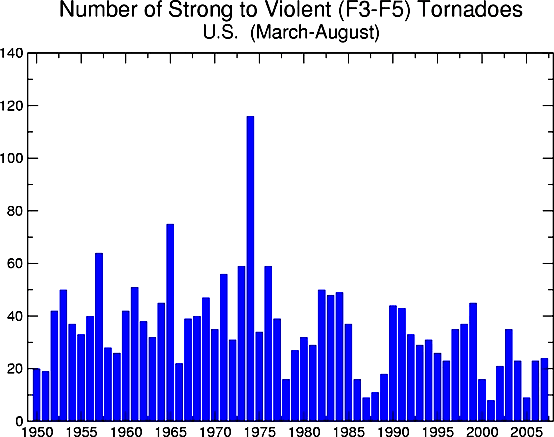 NOAA's National Climatic Data Center
"With increased national doppler radar coverage, increasing population, and greater attention to tornado reporting, there has been an increase in the number of tornado reports over the past several decades. This can create a misleading appearance of an increasing trend in tornado frequency." -- NOAA
Are non-tornadic storms getting worse?
Not only has there been a reduction in the number of strong tornadoes but there has also been a reduction in the number of strong storms and deaths from lightening. Lightening deaths are down dramatically, from a peak of about 430 in 1943 (a cooler than average year by the way) down to about 45 in 2003 (which was way above average temperature).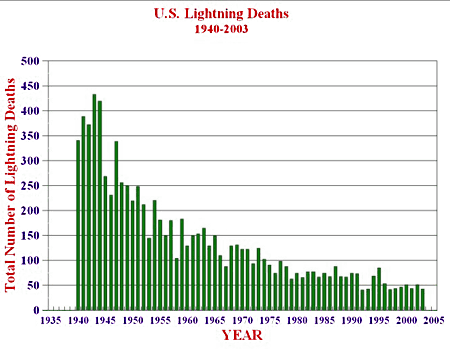 The same holds true for deaths from floods. There have been more deaths from floods in cooler years (e.g 1954, 1969, 1972) than from warm one's (1941-1942, 1999-2002)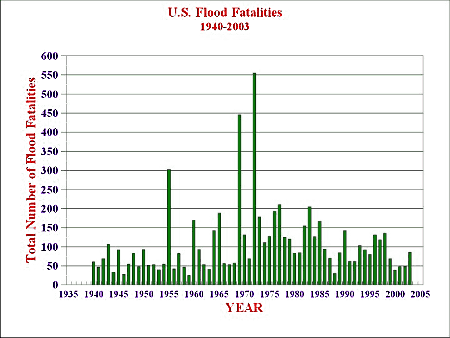 Are Hurricanes Getting Stronger Due to Global Warming?
The answer is No. Every year it seems the news is all a buzz about more and stronger hurricanes. There are even people blaming the recent Myanmar cyclone on global warming (which was a rather routine weather event and equivalent to a CAT3 hurricane). Hurricanes in the U.S. have not been increasing in either size or numbers. See the quote below "Warmer Ocean Could Reduce Number of Atlantic Hurricane Landfalls" from NOAA.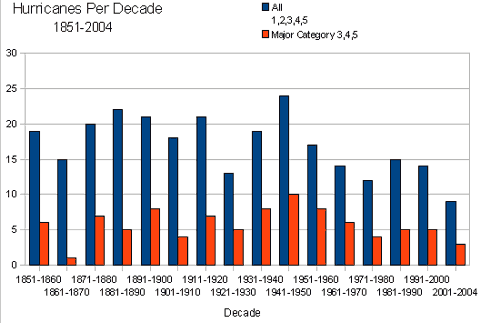 Graph produced by GlobalWarmingHoax.com with data from
NOAA
So the next time you're watching the news about the latest natural disaster being caused by "climate change" or "global warming" keep these statistics in mind. When Al Gore
calls the Myanmar Cyclone a 'Consequence' of Global Warming'
be properly disgusted and show people you know what a pompous idiot he really is to use tragedy in this way. He has also said that Hurricane Katrina was caused by global warming, There is no apparent connection between global warming and stronger storms, much less any one storm.
References:
Share or Bookmark this Article Using:
| furl

| reddit

| del.icio.us

| magnoliacom

| digg

| newsvine

| Stumble_it

| Facebook

| Google

| Fark

| Sphere

| Netscape
| Technorati

| Yahoo!

|
Add to Favorites and Additional Bookmarks:
GlobalWarmingHoax.com - Where the Truth Heats Up ™