»
2016 Will Likely See Record Global Warmth in Satellite Data


…but the approaching La Nina might extend the global warming pause to 20 years. Even though gl ...

»
If Skeptics can be Prosecuted for Fraud, So can Alarmists


I'm glad to see this news report today, and I've been saying the same thing ever since t ...

»
No, Spencer's Research Wasn't Funded by Peabody


My vacation this week was interrupted this morning by some hate e-mail…apparently, the recent ...

»
Another Potential Reason Why Climate Sensitivity is Over-Estimated


BACKGROUND It's been quite a while since I've discussed why the diagnosis of feedbacks i ...

»
UAH Global Temperature Update for May, 2016: +0.55 deg. C


NOTE: This is the fourteenth monthly update with our new Version 6.0 dataset. Differences versus the ...

»
UAH V6 Global Temperature Update for April, 2016: +0.71 deg. C


NOTE: This is the thirteenth monthly update with our new Version 6.0 dataset. Differences versus the ...

»
William Gray, Hurricane Researcher and Skeptic, Dead at 86


I just learned through Climate Depot and Tony Heller that Bill Gray has died. Bill was a pioneering ...

»
Why Gavin Schmidt's Temperature Plot Baseline Issue is Irrelevant


Ever since we started posting global temperature comparisons between models and observations there h ...

»
UPDATE: It Did Not Snow in Guadeloupe


On April Fools day (April 1), there was a report of snow on the tropical island of Guadeloupe on the ...

»
Crops at Risk: Will This Week Equal the $2 Billion Freeze of 2007?


Exactly 9 years ago this week, the eastern U.S. was plunged into below-freezing weather after an unu ...

Posted by Source
[quote]It's just the way I like it. Get over it No[more ...]
06/25 04:44

Posted by Anonymous
It's just the way I like it. Get over it No need t[more ...]
06/25 04:42

Posted by Anonymous
Really great post, Thank you for sharing this know[more ...]
06/15 01:46

Posted by Anonymous
You can use the Samsung Data Recovery software to[more ...]
05/26 03:46

Posted by Anonymous
You can get the help of Android Data Recovery, whi[more ...]
05/26 03:44

Posted by Anonymous
Android Data Recovery software will help recover d[more ...]
05/26 03:40

Posted by Ben Green
Hi, there. Do you guys know how to get back lost p[more ...]
05/23 01:33

Posted by Anonymous
Have you ever met the problem about losing your fi[more ...]
05/19 01:56

Posted by Anonymous
Android Data Recovery is a professional and user-f[more ...]
05/19 01:51

Posted by Anonymous
Android Data Recoverycan help you get out of these[more ...]
05/19 01:48

License Plate Frames
Support the Truth


"SKEPTIC"




"It`s Natural"




"Liberty"

* MORE *
Strong and durable metal license plate holder. Uses full color high resolution images. UV and Water Protection. Satisfaction Guaranteed

You can now visit us on your mobile phone! Simply goto http://GlobalWarmingHoax.com on your mobile phone or PDA to get started!
Proposed Climate Tampering Could Kill Millions
Admin
, Wednesday 05 March 2008 - 19:14:10 //

comment: 29
//

// Font Size -
Increase
/
Decrease
/
Reset
Some scientists are so convinced that man-made global warming is now unstoppable and harmful that they are proposing to artificially tamper with the atmosphere to "fix it". If we truly are heading in to a period of low solar activity (cooling), as NASA and many others have predicted, this god like action to slow "global warming" could kill millions from cold and starvation.No Longer Supported
We try to avoid fear mongering here and base our arguments on science. Historically science has generally been used to counter ignorance and prejudice, today science is often used to justify political correctness, to gain social acceptance or as a means to gaining power and wealth. When used incorrectly science can cause ignorance and prejudice. When science losses its built in skepticism it can be nearly impossible for the average person to know what to trust. We can find no better reason to fear the current politically tainted scientific community then the current push towards "geoengineering" to "fix" our climate.
As has been reported here in previous articles there have been several studies that say even if we cut CO2 emissions to zero the planet will continue to warm. The latest study claims we'll continue to warm for the next 500 years. No one believes we can cut our CO2 emissions to zero anytime soon and with reports like this one
"China's 2030 CO2 Emissions Could Equal the Entire World's Today"
it would hardly be worth other developed countries even trying. Not that we believe any of the malarkey about a planet doomed by CO2 but there are many on the left and some vocal scientists that do. This unfounded fear and the media's mass-hysteria is very dangerous. Cooling the planet at a time that we're heading in to a
Dalton or Maunder Minimum
level of solar activity could be disastrous!
OVERSEAS trips may become a once-in-lifetime experience and car travel needed to be cut by 80 per cent if we have any hope of avoiding "dangerous" climate change, experts say...."The car is doomed," Associate Professor DamonHonnery said. "Our calculations show that not even the best combination of fuel efficiency, hybrid and electric cars, alternative fuels and car pooling could provide the reductions needed to meet the 2050 targets for avoiding dangerous climatic change," he said. "Car travel 'cut by 80 per cent'"
An article by Science Daily titled
"Can We Offset Global Warming ByGeoengineering The Climate With Aerosols?"
suggests scientists are seriously considering releasing sulfate aerosols in to the stratosphere to scatter incoming solar energy before it is "trapped" in the lower atmosphere by greenhouse gases. This measure would increase "global dimming" and reduce the amount of light and solar energy that reaches the planet. A related proposal is to actually burn sulfur in the stratosphere and thus create a haze that would block sunlight. A known side effect of this method is an increase in acid rain. No one knows what other side effects may result from these two measures but some scientists are so convinced that global warming is going to doom the planet that they feel any action that helps reduce warming must be better than no action at all.
Ocean iron fertilization, also known as the "Geritol solution", involves seeding the oceans with iron to increase phytoplankton populations. The thought here is that the iron will encourage phytoplankton growth and the phytoplankton will suck up the CO2 as part of photosynthesis. This proposal is thought to be one of the least expensive methods of mitigating global warming. However it is fraught with danger and irony (hah, this is the is the first time I've seen the word irony being used ironically). For one thing no one is sure if the process is safe to the environment or if iron fertilization would even work on such a large scale. It is also possible that the additional phytoplankton growth would produce enough methane (also a greenhouse gas) to offset the CO2 absorption. Oh, theIRONy ? Environmentalists and some states actually sued the Environmental Protection Agency (EPA) to get CO2 classified as a pollutant. By encouraging phytoplankton growth to use CO2 for photosynthesis they are essentially admitting that CO2 its self is a necessary fertilizer for plant life. Plants flourish under increased CO2 levels. Our current atmospheric CO2 levels is about 380ppm, millions of years ago when plant and animal life was far more abundant and diverse than it is today CO2 levels were as high as 7,000 ppm! On the good news front one company that was about to begin testing of this method,
Planktos
has suspended operations saying "the company has been forced to indefinitely postpone its ocean fertilization efforts once intended to restore marine plant life and generate ecological offsets for the global carbon credit market". They complained of strong opposition from environmental groups such as the World Wildlife Fund, Greenpeace, Sea Shepherd Conservation Society, and others for their inability to obtain investment capital. But a company called
Climos just received $4 million in venture funding
to plow ahead.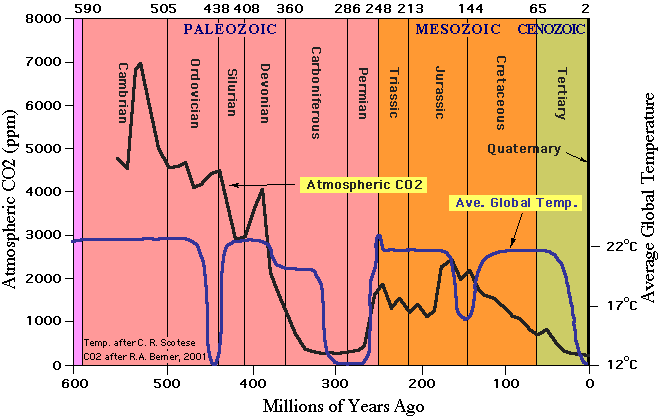 CO2 levels and temperatures are at historic lows
Other wacky ideas under consideration include
artificial trees
,
giant space mirrors
,
painting city buildings / roads white
, etc., etc. Some of these ideas are scarier than others as some are easy to undo. However the earth warms over time and once we spend a trillion dollars on a space mirror and cool the earth 5°C it will take time to rewarm the oceans, it will also be so embarrassing that it could take decades to convince politicians to scrap such an expensive system. Painting all buildings and roads white would take far longer to undo. Ocean fertilization has unknown consequences and could trigger a chain of events that could go on for decades.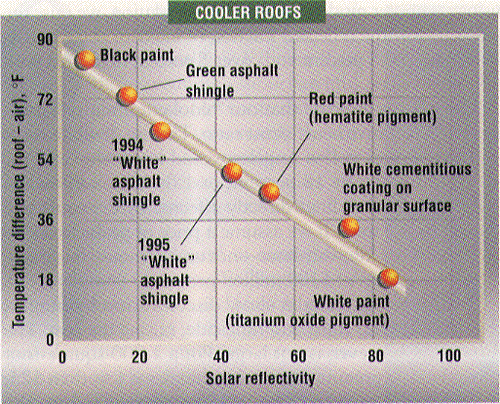 U.S. Department of Energy, Lawrence Berkeley National Laboratory.
Those on the left will always try to manage or nanny any perceived problem. Rather than letting nature work the way nature has worked for millions of years they will spend trillions to try to manage, or control, it like they do everything else. Social Engineering of people has been practiced by them for years, now "Geoengineering" of the planet is being proposed so that they can manage the climate and weather. Helping to drive all of this is the Carbon Credit market. Carbon Credits are basically blackmail money paid by corporations to "offset" their CO2 emissions by paying money to companies that claim to remove CO2 from the atmosphere. Companies currently do this for public relations, in the future they may be required by law.
Based on long established patterns of solar cycle activity NASA has already predicted that
"Solar Cycle 25 peaking around 2022 could be one of the weakest in centuries."
The global warming theory of CO2 caused warming has no history on its side, in fact proxy records (such as ice cores) show that warming has always proceeded CO2 releases by 800-1500 years. On the other hand solar cycle influence on climate has thousands of years of measured evidence and millions of years of proxy evidence to back it. As we've
previously reported
solar cycle activity closely matches periods of cooling and warming. Because modern tools for measuring the sun have only existed for a few short decades scientists have yet to pin point the exact solar mechanism that causes these warming and cooling cycles. Satellites, advanced telescopes, x-ray observations, etc. just weren't available during the Dalton Minimum, much less the Maunder Minimum. Some scientists believe that the reducedirradiance of a solar minimum could not cause the temperature variations that occur during a Maunder type minimum, or even the slight warming we've seen in the past 100 years. But just because scientists don't understand the mechanism doesn't mean that it isn't occurring. The historic proxy evidence is clear that when solar activity is low so are temperatures, the correlation was noticed over 200 years ago. The famous astronomer William Herschel first noticed the
anticorrelation between the price of wheat and the number of sunspots visible on the Sun
in 1801. Many others have noticed the correlation over the years as well.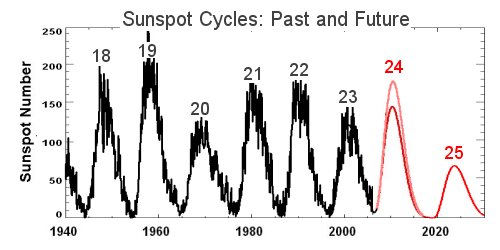 Above: In red,
NASA's David Hathaway's predictions
for the next two solar cycles and, in pink, Mausumi Dikpati's prediction for cycle 24. Solar Cycle 24 (SC24) is already starting off much weaker than Hathaway predicted and will probably end up cooler than SC23. This will likely have grave consequences for SC25 and produce even colder temperatures than predicted.
Let us all hope that politicians and scientists don't jump on the politically correct mass-hysteria bandwagon and "geoengineer" us in to a colder and more deadly future.
Additional References:
Share or Bookmark this Article Using:
| furl

| reddit

| del.icio.us

| magnoliacom

| digg

| newsvine

| Stumble_it

| Facebook

| Google

| Fark

| Sphere

| Netscape
| Technorati

| Yahoo!

|
Add to Favorites and Additional Bookmarks:
GlobalWarmingHoax.com - Where the Truth Heats Up ™
Threads: 2131 | Replies: 958 | Views: 6883399