Global Warming Hoax News From Around the WebWorld Climate Report
»
A Classic Tale of Global Warming Alarmism
»
More Evidence Against a Methane Time Bomb
»
Agriculture: Tropical Cyclones are Welcome Visitors
»
Sea Level Acceleration: Not so Fast
»
Hansen Is Wrong
»
Earth's Carbon Sink Still Strong and Growing
»
Wild Speculation on Climate and Polar Bears
»
Illiteracy at NASA
»
The Heat Was On—Before Urbanization and Greenhouse Gases
»
What's to Blame for the Rains on the Plains?
***
NewsBusters - Global Warming
»
CNN's Blitzer: 'I Don't Remember' Biden's Law School Plagiarism
»
CNN's Chetry: 'Please Tell Me It's Not Lipstick Again'
»
MRC Report Asks: Why No Fairness Doctrine for PBS?
***
Science and Public Policy Institute
»
Growth Rates of Old Versus Young Forest Trees
»
Water Use Efficiency of Agricultural Species
»
Tropical Trees
»
Global Temperatures and Biospheric Productivity
»
Rewriting Sunspot History
»
Analysis of the Second Order Draft of the Working I Contribution to IPCC 5AR
»
The Economics of Biofuels
»
The Warming-Induced Evolution of Terrestrial Plants
»
Medieval Warm Period in Southern Europe
»
Effects of Elevated C02 on the Stomatal Conductance of Agricultural Crops
»
Response of Various Marine Animals to Ocean Warming
»
Medieval Warm Period in Central Europe
»
Growth Response of Grassland Species to Elevated C02 When Water Stressed
»
Effects of Increased C02 on Herbaceous Plant Pests
»
Medieval Warm Period in Northern Europe
»
Loblolly Pines Defy the Progressive Nitrogen Hypothesis
»
Response of Crustaceans to Ocean Warming
»
Energy Inefficiencies of Biofuels
»
Response of Marine Plants to Changes in Temperature
»
Biofuels: The Carbon Debt They Owe
»
Medieval Warm Period in Japan
»
Response of Corals to Ocean Acidification
»
Interactive Effects of C02 and Water Stress on the Growth of Woody Plant Species
»
Biofuels: Land and Water Concerns
»
Medieval Warm Period in Upper North America
***
Climate Science: Roger Pielke Sr. Research Group
»
Roger Pielke Sr. is now on Twitter!
»
2012 Climate Science Weblog in Review by Dallas Jean Staley – A Guest Post
»
The Weblog Is Retiring
»
Publication Of "Reply to "Comment On 'Ocean Heat Content And Earth's Radiation Imbalance. II. Relation To Climate Shifts' " by Nuccitelli Et Al. By Douglass and Knox 2012
»
Q&A From A Group Of Retired NASA Personnel And Associates
»
The Importance of Land Use/Land Practices On Climate – A Perspective From Jon Foley
»
Interview With James Wynn In The English Department At Carnegie Mellon University
»
University Of Alabama At Huntsville October 2012 Lower Tropospheric Temperature Analysis
»
USA Election Day 2012
»
New Paper "Climatic Variability Over Time Scales Spanning Nine Orders of Magnitude: Connecting Milankovitch Cycles With Hurst–Kolmogorov Dynamics" By Markonis And Koutsoyiannis
***
»
Gavin Schmidt and the EPA Denial Decision
»
Millennial Quebec Tree Rings
»
Decomposing Paico
»
New Article on Igaliku
»
PAGES2K vs the Hanhijarvi Reconstruction
»
PAGES2K: More Upside Down?
»
Okshola: which way is up?
»
Revisions to Pages2K Arctic
»
Sliming by Stokes
»
ClimateBallers and the MM05 Simulations
***
Watts Up With That?
»
Changes in Total Solar Irradiance
»
Global boom in hydropower underway, more expected this decade
»
Study: Iceland's Bárðarbunga volcano sits on a massive magma hot spot
»
The bogus fuss over Walrus beach parties: Walrus Haulouts Are Nothing New
»
We're winning – National Public Radio guts its climate reporting team
»
LEGO advertises their Arctic Industry Collection – Payback for the Greenpeace "everything is awesome" smear?
»
Is NOAA Wrong?
»
Massive X class flare erupts from the sunspot 2192
»
Past Climate Change Was Caused by the Ocean, Not Just the Atmosphere, New Rutgers Study Finds
»
Friday Funny – You're a climate denier if:
»
New Study Predicts a Slight Cooling of North Atlantic Sea Surface Temperatures over the Next Decade
»
Europe commits economic suicide – agrees to massive emission cuts
***
Global Warming News
»
EPA's Clean Power Plan Targets for Virginia: Unlawful Six Ways
»
NRDC Left with Egg on Face as "Laughable" Lawsuit Proceeds against Proposed Clean Power Plan
»
Which Is the Bigger Threat to People in Developing Countries: Climate Change or Energy Poverty?
»
"Topsy-Turvy" Clean Power Plan Could "Substantially" Raise Electric Bills — Virginia State Corporate Commission
»
EPA's Clean Power Plan: Huge Electric Sector Impacts, Undetectably Small Climate Benefits — Study
»
The Divestment Movement's Heart of Darkness
»
EPA's Clean Power Plan: Strategy for One-Party Rule? (Updated 10-17-2014)
»
Will eBay Stand with ALEC?
»
Good News on Air Quality Not Featured on EPA's Web Site
»
How Unlawful Is EPA's Clean Power Plan?
***
Fox News - Climate Change Stories
***
Michelle Malkin - Enviro-Nitwits
»
Fanboy of scare monger Al Gore accuses conservative of scare mongering about Ebola
»
Of course: Guess what might be to blame for the first ever diagnosis of Ebola in US
»
Inconvenient weightlessness: Latest scare tactic highlights gravity of 'climate crisis' desperation
»
Obama fires up Air Force One, Marine One, huge motorcade to deliver climate change warning at UN
»
Wow, Al Gore has lost so much weight that he makes a Prius look like a Chevy Suburban SUV
***
DailyTech Michael Asher`s blog
»
Will the Real Antarctica Please Stand Up?
»
Global Warming May Decrease Hurricanes, Research Suggests
»
Japanese Report Disputes Human Cause for Global Warming
»
Sea Ice Ends Year at Same Level as 1979
»
A Funny Thing Happened on the Way to the (Climate) Forum
»
Climate Report Downgrades Ice Loss; Media Reports Opposite
»
Princeton Physicist Calls Global Warming Science "Mistaken"
»
Defying Predictions, Sea Level Rise Begins to Slow
»
Electric Car Sales in Freefall; Industry Risks Collapse
»
Glaciers in Norway Growing Again
***
C3 - Climate Cycles Change
»
What About Those New EU CO2 Reduction Goals? Per The Numbers, Global Temps Not Impacted
»
Per NASA/GISS: Global Warming Robustly Decelerates, Climate Change From CO2 Disappears
»
Those Stubborn Facts: By 2050, Global Sea Level Increases May Range From 1.8" To 3.2"
»
"Hottest" Year? If So, The World's Major Food Crops Are Simply Loving It, Per The USDA
»
The Renewable Ears Market Potential: Low Frequency Noise From Wind Turbines Potentially Harmful Long-Term
»
Climate headlines from other sources this past week...
»
Americans Vote: Climate Change & Global Warming Still Not Important
»
CO2's Impact On Global Temperature Trends: Minimal To Non-Existent, Per IPCC's Gold-Standard
»
Peer-Reviewed Study: Canadian Climate Warming - Not So Much, eh?
»
Climate headlines from other sources this past week...
»
Can The All-Electric Nissan Leaf Save The World From A 0.01 Degree Warming? Yep & It Would Only Cost $40+ Trillion
»
After 20 Years of Cumulative CO2 Growth, Global Warming Trend Creeps Towards +0.38°C by 2050AD
»
Memo To GOP: Cut Def. Budget Until Idiot AGW-Warriors Retired From Service
»
Climate headlines from other sources this past week...
»
U.S. Wildfires Inversely Correlated With CO2 - The More CO2 The Less Acres Burnt, Per Empirical Evidence
***
CATO - Global Warming
»
Consumers Win as WTO Condemns Protectionist Meat Labels
»
The German Economy Needs Reforms, Not More Spending
»
Supreme Court Shirks Responsibility in Avoiding Sixth Amendment Case
»
Bipartisan Corporate Welfare
»
In China, Law Isn't Winning
»
We Have No Idea if Universal Preschool Actually Helps Kids
»
Keep Your Eye on Swaziland
»
More Bad News for Airbnb
»
ABQ Doesn't Need Bus-Rapid Transit System
»
Living the Easy Life
»
Will The Real Government Crony Please Stand Up?
»
Washington Should Stop Squandering "Defense" Dollars on Rich Allies and Failed States
»
The Optimum Income Taxation
»
Obamacare Shunts My Patients into Medicaid
»
China's Challenge: Growing the Market, Limiting the State
»
Why Doctors Give Obamacare a Failing Grade
»
America Adrift
»
America's Fatal Blunder in the War against ISIS
»
Securing Individual Education of Students and Teachers Simultaneously
»
Budget Cuts and Ebola
»
In Big Government, Breaking Up Is Always Hard to Do
»
U.S. Now Reaping the Iraqi Whirlwind: Washington Should Back out of Iraq's New Civil War
»
Mike Pence's Approach to Taxes Earns an 'A'
»
Will India Destroy the WTO's Agricultural Reforms?
»
Why So Many Are Unemployed for So Long
***
CanadaFreePress - Global Warming
***
More Global Warming Hoax News Feeds

---
Since Exxon Hasn't Sent Us Our First Million Dollars Yet You're Welcome To Help Pay Our Bills Until They Do.










»
Sunspot 2192 Time Lapse Video


I missed Thursday's solar eclipse due to clouds, but here's a sunset time lapse video I ...

»
Green Meme Friday


In commemoration of green hypocrisy.

»
Our Initial Comments on the Abraham et al. Critique of the Spencer & Braswell 1D model


Our 1D forcing-feedback-mixing model published in January 2014 (and not paywalled, but also here) ad ...

»
Solar Eclipse Today and the Largest Sunspot in 18 Years


Just a reminder of the partial solar eclipse today, Thursday October 23, which will provide eastern ...

»
Why 2014 Won't Be the Warmest Year on Record


Much is being made of the "global" surface thermometer data, which three-quarters the wa ...

»
Ode to Misinterpretations of the Second Law


Inspired by a couple comments from my solar eclipse post. He said an object that was cold Could not ...

»
Solar Thursday USA: An Eclipse AND a Massive Sunspot Group


Residents of the eastern U.S. will be in a particularly good location to see a partial solar eclipse ...

»
Dr. Roy's Earth Today #12: Central Siberian Plateau


Lying mostly north of the Arctic Circle, the Central Siberian Plateau is enjoying sunshine today, bu ...

»
From Russia, With Cold


Winter has gotten an early start in Russia, with much of the expansive country already covered in sn ...

»
Gonzalo: 144 mph Gust Measured on Bermuda


As predicted, the eye of Hurricane Gonzalo passed directly over Bermuda last night. Most of the isla ...
»
Gavin Schmidt and the EPA Denial Decision


About eight weeks ago, Jean S postulated that Gavin Schmidt had been involved in writing the documen ...

»
Millennial Quebec Tree Rings


In today's post, I'm going to discuss an important new 1000-year chronology from norther ...

»
Decomposing Paico


In today's post, Jean S and I are going to show that the paico reconstruction, as implemented ...

»
New Article on Igaliku


Shortly after the publication of PAGES2K, I pointed out that the Igaliku lake sediment proxy, had be ...

»
PAGES2K vs the Hanhijarvi Reconstruction


The PAGES2K (2013) Arctic reconstruction of Kaufman et al has attracted considerable attention as a ...

»
PAGES2K: More Upside Down?


Does it matter whether proxies are used upside-down or not? Maybe not in Mann-world (where, in respo ...

»
Okshola: which way is up?


The recent revisions to PAGES2K included a dramatic flipping of the Hvitarvatn varve series to the o ...

»
Revisions to Pages2K Arctic


Kaufman and the PAGES2K Arctic2K group recently published a series of major corrections to their dat ...

»
Sliming by Stokes


Stokes' most recent post, entitled "What Steve McIntyre Won't Show You Now", ...

»
ClimateBallers and the MM05 Simulations


ClimateBallers are extremely suspicious of the MM05 simulation methodology, to say the least.  A rec ...

Posted by  The statement is a
  /  The other week, we saw the top player ranking[more ...]
10/01 02:26

Posted by Anonymous
Search AGWunveiled to discover the two drivers tha[more ...]
08/18 07:00

Posted by Anonymous
[ REQUIRES ADMIN APPROVAL ]
07/28 02:48

Posted by Anonymous
Yes
07/25 01:42

Posted by Joel Carlson
What do all the green plants on earth need to prod[more ...]
07/17 12:10

Posted by Anonymous
http://cpubuilds.com offers some insight into glob[more ...]
06/15 13:46

Posted by Anonymous
Global warming - this is old news for everyone! I [more ...]
02/27 12:28

Posted by Anonymous
Interesting blog about Global Warming in space. Th[more ...]
02/22 09:27

Posted by Anonymous
I want to thank you for this wonderful blog. And I[more ...]
02/22 08:21

Posted by Anonymous
Interesting blog about climate and global warming.[more ...]
02/22 08:18

License Plate Frames
Support the Truth


"SKEPTIC"




"It`s Natural"




"Liberty"

* MORE *
Strong and durable metal license plate holder. Uses full color high resolution images. UV and Water Protection. Satisfaction Guaranteed

You can now visit us on your mobile phone! Simply goto http://GlobalWarmingHoax.com on your mobile phone or PDA to get started!
Proposed Climate Tampering Could Kill Millions
Admin
, Wednesday 05 March 2008 - 19:14:10 //

comment: 29
//

// Font Size -
Increase
/
Decrease
/
Reset
Some scientists are so convinced that man-made global warming is now unstoppable and harmful that they are proposing to artificially tamper with the atmosphere to "fix it". If we truly are heading in to a period of low solar activity (cooling), as NASA and many others have predicted, this god like action to slow "global warming" could kill millions from cold and starvation.No Longer Supported
We try to avoid fear mongering here and base our arguments on science. Historically science has generally been used to counter ignorance and prejudice, today science is often used to justify political correctness, to gain social acceptance or as a means to gaining power and wealth. When used incorrectly science can cause ignorance and prejudice. When science losses its built in skepticism it can be nearly impossible for the average person to know what to trust. We can find no better reason to fear the current politically tainted scientific community then the current push towards "geoengineering" to "fix" our climate.
As has been reported here in previous articles there have been several studies that say even if we cut CO2 emissions to zero the planet will continue to warm. The latest study claims we'll continue to warm for the next 500 years. No one believes we can cut our CO2 emissions to zero anytime soon and with reports like this one
"China's 2030 CO2 Emissions Could Equal the Entire World's Today"
it would hardly be worth other developed countries even trying. Not that we believe any of the malarkey about a planet doomed by CO2 but there are many on the left and some vocal scientists that do. This unfounded fear and the media's mass-hysteria is very dangerous. Cooling the planet at a time that we're heading in to a
Dalton or Maunder Minimum
level of solar activity could be disastrous!
OVERSEAS trips may become a once-in-lifetime experience and car travel needed to be cut by 80 per cent if we have any hope of avoiding "dangerous" climate change, experts say...."The car is doomed," Associate Professor DamonHonnery said. "Our calculations show that not even the best combination of fuel efficiency, hybrid and electric cars, alternative fuels and car pooling could provide the reductions needed to meet the 2050 targets for avoiding dangerous climatic change," he said. "Car travel 'cut by 80 per cent'"
An article by Science Daily titled
"Can We Offset Global Warming ByGeoengineering The Climate With Aerosols?"
suggests scientists are seriously considering releasing sulfate aerosols in to the stratosphere to scatter incoming solar energy before it is "trapped" in the lower atmosphere by greenhouse gases. This measure would increase "global dimming" and reduce the amount of light and solar energy that reaches the planet. A related proposal is to actually burn sulfur in the stratosphere and thus create a haze that would block sunlight. A known side effect of this method is an increase in acid rain. No one knows what other side effects may result from these two measures but some scientists are so convinced that global warming is going to doom the planet that they feel any action that helps reduce warming must be better than no action at all.
Ocean iron fertilization, also known as the "Geritol solution", involves seeding the oceans with iron to increase phytoplankton populations. The thought here is that the iron will encourage phytoplankton growth and the phytoplankton will suck up the CO2 as part of photosynthesis. This proposal is thought to be one of the least expensive methods of mitigating global warming. However it is fraught with danger and irony (hah, this is the is the first time I've seen the word irony being used ironically). For one thing no one is sure if the process is safe to the environment or if iron fertilization would even work on such a large scale. It is also possible that the additional phytoplankton growth would produce enough methane (also a greenhouse gas) to offset the CO2 absorption. Oh, theIRONy ? Environmentalists and some states actually sued the Environmental Protection Agency (EPA) to get CO2 classified as a pollutant. By encouraging phytoplankton growth to use CO2 for photosynthesis they are essentially admitting that CO2 its self is a necessary fertilizer for plant life. Plants flourish under increased CO2 levels. Our current atmospheric CO2 levels is about 380ppm, millions of years ago when plant and animal life was far more abundant and diverse than it is today CO2 levels were as high as 7,000 ppm! On the good news front one company that was about to begin testing of this method,
Planktos
has suspended operations saying "the company has been forced to indefinitely postpone its ocean fertilization efforts once intended to restore marine plant life and generate ecological offsets for the global carbon credit market". They complained of strong opposition from environmental groups such as the World Wildlife Fund, Greenpeace, Sea Shepherd Conservation Society, and others for their inability to obtain investment capital. But a company called
Climos just received $4 million in venture funding
to plow ahead.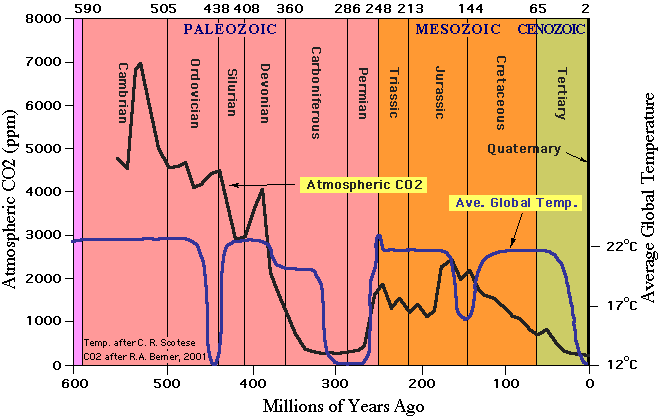 CO2 levels and temperatures are at historic lows
Other wacky ideas under consideration include
artificial trees
,
giant space mirrors
,
painting city buildings / roads white
, etc., etc. Some of these ideas are scarier than others as some are easy to undo. However the earth warms over time and once we spend a trillion dollars on a space mirror and cool the earth 5°C it will take time to rewarm the oceans, it will also be so embarrassing that it could take decades to convince politicians to scrap such an expensive system. Painting all buildings and roads white would take far longer to undo. Ocean fertilization has unknown consequences and could trigger a chain of events that could go on for decades.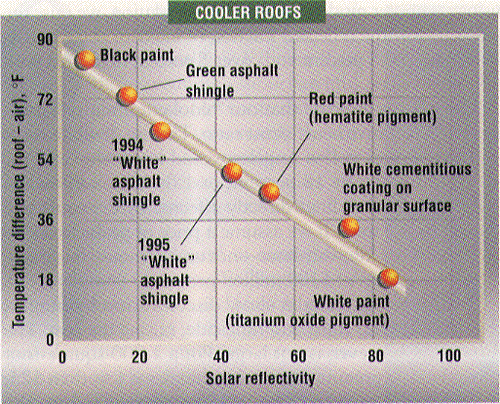 U.S. Department of Energy, Lawrence Berkeley National Laboratory.
Those on the left will always try to manage or nanny any perceived problem. Rather than letting nature work the way nature has worked for millions of years they will spend trillions to try to manage, or control, it like they do everything else. Social Engineering of people has been practiced by them for years, now "Geoengineering" of the planet is being proposed so that they can manage the climate and weather. Helping to drive all of this is the Carbon Credit market. Carbon Credits are basically blackmail money paid by corporations to "offset" their CO2 emissions by paying money to companies that claim to remove CO2 from the atmosphere. Companies currently do this for public relations, in the future they may be required by law.
Based on long established patterns of solar cycle activity NASA has already predicted that
"Solar Cycle 25 peaking around 2022 could be one of the weakest in centuries."
The global warming theory of CO2 caused warming has no history on its side, in fact proxy records (such as ice cores) show that warming has always proceeded CO2 releases by 800-1500 years. On the other hand solar cycle influence on climate has thousands of years of measured evidence and millions of years of proxy evidence to back it. As we've
previously reported
solar cycle activity closely matches periods of cooling and warming. Because modern tools for measuring the sun have only existed for a few short decades scientists have yet to pin point the exact solar mechanism that causes these warming and cooling cycles. Satellites, advanced telescopes, x-ray observations, etc. just weren't available during the Dalton Minimum, much less the Maunder Minimum. Some scientists believe that the reducedirradiance of a solar minimum could not cause the temperature variations that occur during a Maunder type minimum, or even the slight warming we've seen in the past 100 years. But just because scientists don't understand the mechanism doesn't mean that it isn't occurring. The historic proxy evidence is clear that when solar activity is low so are temperatures, the correlation was noticed over 200 years ago. The famous astronomer William Herschel first noticed the
anticorrelation between the price of wheat and the number of sunspots visible on the Sun
in 1801. Many others have noticed the correlation over the years as well.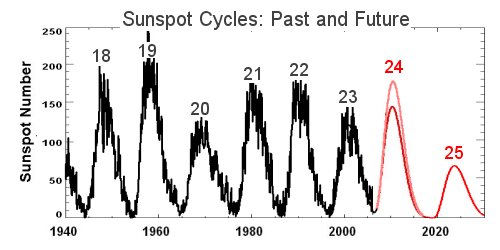 Above: In red,
NASA's David Hathaway's predictions
for the next two solar cycles and, in pink, Mausumi Dikpati's prediction for cycle 24. Solar Cycle 24 (SC24) is already starting off much weaker than Hathaway predicted and will probably end up cooler than SC23. This will likely have grave consequences for SC25 and produce even colder temperatures than predicted.
Let us all hope that politicians and scientists don't jump on the politically correct mass-hysteria bandwagon and "geoengineer" us in to a colder and more deadly future.
Additional References:
Share or Bookmark this Article Using:
| furl

| reddit

| del.icio.us

| magnoliacom

| digg

| newsvine

| Stumble_it

| Facebook

| Google

| Fark

| Sphere

| Netscape
| Technorati

| Yahoo!

|
Add to Favorites and Additional Bookmarks:
GlobalWarmingHoax.com - Where the Truth Heats Up ™
Threads: 2104 | Replies: 811 | Views: 4797684