Global Warming Hoax News From Around the WebWorld Climate Report
»
A Classic Tale of Global Warming Alarmism
»
More Evidence Against a Methane Time Bomb
»
Agriculture: Tropical Cyclones are Welcome Visitors
»
Sea Level Acceleration: Not so Fast
»
Hansen Is Wrong
»
Earth's Carbon Sink Still Strong and Growing
»
Wild Speculation on Climate and Polar Bears
»
Illiteracy at NASA
»
The Heat Was On—Before Urbanization and Greenhouse Gases
»
What's to Blame for the Rains on the Plains?
***
NewsBusters - Global Warming
»
AP Howler: Admin's Good Friday Timing of Latest Keystone Pipeline Delay a 'Surprise'
»
Al Gore: Climate Deniers 'Immoral, Unethical, and Despicable'
»
Column: Chicken Little 'Science'
»
NY Times Pushes 'Climate Change' Activism on Front Page Two Days in a Row, Blames GOP
»
Panicked NBC: 'World Must Act Now' to 'Avert Disaster' of Climate Change
»
CBS Touts Showtime's 'Groundbreaking,' 'Well-Done' New Series Hyping Climate Change
»
New Climate Alarmist Tack: Go Green for God
»
Thomas Friedman On Questioning Global Warming: 'That's Not Conservatism, That's Trotskyite Radicalism'
»
NBC Promotes Global Warming Special: 'Did Climate Change Just Hit Home?'
»
Univision Partners with Liberal UN Foundation on Climate Issues
»
NewsBusted: Al Gore, America's Original Weather Drone
»
Politico: Obama Wants 'Halo Effect' From Pope Francis, 'Whose Cool Factor Far Outweighs His Own'
»
17 News Companies Support FOIA Lawsuit Against Michael Mann
»
David Letterman Pushes Jimmy Carter To Agree That A 'Global Mandate' Is Needed 'To Do Anything About Climate Change'
»
For NYT Enviro Reporter Justin Gillis, It's Always 'Apocalypse Now'
»
Nets Uncritically Hype Dem 'All-Nighter' on Climate Change, Mocked Cruz's 'Long-Winded' Protest
»
NPR Station Conducts 'Scientific' Sea Level Rise Survey Via Bizarre Computer Voice Shoutouts
»
Scarborough Taunts Liberals Who Claim 'There's Been A Total Blackout On Climate Change'
»
Former Greenpeace Official to Senate Panel: 'No Scientific Proof' of Human-Caused Global Warming
»
CBS Predicts Climate Change Means the End of Snow: 'Winter Sports Could Be Doomed'
***
Science and Public Policy Institute
»
Can Plants Evolve Fast Enough to Cope with Increased Drought?
»
Health Promoting Effects of Elevated C02 on Common Food Plants
»
Response of Corals to Ocean Acidification
»
Effects of Ocean Acidification and Warming on Marine Echinoderms
»
Effects of Elevated C02 on Soil Carbon Sequestration
»
Biospheric Productivity in South America
»
Killing Wildlife in the Name of Climate Change
»
Natural Resource Adaptation: Protecting Resources and Economies
»
The Interaction of C02 and Non-Ozone Air Pollutants on Plant Growth
»
Global Cooling
»
The Final Final IPCC AR5 WGI Report
»
Rising Atmospheric C02 and Soil Erosion
»
The IPCC Admits Defeat
»
Medieval Warm Period in the Contiguous United States
»
Evolution in Natural Vegetation: The Role of C02
»
Lindzen Libeled
»
Health-Promoting Effects of Elevated C02 on Medical Plants
»
Effects of Increased C02 on Woody Plant Pests
»
The Scientific Method
»
Judith Curry's Statement to the Committee on Environment and Public Works of the US Senate
»
Risking Lives to Promote Climate Change Hype
»
Global Hurricane Trends
»
Water Use Efficiency of Trees
»
Game Over! The IPCC Quietly Concedes Defeat
»
Potential Inaccuracies of Assessing Temperature Trends
***
Climate Science: Roger Pielke Sr. Research Group
»
Roger Pielke Sr. is now on Twitter!
»
2012 Climate Science Weblog in Review by Dallas Jean Staley – A Guest Post
»
The Weblog Is Retiring
»
Publication Of "Reply to "Comment On 'Ocean Heat Content And Earth's Radiation Imbalance. II. Relation To Climate Shifts' " by Nuccitelli Et Al. By Douglass and Knox 2012
»
Q&A From A Group Of Retired NASA Personnel And Associates
»
The Importance of Land Use/Land Practices On Climate – A Perspective From Jon Foley
»
Interview With James Wynn In The English Department At Carnegie Mellon University
»
University Of Alabama At Huntsville October 2012 Lower Tropospheric Temperature Analysis
»
USA Election Day 2012
»
New Paper "Climatic Variability Over Time Scales Spanning Nine Orders of Magnitude: Connecting Milankovitch Cycles With Hurst–Kolmogorov Dynamics" By Markonis And Koutsoyiannis
***
»
Radiocarbon calibration and Bayesian inference
»
The "Ethics Application" for Lewandowsky's Fury
»
Frontiers Issues Statement on Lewandowsky
»
SH Proxies: Peru d18O
»
Neukom and Gergis Serve Cold Screened Spaghetti
»
UWA Vice Chancellor Johnson Refuses Data Again Again
»
UWA Vice-Chancellor Refuses Lewandowsky Data
»
Lewandowsky Ghost-wrote Conclusions of UWA Ethics Investigation into "Hoax"
»
Lewandowsky's Fury
»
Does "Inhomogeneous forcing and transient climate sensitivity" by Drew Shindell make sense?
***
Watts Up With That?
»
People and Data Cherry-Picked For the IPCC Political Agenda
»
Can we deduce climate sensitivity from temperature?
»
26 multi-kiloton nuclear sized explosions detected in Earth's atmosphere since 2001
»
Open thread – with an important question
»
My Friend Billy
»
Telling 'Noble Cause Lies' About Climate Change Will Backfire
»
Holdren Is Wrong – Cold Winters Are Not Getting More Common
»
Friday Funny – climate 'cliff notes'
»
The 2014/15 El Niño – Part 4 – Early Evolution – Comparison with Other Satellite-Era El Niños
»
Al Gore dupes 9000 people in Hawaii, insults the rest
»
When Greenland was green in warmer times
»
The Holdren 'cherry blossom vortex', Information Quality Act, and U.S. weather history
***
Global Warming News
»
Is EPA Panicking over Pending GHG Regulations for Coal-Fired Power Plants?
»
Keystone XL: Does Hatred Blind Peace Prize Winners?
»
NYT's Paul Krugman Whiffs on Renewables
»
The Top Six Reasons EPA's Carbon Pollution Standard Is Illegal
»
The Surefire Winner of 2014's "Silliest Energy Commentary" Award Is…
»
Judge Kavanaugh's Dissent in the EPA Mercury Rule Case: Will the Supreme Court Review EPA's $9.6 Billion Reg?
»
New CRS Report Puts the Lie to President's Oil and Gas Claims
»
CASAC: The Undemocratic Institution That Threatens the American Economy
»
MoJo Not Always Wrong on Energy
»
Breaking News: Ridiculous Utility MACT Upheld by D.C. Circuit Court [1:36 PM updated: Judge Kavanaugh's dissent hits it out of the park!]
***
Fox News - Climate Change Stories
***
Michelle Malkin - Enviro-Nitwits
»
For those longing for the days of Solyndra, DOE spending $4 billion to make it happen again
»
Latest hot trend for saving the planet: Propose throwing 'climate deniers' in prison
»
Inevitable: Maybe Malaysia Airlines flight 370 hasn't been found because of… global warming
»
Settled science: Global warming has raised ocean level so much Cory Booker can no longer drive to Hawaii
»
Senate Dems to spout hot air all night to save world from global warming
***
DailyTech Michael Asher`s blog
»
Will the Real Antarctica Please Stand Up?
»
Global Warming May Decrease Hurricanes, Research Suggests
»
Japanese Report Disputes Human Cause for Global Warming
»
Sea Ice Ends Year at Same Level as 1979
»
A Funny Thing Happened on the Way to the (Climate) Forum
»
Climate Report Downgrades Ice Loss; Media Reports Opposite
»
Princeton Physicist Calls Global Warming Science "Mistaken"
»
Defying Predictions, Sea Level Rise Begins to Slow
»
Electric Car Sales in Freefall; Industry Risks Collapse
»
Glaciers in Norway Growing Again
***
C3 - Climate Cycles Change
»
Those Stubborn Facts: 99.9% Proof That IPCC "Expert" Climate Models Are Hugely Wrong - The Science Is Indisputable
»
Newest Climate Research: Snow Extent Unaffected By Human CO2 Emissions, Contrary To IPCC "Expert" Predictions
»
IPCC Gold-Standard Confirms: CO2 No Longer Has Any Global Warming Impact On Month of February
»
Fundamental Lies of The UN's IPCC: "Food Production Harmed By CO2 & Warmer Temperatures"
»
International Team of Scientists Discredit "Scary" Sea Level Rise Myth: Possibly 2.1 Inch Increase By Year 2050
»
Climate Models: Documentation From NOAA Confirms Quackery of Computer Simulations
»
Those Stubborn Facts: Chinese Scientists Confirm That Medieval Period Warmer, That Solar Impact Is Huge
»
Climate FactCheck: Exactly How Much Did The Democrats' 'Cash-for-Clunkers' Reduce Global Warming?
»
A Reminder From NOAA: It's Now 17+ Years And Global Warming Trend Still AWOL In U.S.
»
Climate FactCheck: Plastic Bags & More Quack, Global Warming Anti-Science From Democrats
»
Climate FactCheck: The Quack Anti-Science of Democrats - Dimmer Than A 40-Watt Incandescent Bulb
»
Per NOAA: U.S. Climate Change Not So Much During The Massive CO2 Emission Increase of Modern Era
»
Climate Sensitivity: The Old "Consensus" Fails - Latest Research Provides New Answers
»
Satellites Confirm: Despite A Near Trillion Tonne Human CO2 Surge, Global Atmosphere Warming Goes AWOL
»
Climate "Experts" Growing List of Excuses For Global Warming 'Pause' & Official Climate Model Failures
***
CATO - Global Warming
»
Washington's Biggest Strategic Mistake
»
The Shocking Secret Behind Obamacare Enrollment Numbers
»
Tax Day
»
Fed Can Print Money, But It Can't Print Jobs
»
Ready to Join the International Community?
»
Speech on Public College Campuses Liberated in One State
»
Justice Stevens Is Right: Good or Bad, Death Penalty Is Constitutional
»
Abusive Civil Asset-Forfeiture Laws
»
Deputizing Everyone Isn't Producing Results against Terrorism, but Officials Keep Trying
»
Gujarat Is India's Top State in Economic Freedom
»
The NSA's Heartbleed Problem Is the Problem with the NSA
»
Ten Ways the Income Tax Harms Civil Liberties
»
Three Things You Don't Know about Money in Politics
»
Whistleblowers Need Protection
»
The Zombie Political Economy of Algeria
»
Obamacare For Lunch?
»
The Fourth Amendment Shell Game
»
Is Estonia Worth a War?
»
Former Inmates Learning to Avoid Going Back to Their Cells
»
HealthCare.BigGov
»
Republican Leaders Should Be Consistent on 'Imperial Presidency'
»
What Education Reformers Can Learn from Kosher Certification
»
Why Do We Still Use Paper Money?
»
Washington Should Not Defend Ukraine or Expand NATO: U.S. Should Shift Responsibility For Europe's Defense to Europe
»
Mozilla's CEO Showed the Cost of Disclosure Laws by Crossing the Satan-Scherbatsky Line
***
CanadaFreePress - Global Warming
»
Are Climate Change Mitigation Policies a Form of Insurance?
***
More Global Warming Hoax News Feeds

---
Since Exxon Hasn't Sent Us Our First Million Dollars Yet You're Welcome To Help Pay Our Bills Until They Do.










»
Cool Heels on Climate Change Actions, Skeptics Say


http://www.newsmax.com/Newsfront/climate-change-global-warming-IPCC/2014/04/18/id/566454/

»
'Climate Change War' Is Not a Metaphor The U.S. military is preparing for conflict, retired Navy Rear Adm. David Titley says


http://www.slate.com/articles/technology/future_tense/2014/04/david_titley_climate_change_war_an_int ...

»
NYT' Paul Krugman: Climate 'Salvation Gets Cheap' – 'All that stands in the way of saving the planet is a combination of ignorance, prejudice and vested interests'


http://www.nytimes.com/2014/04/18/opinion/krugman-salvation-gets-cheap.html

»
Telling 'Noble Lies' About Climate Change Will Backfire


http://pjmedia.com/blog/telling-noble-lies-about-climate-change-will-backfire/?singlepage=true

»
Meteorologist Brad Panovich: 'Slowest start to U. S. tornado season on record through 4/17 based on inflation adjusted tornado trend'


Slowest start to #tornado season on record through 4/17 http://twitpic.com/e1huhr based on inflation ...

»
NYT: Enviro drafts a manifesto called 'Uncivilization,' it was an intense, brooding document that vilified progress' – 'It's the End of the World as We Know It . . . and He Feels Fine'


http://mobile.nytimes.com/2014/04/20/magazine/its-the-end-of-the-world-as-we-know-it-and-he-feels-fi ...

»
Wild claim: More CO2 makes FISH fearless, 'GUNG-HO' & vulnerable 2 predators. 'THREATENS ENTIRE MARINE FOOD CHAIN.'


Wild claim: More CO2 makes FISH fearless, 'GUNG-HO' & vulnerable 2 predators. ...

»
Al Gore: Critics are 'immoral, unethical and despicable'


http://mobile.wnd.com/2014/04/al-gore-critics-are-immoral-unethical-and-despicable/

»
Japan's 50ft-high 'snow walls' open to tourists


http://www.telegraph.co.uk/news/worldnews/asia/japan/10773727/Japans-50ft-high-snow-walls-open-to-to ...

»
'Summer skiing': Resorts in Scotland report most snow in 70 years


http://www.thetimes.co.uk/tto/weather/article4067549.ece?CMP=OTH-gnws-standard-2014_04_18

»
Prof Fiona Stanley jumps on climate-pulpit, says skepticism "is like child abuse"


Prof Fiona Stanley jumps on climate-pulpit, says skepticism 'is like child abuse' http:/ ...

»
'Ridiculous': Administration punts on Keystone, Obama faces Dem revolt


http://www.foxnews.com/politics/2014/04/18/obama-administration-extends-review-period-for-keystone-x ...
»
Life on Earth: Principal control knob governing Earth's temperature


The title of this post is a purposeful play on the title of a 2010 paper by Lacis, Schmidt, Rind, an ...

»
ENSO, SST, CERES, forcing, and feedback: The travesty continues


Now that the CERES radiative flux products from the NASA Terra and Aqua satellites have been updated ...

»
Do aliens cause global warming? The data say 'yes!'


It's been over 11 years since the late novelist Michael Crichton advanced the hypothesis that aliens ...

»
SSM/I Global Ocean Product Update: Increasing clouds with a chance of cooling


My research field of satellite passive microwave remote sensing took off like a rocket (pun intended ...

»
UAH Global Temperature Update for March, 2014: +0.17 deg. C (again)


The Version 5.6 global average lower tropospheric temperature (LT) anomaly for March, 2014 is +0.17 ...

»
Global Warming is Destroying April Fools Day


For the last few days I've been trying to think of some crazy, almost-believable angle to illu ...

»
Hey, IPCC, quit misusing the term "risk"


The latest report of Working Group II of the IPCC, entitled Climate Change 2014: Impacts, Adaptation ...

»
Did global warming take down Flight 370?


Sure, why not? I can't believe this explanation wasn't near the top of the list from the ...

»
The Next Great Famine…or Age of Abundance?


One of the most annoying things about climate forecasts is the apparent need to predict catastrophe. ...

»
Re Missing Flight MH370: Smoke from North Sentinel Island


Most days I check out the global MODIS imagery at the NASA Worldview website, and today I zoomed in ...
»
Radiocarbon calibration and Bayesian inference


A guest post by Nic Lewis   1. Introduction On 1 April 2014 the Bishop Hill blog carried a gues ...

»
The "Ethics Application" for Lewandowsky's Fury


In today's post, I will discuss the ethics application and approval process for Fury. Accordin ...

»
Frontiers Issues Statement on Lewandowsky


Following a variety of untrue allegations by Lewandowsky and his supporters, Frontiers have issued a ...

»
SH Proxies: Peru d18O


One of the hidden assumptions of proxy reconstructions, as carried out by IPCC authors, is that each ...

»
Neukom and Gergis Serve Cold Screened Spaghetti


Neukom, Gergis and Karoly, accompanied by a phalanx of protective specialists, have served up a plat ...

»
UWA Vice Chancellor Johnson Refuses Data Again Again


Barry Woods has been trying to get Lewandowsky's data, inclusive of any metadata on referring ...

»
UWA Vice-Chancellor Refuses Lewandowsky Data


Over the past 15 months, I've made repeated requests to the University of Western Australia fo ...

»
Lewandowsky Ghost-wrote Conclusions of UWA Ethics Investigation into "Hoax"


Following the retraction of Lewandowsky's Fury, the validity of University of Western Australi ...

»
Lewandowsky's Fury


Moon Hoax author Stephan Lewandowsky is furious that Frontiers in Psychology has retracted his follo ...

»
Does "Inhomogeneous forcing and transient climate sensitivity" by Drew Shindell make sense?


A guest post by Nic Lewis  This new Nature Climate Change paper by Drew Shindell claims that the low ...

Posted by jonnhy
watch supernatural season 9 episode 18 streaming o[more ...]
04/14 19:07

Posted by Anonymous
Global warming - this is old news for everyone! I [more ...]
02/27 12:28

Posted by Anonymous
Interesting blog about Global Warming in space. Th[more ...]
02/22 09:27

Posted by Anonymous
I want to thank you for this wonderful blog. And I[more ...]
02/22 08:21

Posted by Anonymous
Interesting blog about climate and global warming.[more ...]
02/22 08:18

Posted by Anonymous
Interesting blog about climate and global warming.[more ...]
02/22 08:15

Posted by Anonymous
It has long been began talking about global warmin[more ...]
02/10 13:34

Posted by Anonymous
As leaders from athwart the earth encounter to pro[more ...]
02/06 00:50

Posted by Anonymous
A unprecedented spill parameterization in the ocea[more ...]
02/06 00:48

Posted by Anonymous
This exaggeration single could esteem for many of [more ...]
02/06 00:42
You must be logged in to post comments on this site - please either log in or if you are not registered click
here
to signup

License Plate Frames
Support the Truth


"SKEPTIC"




"It`s Natural"




"Liberty"

* MORE *
Strong and durable metal license plate holder. Uses full color high resolution images. UV and Water Protection. Satisfaction Guaranteed

You can now visit us on your mobile phone! Simply goto http://GlobalWarmingHoax.com on your mobile phone or PDA to get started!
Proposed Climate Tampering Could Kill Millions
Admin
, Wednesday 05 March 2008 - 19:14:10 //

comment: 29
//

// Font Size -
Increase
/
Decrease
/
Reset
Some scientists are so convinced that man-made global warming is now unstoppable and harmful that they are proposing to artificially tamper with the atmosphere to "fix it". If we truly are heading in to a period of low solar activity (cooling), as NASA and many others have predicted, this god like action to slow "global warming" could kill millions from cold and starvation.
We try to avoid fear mongering here and base our arguments on science. Historically science has generally been used to counter ignorance and prejudice, today science is often used to justify political correctness, to gain social acceptance or as a means to gaining power and wealth. When used incorrectly science can cause ignorance and prejudice. When science losses its built in skepticism it can be nearly impossible for the average person to know what to trust. We can find no better reason to fear the current politically tainted scientific community then the current push towards "geoengineering" to "fix" our climate.
As has been reported here in previous articles there have been several studies that say even if we cut CO2 emissions to zero the planet will continue to warm. The latest study claims we'll continue to warm for the next 500 years. No one believes we can cut our CO2 emissions to zero anytime soon and with reports like this one
"China's 2030 CO2 Emissions Could Equal the Entire World's Today"
it would hardly be worth other developed countries even trying. Not that we believe any of the malarkey about a planet doomed by CO2 but there are many on the left and some vocal scientists that do. This unfounded fear and the media's mass-hysteria is very dangerous. Cooling the planet at a time that we're heading in to a
Dalton or Maunder Minimum
level of solar activity could be disastrous!
OVERSEAS trips may become a once-in-lifetime experience and car travel needed to be cut by 80 per cent if we have any hope of avoiding "dangerous" climate change, experts say...."The car is doomed," Associate Professor DamonHonnery said. "Our calculations show that not even the best combination of fuel efficiency, hybrid and electric cars, alternative fuels and car pooling could provide the reductions needed to meet the 2050 targets for avoiding dangerous climatic change," he said. "Car travel 'cut by 80 per cent'"
An article by Science Daily titled
"Can We Offset Global Warming ByGeoengineering The Climate With Aerosols?"
suggests scientists are seriously considering releasing sulfate aerosols in to the stratosphere to scatter incoming solar energy before it is "trapped" in the lower atmosphere by greenhouse gases. This measure would increase "global dimming" and reduce the amount of light and solar energy that reaches the planet. A related proposal is to actually burn sulfur in the stratosphere and thus create a haze that would block sunlight. A known side effect of this method is an increase in acid rain. No one knows what other side effects may result from these two measures but some scientists are so convinced that global warming is going to doom the planet that they feel any action that helps reduce warming must be better than no action at all.
Ocean iron fertilization, also known as the "Geritol solution", involves seeding the oceans with iron to increase phytoplankton populations. The thought here is that the iron will encourage phytoplankton growth and the phytoplankton will suck up the CO2 as part of photosynthesis. This proposal is thought to be one of the least expensive methods of mitigating global warming. However it is fraught with danger and irony (hah, this is the is the first time I've seen the word irony being used ironically). For one thing no one is sure if the process is safe to the environment or if iron fertilization would even work on such a large scale. It is also possible that the additional phytoplankton growth would produce enough methane (also a greenhouse gas) to offset the CO2 absorption. Oh, theIRONy ? Environmentalists and some states actually sued the Environmental Protection Agency (EPA) to get CO2 classified as a pollutant. By encouraging phytoplankton growth to use CO2 for photosynthesis they are essentially admitting that CO2 its self is a necessary fertilizer for plant life. Plants flourish under increased CO2 levels. Our current atmospheric CO2 levels is about 380ppm, millions of years ago when plant and animal life was far more abundant and diverse than it is today CO2 levels were as high as 7,000 ppm! On the good news front one company that was about to begin testing of this method,
Planktos
has suspended operations saying "the company has been forced to indefinitely postpone its ocean fertilization efforts once intended to restore marine plant life and generate ecological offsets for the global carbon credit market". They complained of strong opposition from environmental groups such as the World Wildlife Fund, Greenpeace, Sea Shepherd Conservation Society, and others for their inability to obtain investment capital. But a company called
Climos just received $4 million in venture funding
to plow ahead.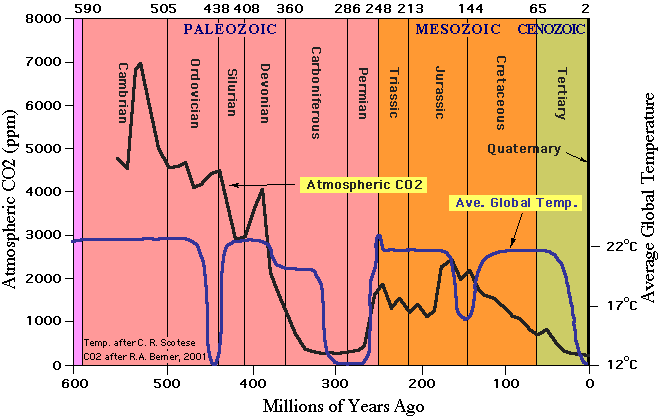 CO2 levels and temperatures are at historic lows
Other wacky ideas under consideration include
artificial trees
,
giant space mirrors
,
painting city buildings / roads white
, etc., etc. Some of these ideas are scarier than others as some are easy to undo. However the earth warms over time and once we spend a trillion dollars on a space mirror and cool the earth 5°C it will take time to rewarm the oceans, it will also be so embarrassing that it could take decades to convince politicians to scrap such an expensive system. Painting all buildings and roads white would take far longer to undo. Ocean fertilization has unknown consequences and could trigger a chain of events that could go on for decades.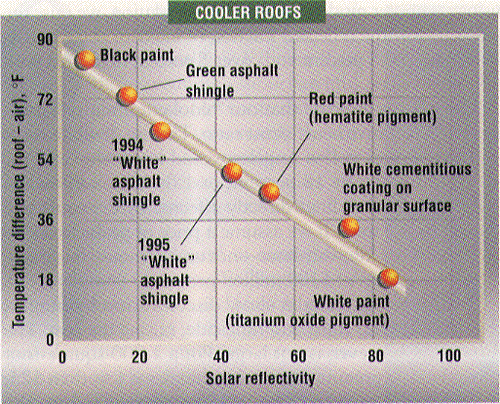 U.S. Department of Energy, Lawrence Berkeley National Laboratory.
Those on the left will always try to manage or nanny any perceived problem. Rather than letting nature work the way nature has worked for millions of years they will spend trillions to try to manage, or control, it like they do everything else. Social Engineering of people has been practiced by them for years, now "Geoengineering" of the planet is being proposed so that they can manage the climate and weather. Helping to drive all of this is the Carbon Credit market. Carbon Credits are basically blackmail money paid by corporations to "offset" their CO2 emissions by paying money to companies that claim to remove CO2 from the atmosphere. Companies currently do this for public relations, in the future they may be required by law.
Based on long established patterns of solar cycle activity NASA has already predicted that
"Solar Cycle 25 peaking around 2022 could be one of the weakest in centuries."
The global warming theory of CO2 caused warming has no history on its side, in fact proxy records (such as ice cores) show that warming has always proceeded CO2 releases by 800-1500 years. On the other hand solar cycle influence on climate has thousands of years of measured evidence and millions of years of proxy evidence to back it. As we've
previously reported
solar cycle activity closely matches periods of cooling and warming. Because modern tools for measuring the sun have only existed for a few short decades scientists have yet to pin point the exact solar mechanism that causes these warming and cooling cycles. Satellites, advanced telescopes, x-ray observations, etc. just weren't available during the Dalton Minimum, much less the Maunder Minimum. Some scientists believe that the reducedirradiance of a solar minimum could not cause the temperature variations that occur during a Maunder type minimum, or even the slight warming we've seen in the past 100 years. But just because scientists don't understand the mechanism doesn't mean that it isn't occurring. The historic proxy evidence is clear that when solar activity is low so are temperatures, the correlation was noticed over 200 years ago. The famous astronomer William Herschel first noticed the
anticorrelation between the price of wheat and the number of sunspots visible on the Sun
in 1801. Many others have noticed the correlation over the years as well.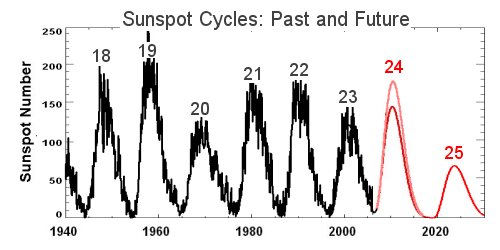 Above: In red,
NASA's David Hathaway's predictions
for the next two solar cycles and, in pink, Mausumi Dikpati's prediction for cycle 24. Solar Cycle 24 (SC24) is already starting off much weaker than Hathaway predicted and will probably end up cooler than SC23. This will likely have grave consequences for SC25 and produce even colder temperatures than predicted.
Let us all hope that politicians and scientists don't jump on the politically correct mass-hysteria bandwagon and "geoengineer" us in to a colder and more deadly future.
Additional References:
Share or Bookmark this Article Using:
| furl

| reddit

| del.icio.us

| magnoliacom

| digg

| newsvine

| Stumble_it

| Facebook

| Google

| Fark

| Sphere

| Netscape
| Technorati

| Yahoo!

|
Add to Favorites and Additional Bookmarks:
GlobalWarmingHoax.com - Where the Truth Heats Up ™
Threads: 2103 | Replies: 807 | Views: 4047012