Global Warming Hoax News From Around the WebWorld Climate Report
»
A Classic Tale of Global Warming Alarmism
»
More Evidence Against a Methane Time Bomb
»
Agriculture: Tropical Cyclones are Welcome Visitors
»
Sea Level Acceleration: Not so Fast
»
Hansen Is Wrong
»
Earth's Carbon Sink Still Strong and Growing
»
Wild Speculation on Climate and Polar Bears
»
Illiteracy at NASA
»
The Heat Was On—Before Urbanization and Greenhouse Gases
»
What's to Blame for the Rains on the Plains?
***
NewsBusters - Global Warming
»
CNN's Blitzer: 'I Don't Remember' Biden's Law School Plagiarism
»
CNN's Chetry: 'Please Tell Me It's Not Lipstick Again'
»
MRC Report Asks: Why No Fairness Doctrine for PBS?
***
Science and Public Policy Institute
»
Growth Rates of Old Versus Young Forest Trees
»
Water Use Efficiency of Agricultural Species
»
Tropical Trees
»
Global Temperatures and Biospheric Productivity
»
Rewriting Sunspot History
»
Analysis of the Second Order Draft of the Working I Contribution to IPCC 5AR
»
The Economics of Biofuels
»
The Warming-Induced Evolution of Terrestrial Plants
»
Medieval Warm Period in Southern Europe
»
Effects of Elevated C02 on the Stomatal Conductance of Agricultural Crops
»
Response of Various Marine Animals to Ocean Warming
»
Medieval Warm Period in Central Europe
»
Growth Response of Grassland Species to Elevated C02 When Water Stressed
»
Effects of Increased C02 on Herbaceous Plant Pests
»
Medieval Warm Period in Northern Europe
»
Loblolly Pines Defy the Progressive Nitrogen Hypothesis
»
Response of Crustaceans to Ocean Warming
»
Energy Inefficiencies of Biofuels
»
Response of Marine Plants to Changes in Temperature
»
Biofuels: The Carbon Debt They Owe
»
Medieval Warm Period in Japan
»
Response of Corals to Ocean Acidification
»
Interactive Effects of C02 and Water Stress on the Growth of Woody Plant Species
»
Biofuels: Land and Water Concerns
»
Medieval Warm Period in Upper North America
***
Climate Science: Roger Pielke Sr. Research Group
»
Roger Pielke Sr. is now on Twitter!
»
2012 Climate Science Weblog in Review by Dallas Jean Staley – A Guest Post
»
The Weblog Is Retiring
»
Publication Of "Reply to "Comment On 'Ocean Heat Content And Earth's Radiation Imbalance. II. Relation To Climate Shifts' " by Nuccitelli Et Al. By Douglass and Knox 2012
»
Q&A From A Group Of Retired NASA Personnel And Associates
»
The Importance of Land Use/Land Practices On Climate – A Perspective From Jon Foley
»
Interview With James Wynn In The English Department At Carnegie Mellon University
»
University Of Alabama At Huntsville October 2012 Lower Tropospheric Temperature Analysis
»
USA Election Day 2012
»
New Paper "Climatic Variability Over Time Scales Spanning Nine Orders of Magnitude: Connecting Milankovitch Cycles With Hurst–Kolmogorov Dynamics" By Markonis And Koutsoyiannis
***
»
Gavin Schmidt and the EPA Denial Decision
»
Millennial Quebec Tree Rings
»
Decomposing Paico
»
New Article on Igaliku
»
PAGES2K vs the Hanhijarvi Reconstruction
»
PAGES2K: More Upside Down?
»
Okshola: which way is up?
»
Revisions to Pages2K Arctic
»
Sliming by Stokes
»
ClimateBallers and the MM05 Simulations
***
Watts Up With That?
»
Weather Channel Founder John Coleman: There is no significant man-made global warming at this time
»
Finally Some Reality from RealClimate – But, Unfortunately, They Remained Unreal about Some Things
»
Scary climate stories for Halloween from the AGU
»
Solar Update October 2014
»
Solar flare danger – massive sunspot the size of Jupiter takes aim at Earth
»
Claim: Recently discovered Arctic microbe is key player in climate change
»
Where Was Climate Research Before Computer Models?
»
What would Thucydides do? How to create negative atmospheric pressure in the Ebola hot-zone
»
Quicky Mid-October 2014 El Niño Update
»
Study: Changing winds cause melting of coastal Antarctic glaciers
»
Splattergate II: Machine Gun Shopping Mall massacre promoted as an expression of Green Conscience
»
Eye roller: 'Climate change shrinks goats'
***
Global Warming News
»
EPA's Clean Power Plan Targets for Virginia: Unlawful Six Ways
»
NRDC Left with Egg on Face as "Laughable" Lawsuit Proceeds against Proposed Clean Power Plan
»
Which Is the Bigger Threat to People in Developing Countries: Climate Change or Energy Poverty?
»
"Topsy-Turvy" Clean Power Plan Could "Substantially" Raise Electric Bills — Virginia State Corporate Commission
»
EPA's Clean Power Plan: Huge Electric Sector Impacts, Undetectably Small Climate Benefits — Study
»
The Divestment Movement's Heart of Darkness
»
EPA's Clean Power Plan: Strategy for One-Party Rule? (Updated 10-17-2014)
»
Will eBay Stand with ALEC?
»
Good News on Air Quality Not Featured on EPA's Web Site
»
How Unlawful Is EPA's Clean Power Plan?
***
Fox News - Climate Change Stories
***
Michelle Malkin - Enviro-Nitwits
»
Fanboy of scare monger Al Gore accuses conservative of scare mongering about Ebola
»
Predictable scapegoat for first ever diagnosis of Ebola in US
»
New scare tactic highlights gravity of the 'climate crisis'
»
Obama fires up Air Force One, Marine One, huge motorcade to deliver climate change warning at UN
»
Al Gore has lost so much weight that he makes a Prius look like a Chevy Suburban SUV
***
DailyTech Michael Asher`s blog
»
Will the Real Antarctica Please Stand Up?
»
Global Warming May Decrease Hurricanes, Research Suggests
»
Japanese Report Disputes Human Cause for Global Warming
»
Sea Ice Ends Year at Same Level as 1979
»
A Funny Thing Happened on the Way to the (Climate) Forum
»
Climate Report Downgrades Ice Loss; Media Reports Opposite
»
Princeton Physicist Calls Global Warming Science "Mistaken"
»
Defying Predictions, Sea Level Rise Begins to Slow
»
Electric Car Sales in Freefall; Industry Risks Collapse
»
Glaciers in Norway Growing Again
***
C3 - Climate Cycles Change
»
"Hottest" Year? If So, The World's Major Food Crops Are Simply Loving It, Per The USDA
»
The Renewable Ears Market Potential: Low Frequency Noise From Wind Turbines Potentially Harmful Long-Term
»
Climate headlines from other sources this past week...
»
Americans Vote: Climate Change & Global Warming Still Not Important
»
CO2's Impact On Global Temperature Trends: Minimal To Non-Existent, Per IPCC's Gold-Standard
»
Peer-Reviewed Study: Canadian Climate Warming - Not So Much, eh?
»
Climate headlines from other sources this past week...
»
Can The All-Electric Nissan Leaf Save The World From A 0.01 Degree Warming? Yep & It Would Only Cost $40+ Trillion
»
After 20 Years of Cumulative CO2 Growth, Global Warming Trend Creeps Towards +0.38°C by 2050AD
»
Memo To GOP: Cut Def. Budget Until Idiot AGW-Warriors Retired From Service
»
Climate headlines from other sources this past week...
»
U.S. Wildfires Inversely Correlated With CO2 - The More CO2 The Less Acres Burnt, Per Empirical Evidence
»
Comparison of NASA/Hansen Climate Model Vs. Climate Reality: As of August 2014
»
Climate Headlines From Other Sources This Past Week
»
NOAA Confirms With Empirical Proof: CO2 Changes Not Causing Dangerous Global Temperature Changes
***
CATO - Global Warming
»
The German Economy Needs Reforms, Not More Spending
»
Supreme Court Shirks Responsibility in Avoiding Sixth Amendment Case
»
Bipartisan Corporate Welfare
»
In China, Law Isn't Winning
»
We Have No Idea if Universal Preschool Actually Helps Kids
»
Keep Your Eye on Swaziland
»
More Bad News for Airbnb
»
ABQ Doesn't Need Bus-Rapid Transit System
»
Living the Easy Life
»
Will The Real Government Crony Please Stand Up?
»
Washington Should Stop Squandering "Defense" Dollars on Rich Allies and Failed States
»
The Optimum Income Taxation
»
Obamacare Shunts My Patients into Medicaid
»
China's Challenge: Growing the Market, Limiting the State
»
Why Doctors Give Obamacare a Failing Grade
»
America Adrift
»
America's Fatal Blunder in the War against ISIS
»
Securing Individual Education of Students and Teachers Simultaneously
»
Budget Cuts and Ebola
»
In Big Government, Breaking Up Is Always Hard to Do
»
U.S. Now Reaping the Iraqi Whirlwind: Washington Should Back out of Iraq's New Civil War
»
Mike Pence's Approach to Taxes Earns an 'A'
»
Will India Destroy the WTO's Agricultural Reforms?
»
Why So Many Are Unemployed for So Long
»
The Right Wing Screams for the Wambulance over Gay Marriage Ruling
***
CanadaFreePress - Global Warming
»
Greens Licking Their Lips Over Carbon Tax Revenues
»
Amnesty for 34 Million Illegal Aliens
***
More Global Warming Hoax News Feeds

---
Since Exxon Hasn't Sent Us Our First Million Dollars Yet You're Welcome To Help Pay Our Bills Until They Do.










»
Our Initial Comments on the Abraham et al. Critique of the Spencer & Braswell 1D model


Our 1D forcing-feedback-mixing model published in January 2014 (and not paywalled, but also here) ad ...

»
Solar Eclipse Today and the Largest Sunspot in 18 Years


Just a reminder of the partial solar eclipse today, Thursday October 23, which will provide eastern ...

»
Why 2014 Won't Be the Warmest Year on Record


Much is being made of the "global" surface thermometer data, which three-quarters the wa ...

»
Ode to Misinterpretations of the Second Law


Inspired by a couple comments from my solar eclipse post. He said an object that was cold Could not ...

»
Solar Thursday USA: An Eclipse AND a Massive Sunspot Group


Residents of the eastern U.S. will be in a particularly good location to see a partial solar eclipse ...

»
Dr. Roy's Earth Today #12: Central Siberian Plateau


Lying mostly north of the Arctic Circle, the Central Siberian Plateau is enjoying sunshine today, bu ...

»
From Russia, With Cold


Winter has gotten an early start in Russia, with much of the expansive country already covered in sn ...

»
Gonzalo: 144 mph Gust Measured on Bermuda


As predicted, the eye of Hurricane Gonzalo passed directly over Bermuda last night. Most of the isla ...

»
Target, Bermuda: Will Hurricane Gonzalo Rival Fabian?


UPDATE 7 am ET Oct. 18: As was forecast, the eye of Gonzalo passed over Bermuda last night. The high ...

»
How Safe is the Air You Breathe in Planes?


With increasing concerns that Ebola apparently spreads more readily than we were told, I thought it ...
»
Gavin Schmidt and the EPA Denial Decision


About eight weeks ago, Jean S postulated that Gavin Schmidt had been involved in writing the documen ...

»
Millennial Quebec Tree Rings


In today's post, I'm going to discuss an important new 1000-year chronology from norther ...

»
Decomposing Paico


In today's post, Jean S and I are going to show that the paico reconstruction, as implemented ...

»
New Article on Igaliku


Shortly after the publication of PAGES2K, I pointed out that the Igaliku lake sediment proxy, had be ...

»
PAGES2K vs the Hanhijarvi Reconstruction


The PAGES2K (2013) Arctic reconstruction of Kaufman et al has attracted considerable attention as a ...

»
PAGES2K: More Upside Down?


Does it matter whether proxies are used upside-down or not? Maybe not in Mann-world (where, in respo ...

»
Okshola: which way is up?


The recent revisions to PAGES2K included a dramatic flipping of the Hvitarvatn varve series to the o ...

»
Revisions to Pages2K Arctic


Kaufman and the PAGES2K Arctic2K group recently published a series of major corrections to their dat ...

»
Sliming by Stokes


Stokes' most recent post, entitled "What Steve McIntyre Won't Show You Now", ...

»
ClimateBallers and the MM05 Simulations


ClimateBallers are extremely suspicious of the MM05 simulation methodology, to say the least.  A rec ...

Posted by  The statement is a
  /  The other week, we saw the top player ranking[more ...]
10/01 02:26

Posted by Anonymous
Search AGWunveiled to discover the two drivers tha[more ...]
08/18 07:00

Posted by Anonymous
[ REQUIRES ADMIN APPROVAL ]
07/28 02:48

Posted by Anonymous
Yes
07/25 01:42

Posted by Joel Carlson
What do all the green plants on earth need to prod[more ...]
07/17 12:10

Posted by Anonymous
http://cpubuilds.com offers some insight into glob[more ...]
06/15 13:46

Posted by Anonymous
Global warming - this is old news for everyone! I [more ...]
02/27 12:28

Posted by Anonymous
Interesting blog about Global Warming in space. Th[more ...]
02/22 09:27

Posted by Anonymous
I want to thank you for this wonderful blog. And I[more ...]
02/22 08:21

Posted by Anonymous
Interesting blog about climate and global warming.[more ...]
02/22 08:18

License Plate Frames
Support the Truth


"SKEPTIC"




"It`s Natural"




"Liberty"

* MORE *
Strong and durable metal license plate holder. Uses full color high resolution images. UV and Water Protection. Satisfaction Guaranteed

You can now visit us on your mobile phone! Simply goto http://GlobalWarmingHoax.com on your mobile phone or PDA to get started!
If The Globe Is Warming Why Are The Oceans Not?
R.Danneskjöld
, Wednesday 30 January 2008 - 21:29:31 //

comment: 9
//

// Font Size -
Increase
/
Decrease
/
Reset
You may hear environmental groups tell you that the Antarctic ice is melting, that polar bears are near extinction, or that the oceans are warming. If you believe that the earth is warming, and there
might
be some evidence to support that theory (though it is all natural), then its easy to believe those statements. But none of them are true.No Longer Supported
The first two statements have been covered here already and I won't repeat them other than to provide you links:
It does seem obvious that
if
the earth is warming (whether or not it is man-made or natural) that the oceans would be the best place to measure it. They aren't effected by the urban heat island effect, they aren't covered in concrete or hidden by tall buildings, and you don't have to worry about
burn barrels and air conditioner exhaust
near the monitoring device. You just want to make sure your measurements aren't thrown off by organic growth (near shore) and land run-off, that should be easy enough. The oceans also comprise over 70% of the earth's surface so if there is "global" warming it should be easy to spot in long term measurements of ocean surface temperatures.
But when you look at the 30 year National Oceanic and Atmospheric Administration (NOAA) data there is no statistically significant warming. The following chart produced by
JunkScience.com
using NOAA data (with the address to the raw NOAA data) clearly shows this along with the increasing CO2 levels: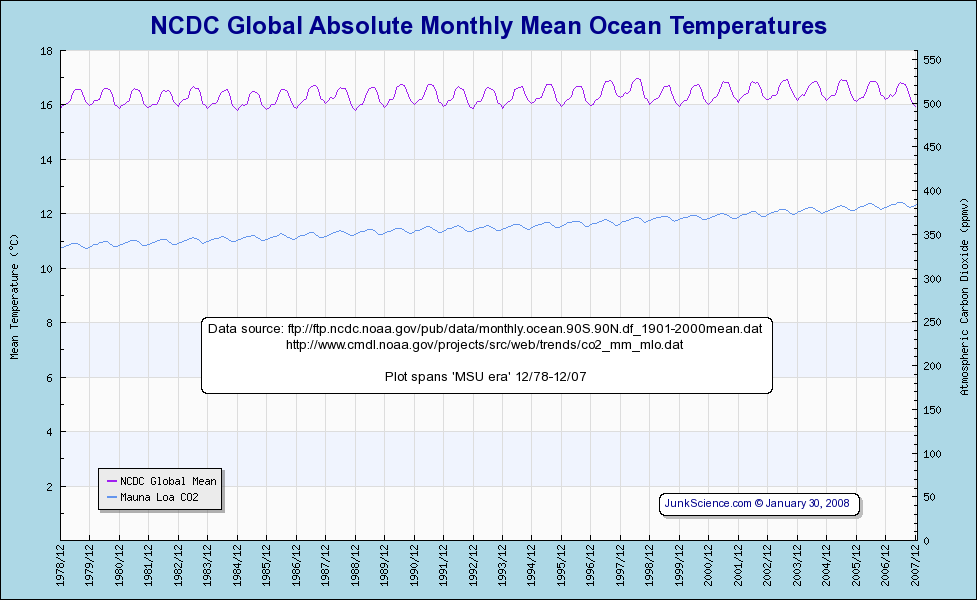 Click on Image to Enlarge
The School of Oceanography at the University of Washington undertook a comprehensive study of the earth's recent ocean surface temperatures (with funding from NOAA) and came up with equally surprising results.
"The ocean neither cooled nor warmed systematically over the large parts of the ocean for the entire analysis period." -- School of Oceanography at the Univ of Washington funded by NOAA. See the following World Climate Report article
"there is large spatial variability of 51-yr trends in the upper ocean, with some regions showing cooling in excess of 3°C, and others warming of similar magnitude. Some 95% of the ocean area analyzed has both cooled and warmed over 20-yr subsets of this period" -- Abstract from "Is the world ocean warming? Upper-ocean temperature trends: 1950-2000". Journal of Physical Oceanograph
The "analysis period" was from 1950-2000 when most of the earth's warming was suppose to have occurred and during a time of increasing CO2 levels. If there has been any "global" climate change during the past 58 years (temperatures have been remarkably stable since 1998) the oceans missed out on it. From the World Climate Report article discussing this study "you cannot help but notice cooling in all five graphs for the 1980-1999 time periods", this was during a period where the IPCC tells us there should have been significant warming.
Environmentalists love to quote NOAA, NASA and university studies when the data appears to be on their side of an issue. But when studies or news comes out that doesn't validate their "feelings" about global warming they ignore it or attack it. Perhaps all of the misplaced NOAA weather monitoring stations do show warming due to
burn barrels, air conditioner exhaust, new blacktop parking lots, etc.
or perhaps they have greatly underestimated the urban heat island effect (especially as cities grow rapidly). The good people over at
ClimateAudit.org
routinely find errors in NASA and NOAA data, including one that caused NASA to reclassify the
warmest year on record
being 1934 not 1998 for the United States because of a Y2K bug! If the U.S. data is that susceptible to error, especially considering the amount of scrutiny it receives, the rest of the world's data must be at least as bad. When only the
largest cities are excluded
from averages the U.S. temperature for the past 60 years has actually fallen! Consider the heat island effect in large fast growing cities in countries such as India, Pakistan, Mexico, Russia and former Soviet block nations, the trapped warm heat extends for miles around the cities and can change the temperature dramatically. These cities are all included in "global" temperature averages which have shown increases over the years. Perhaps the oceans are trying to tell us something and the earth isn't really warming after all. But if the scientists can't figure out if we're actually warming or not how are they ever going to see decisively if man is causing it?
The earth is
cooler now than at anytime in 450,000 years
and I look forward to the day when I can
sail over the arctic
like my ancestors.
-- Ragnar Danneskjöld
Pirating for Freedom
Share or Bookmark this Article Using:
| furl

| reddit

| del.icio.us

| magnoliacom

| digg

| newsvine

| Stumble_it

| Facebook

| Google

| Fark

| Sphere

| Netscape
| Technorati

| Yahoo!

|
Add to Favorites and Additional Bookmarks:
GlobalWarmingHoax.com - Where the Truth Heats Up ™
Threads: 2104 | Replies: 811 | Views: 4782980