Global Warming Hoax News From Around the WebWorld Climate Report
»
A Classic Tale of Global Warming Alarmism
»
More Evidence Against a Methane Time Bomb
»
Agriculture: Tropical Cyclones are Welcome Visitors
»
Sea Level Acceleration: Not so Fast
»
Hansen Is Wrong
»
Earth's Carbon Sink Still Strong and Growing
»
Wild Speculation on Climate and Polar Bears
»
Illiteracy at NASA
»
The Heat Was On—Before Urbanization and Greenhouse Gases
»
What's to Blame for the Rains on the Plains?
***
NewsBusters - Global Warming
»
WashPost 'Humorist' Tries to Decide If Caveman Conservatives Belong in 8,000 B.C. or 3,000,000 B.C.
»
CBS Shamelessly Hypes Climate Change Will Cause More Turbulence For Airplanes
»
Imagine That: 45 Days After Predicted 'Irreversible Collapse,' Antarctic Sea Ice Sets New Record
»
NYT: Scientists 'Startled' at Great Lakes' Rise; Another Warmist Prediction Is Biting the Dust
»
As Wind Farm Gets Permit to Kill Eagles, AP's Scott Smith Claims Wind Energy Has 'Exploded' Under Obama
»
Column: It's the Global Warming Alarmists Who Are the Real 'Deniers'
»
'Big Three' Networks Ignore Supreme Court Ruling on EPA's Emissions Regulations
»
President Obama Mocks Climate Deniers In UC Irvine Commencement Address
»
Obama and Showtime Admit to Exploiting Extreme Weather Events to 'Shift' Public Opinion
»
AP Reports Another Data-Free South Florida Rising Sea Fable
»
PBS Anchor: 'Why Does the White House Rub Salt Into the Wound' of Red-State Democrats With EPA Emissions Crackdown?
»
Politico Produces 5,900 Words on 'Less in Control' Obama; All Scandals Except HealthCare.gov Unmentioned
»
Daily Show Targets Anti-Vaxxers As 'Left-Leaning Idiocy'
»
ABC Spends Twice As Much Time on Hedgehogs Than New EPA Regulations
»
Jake Tapper Takes on EPA Head Over New Climate Change Regulations, Lack of Dem. Support
»
CBS Hails 'Groundbreaking' New EPA Regulations on Climate Change, Skips Job Risk
»
NY Times' Davenport Nudges Obama from Left to Lead World on Global Warming By Crippling US Coal
»
'Everyone Panic!' WashPost Humorist Mocks 'Ice Melt of Doom' Forecast
»
Climate Change Crusader Brian Williams Admits 'Inexact Business of Any Forecast Beyond Five Days'
»
CNN: 'Climate Change Deniers Aren't Listening to Scientists...Not Reading the Bible'
***
Science and Public Policy Institute
»
Response of Various Marine Animals to Ocean Warming
»
Medieval Warm Period in Central Europe
»
Growth Response of Grassland Species to Elevated C02 When Water Stressed
»
Effects of Increased C02 on Herbaceous Plant Pests
»
Medieval Warm Period in Northern Europe
»
Loblolly Pines Defy the Progressive Nitrogen Hypothesis
»
Response of Crustaceans to Ocean Warming
»
Energy Inefficiencies of Biofuels
»
Response of Marine Plants to Changes in Temperature
»
Biofuels: The Carbon Debt They Owe
»
Medieval Warm Period in Japan
»
Response of Corals to Ocean Acidification
»
Interactive Effects of C02 and Water Stress on the Growth of Woody Plant Species
»
Biofuels: Land and Water Concerns
»
Medieval Warm Period in Upper North America
»
Can Plants Evolve Fast Enough to Cope with Increased Drought?
»
Health Promoting Effects of Elevated C02 on Common Food Plants
»
Response of Corals to Ocean Acidification
»
Effects of Ocean Acidification and Warming on Marine Echinoderms
»
Effects of Elevated C02 on Soil Carbon Sequestration
»
Biospheric Productivity in South America
»
Killing Wildlife in the Name of Climate Change
»
Natural Resource Adaptation: Protecting Resources and Economies
»
The Interaction of C02 and Non-Ozone Air Pollutants on Plant Growth
»
Global Cooling
***
Climate Science: Roger Pielke Sr. Research Group
»
Roger Pielke Sr. is now on Twitter!
»
2012 Climate Science Weblog in Review by Dallas Jean Staley – A Guest Post
»
The Weblog Is Retiring
»
Publication Of "Reply to "Comment On 'Ocean Heat Content And Earth's Radiation Imbalance. II. Relation To Climate Shifts' " by Nuccitelli Et Al. By Douglass and Knox 2012
»
Q&A From A Group Of Retired NASA Personnel And Associates
»
The Importance of Land Use/Land Practices On Climate – A Perspective From Jon Foley
»
Interview With James Wynn In The English Department At Carnegie Mellon University
»
University Of Alabama At Huntsville October 2012 Lower Tropospheric Temperature Analysis
»
USA Election Day 2012
»
New Paper "Climatic Variability Over Time Scales Spanning Nine Orders of Magnitude: Connecting Milankovitch Cycles With Hurst–Kolmogorov Dynamics" By Markonis And Koutsoyiannis
***
»
Cook's Fake Ethics Approval
»
New Paper by McKitrick and Vogelsang comparing models and observations in the tropical troposphere
»
Was Lawson Right about the UK Floods?
»
George Zimmerman's Libel Lawsuit
»
Abram et al 2014 and the Southern Annular Mode
»
Mann's new paper recharacterizing the Atlantic Multidecadal Oscillation
»
Threats from the University of Queensland
»
IOP: expecting consistency between models and observations is an "error"
»
The Cleansing of Lennart Bengtsson
»
Mann Misrepresents the EPA – Part 1
***
Watts Up With That?
»
Should you trust NOAA claims about May and June records?
»
The DDP Conference
»
Rate Of Climate Change and Rate of Adaptation Deliberately Distorted
»
There must be a Paul Ehrlich week in climate science
»
'Prediction is very difficult, especially about the future.'
»
Climactic headline shifts
»
Taking Keating seriously part 2: the IPCC's human-attribution claim is prima facie unscientific
»
Quote of the week – the last word on '97% consensus', now in a bumper sticker
»
NOAA's own trend calculator helps confirm 'the pause' and lack of ocean warming in the 21st century
»
The 2014/15 El Niño – Part 14 – Warm Water Recirculated?
»
Solar Cycle Driven Ocean Temperature Variations
»
Taking Keating's $30,000 skeptic challenge seriously, part 1
***
Global Warming News
»
Wasted in Margarita Island: Hugo Chavez as Climate Action Hero (Some People Say There's a Capitalist to Blame)
»
Shocker: Greens' Favorite Court for "Sue and Settle" Is in California Bay Area
»
How Undemocratic Is EPA's Clean Power Plan?
»
Solar Thermal: Hazard for Pilots?
»
Platts Energy Week Review: Rep. Olson Shines, Ambassador Pascual Demonstrates Futility of Climate Diplomacy, U.S. Lucky to Lose the Great Global Green Race, and More
»
James Delingpole Interviews CEI's Myron Ebell on Climate Policy
»
Law Professors to House Panel: "Race to the Bottom" Is a Myth (so why does EPA exist?)
»
Solar Thermal Electric Generation: Still Not Cheap, Not Green?
»
Weekend Media Roundup
»
My Las Vegas Slide Show on the Bogus Keystone XL Controversy
***
Fox News - Climate Change Stories
***
Michelle Malkin - Enviro-Nitwits
»
Guy who operates dozens of jets and a spacecraft fleet to help save planet by giving up… hamburgers
»
You'll never guess what might have contributed to the current Iraq crisis
»
Obama declares large areas of Pacific off limits so divers can retrieve his sunken approval rating
»
With Iraq on the brink, John Kerry draws a red line on the oceans with help from Leonardo DiCaprio
»
Obama slams climate change 'deniers' before firing up Air Force One to go play golf
***
DailyTech Michael Asher`s blog
»
Will the Real Antarctica Please Stand Up?
»
Global Warming May Decrease Hurricanes, Research Suggests
»
Japanese Report Disputes Human Cause for Global Warming
»
Sea Ice Ends Year at Same Level as 1979
»
A Funny Thing Happened on the Way to the (Climate) Forum
»
Climate Report Downgrades Ice Loss; Media Reports Opposite
»
Princeton Physicist Calls Global Warming Science "Mistaken"
»
Defying Predictions, Sea Level Rise Begins to Slow
»
Electric Car Sales in Freefall; Industry Risks Collapse
»
Glaciers in Norway Growing Again
***
C3 - Climate Cycles Change
»
The Tropical Hotspot: Still Frigid After All These Years (& CO2 Emissions)
»
NOAA Determines U.S. Precipitation Unaffected By CO2, Extreme Climate Change Non-Existent
»
Latest Research: "Extreme" Climate Change & Recent Weather Disasters Don't Correlate
»
NASA Research Indicates Pre-1950 Climate Change Greater - Modern Global Warming Tepid
»
NOAA Confirms: Climate Warming Due To Temperature Fabrication, Not Empirical Measurements
»
"While the planet burns" – Elites & Cronies Deny Empirical Science, Push Climate Policies To Enrich Themselves
»
Extreme Climate Change: Abrupt, Accelerating & Unequivocal Global Warming - Ooops, UK Confirms Not Happening
»
Connect The Dots: Is CO2 Turning Earth's Atmosphere Into A Venus Cauldron As Predicted?
»
CO2 Emission Reductions: Since Kyoto Protocol Of 1997, U.S. Outperforms Major World Regions
»
State-Of-The-Art Satellite Technology Provides Proof: CO2's Almost Non-Existent Global Warming Influence
»
NOAA Confirms: Huge CO2 Emissions Have Zero Impact On U.S. Maximum Temperatures
»
Climate Change FactCheck: UK Analysis Confirms CO2 Emissions Not Producing Unprecedented, Irreversible & Accelerating Global Warming
»
Those Stubborn Facts: NOAA's Empirical Climate Records Reveal Truth, Modern Warming Same As Pre-1950 Natural Warming
»
Straight-Talking Obama/Democrats' Climate Plan: All Cost, No Benefit & Mucho Pain
»
Newest Research: NOAA Adds Extreme Global Warming Bias To U.S. Climate Records
***
CATO - Global Warming
»
Reversing the Decline in Small Business Lending
»
Reining in ObamaCare--and the President
»
Fed Proposal to End Bailouts Falls Short
»
Should the 'Right to be Forgotten' be Reviewed by an International Court?
»
How Much Digital Reading Stays inside You?
»
D.C. Forgets about the Debt
»
Pointless Lying about US China Policy
»
Regulation Depresses the Job Market
»
Why Putin's Proxy War an Abject Failure
»
Sweden and School Choice
»
An Exceptional America Is More than Just American Exceptionalism
»
Government Corruption on the Rampage
»
D.C. Circuit to IRS: Only Congress Can Change the Law
»
The Child Migrant Crisis Is Just the Latest Disastrous Consequence of America's Drug War
»
U.S. Should Stay out of Latest Sectarian Civil War: Leave Islamic Radicals to Iraq and Its Neighbors
»
Just One Way to Stop Corporate Inversions: Cut Taxes
»
The Threat to the Scientific Method
»
Reflections on the Misery Index
»
The Fed Can't Fix What Ails the Economy
»
Meeting Terrorists Is a Journalist's Duty, Not Sedition
»
Obama Says He Ended the "War on Drugs." Don't Believe Him
»
Reform Conservatism's Blind Spot: Foreign Policy
»
A Case for the Libertarian
»
Why Aren't Child Migrants Fleeing to the U.S. From Nicaragua?
»
Driverless Cars Yes, V2I No!
***
CanadaFreePress - Global Warming
»
Science for the Picking
»
Climate Change and Corn in North Dakota
***
More Global Warming Hoax News Feeds

---
Since Exxon Hasn't Sent Us Our First Million Dollars Yet You're Welcome To Help Pay Our Bills Until They Do.











Posted by Anonymous
[ REQUIRES ADMIN APPROVAL ]
07/28 02:48

Posted by Anonymous
Yes
07/25 01:42

Posted by Joel Carlson
What do all the green plants on earth need to prod[more ...]
07/17 12:10

Posted by Anonymous
http://cpubuilds.com offers some insight into glob[more ...]
06/15 13:46

Posted by Anonymous
Global warming - this is old news for everyone! I [more ...]
02/27 12:28

Posted by Anonymous
Interesting blog about Global Warming in space. Th[more ...]
02/22 09:27

Posted by Anonymous
I want to thank you for this wonderful blog. And I[more ...]
02/22 08:21

Posted by Anonymous
Interesting blog about climate and global warming.[more ...]
02/22 08:18

Posted by Anonymous
Interesting blog about climate and global warming.[more ...]
02/22 08:15

Posted by Anonymous
It has long been began talking about global warmin[more ...]
02/10 13:34

License Plate Frames
Support the Truth


"SKEPTIC"




"It`s Natural"




"Liberty"

* MORE *
Strong and durable metal license plate holder. Uses full color high resolution images. UV and Water Protection. Satisfaction Guaranteed

You can now visit us on your mobile phone! Simply goto http://GlobalWarmingHoax.com on your mobile phone or PDA to get started!
If The Globe Is Warming Why Are The Oceans Not?
R.Danneskjöld
, Wednesday 30 January 2008 - 21:29:31 //

comment: 9
//

// Font Size -
Increase
/
Decrease
/
Reset
You may hear environmental groups tell you that the Antarctic ice is melting, that polar bears are near extinction, or that the oceans are warming. If you believe that the earth is warming, and there
might
be some evidence to support that theory (though it is all natural), then its easy to believe those statements. But none of them are true.No Longer Supported
The first two statements have been covered here already and I won't repeat them other than to provide you links:
It does seem obvious that
if
the earth is warming (whether or not it is man-made or natural) that the oceans would be the best place to measure it. They aren't effected by the urban heat island effect, they aren't covered in concrete or hidden by tall buildings, and you don't have to worry about
burn barrels and air conditioner exhaust
near the monitoring device. You just want to make sure your measurements aren't thrown off by organic growth (near shore) and land run-off, that should be easy enough. The oceans also comprise over 70% of the earth's surface so if there is "global" warming it should be easy to spot in long term measurements of ocean surface temperatures.
But when you look at the 30 year National Oceanic and Atmospheric Administration (NOAA) data there is no statistically significant warming. The following chart produced by
JunkScience.com
using NOAA data (with the address to the raw NOAA data) clearly shows this along with the increasing CO2 levels: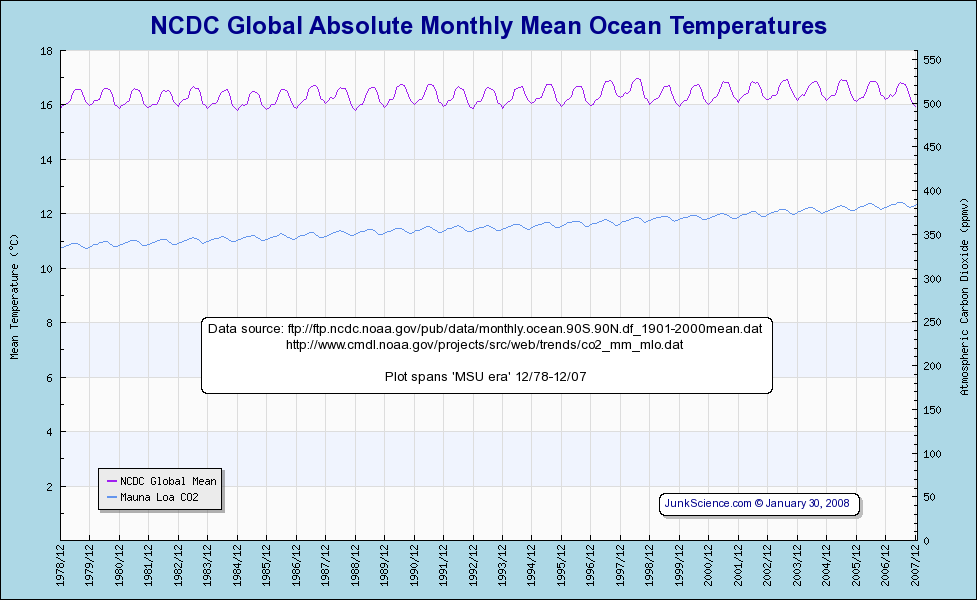 Click on Image to Enlarge
The School of Oceanography at the University of Washington undertook a comprehensive study of the earth's recent ocean surface temperatures (with funding from NOAA) and came up with equally surprising results.
"The ocean neither cooled nor warmed systematically over the large parts of the ocean for the entire analysis period." -- School of Oceanography at the Univ of Washington funded by NOAA. See the following World Climate Report article
"there is large spatial variability of 51-yr trends in the upper ocean, with some regions showing cooling in excess of 3°C, and others warming of similar magnitude. Some 95% of the ocean area analyzed has both cooled and warmed over 20-yr subsets of this period" -- Abstract from "Is the world ocean warming? Upper-ocean temperature trends: 1950-2000". Journal of Physical Oceanograph
The "analysis period" was from 1950-2000 when most of the earth's warming was suppose to have occurred and during a time of increasing CO2 levels. If there has been any "global" climate change during the past 58 years (temperatures have been remarkably stable since 1998) the oceans missed out on it. From the World Climate Report article discussing this study "you cannot help but notice cooling in all five graphs for the 1980-1999 time periods", this was during a period where the IPCC tells us there should have been significant warming.
Environmentalists love to quote NOAA, NASA and university studies when the data appears to be on their side of an issue. But when studies or news comes out that doesn't validate their "feelings" about global warming they ignore it or attack it. Perhaps all of the misplaced NOAA weather monitoring stations do show warming due to
burn barrels, air conditioner exhaust, new blacktop parking lots, etc.
or perhaps they have greatly underestimated the urban heat island effect (especially as cities grow rapidly). The good people over at
ClimateAudit.org
routinely find errors in NASA and NOAA data, including one that caused NASA to reclassify the
warmest year on record
being 1934 not 1998 for the United States because of a Y2K bug! If the U.S. data is that susceptible to error, especially considering the amount of scrutiny it receives, the rest of the world's data must be at least as bad. When only the
largest cities are excluded
from averages the U.S. temperature for the past 60 years has actually fallen! Consider the heat island effect in large fast growing cities in countries such as India, Pakistan, Mexico, Russia and former Soviet block nations, the trapped warm heat extends for miles around the cities and can change the temperature dramatically. These cities are all included in "global" temperature averages which have shown increases over the years. Perhaps the oceans are trying to tell us something and the earth isn't really warming after all. But if the scientists can't figure out if we're actually warming or not how are they ever going to see decisively if man is causing it?
The earth is
cooler now than at anytime in 450,000 years
and I look forward to the day when I can
sail over the arctic
like my ancestors.
-- Ragnar Danneskjöld
Pirating for Freedom
Share or Bookmark this Article Using:
| furl

| reddit

| del.icio.us

| magnoliacom

| digg

| newsvine

| Stumble_it

| Facebook

| Google

| Fark

| Sphere

| Netscape
| Technorati

| Yahoo!

|
Add to Favorites and Additional Bookmarks:
GlobalWarmingHoax.com - Where the Truth Heats Up ™
Threads: 2103 | Replies: 810 | Views: 4400657