»
Marvel et al.'s new paper on estimating climate sensitivity from observations


A guest post by Nic Lewis Introduction and summary Recently a new model-based paper on climate sensi ...

»
Reply to Patrick Brown's response to my article commenting on his Nature paper


Introduction I thank Patrick Brown for his detailed response (also here) to statistical issues that ...

»
Polar Bears, Inadequate data and Statistical Lipstick


A recent paper Internet Blogs, Polar Bears, and Climate-Change Denial by Proxy by JEFFREY A. HARVEY ...

»
Brown and Caldeira: A closer look shows global warming will not be greater than we thought


A guest post by Nic Lewis Introduction Last week a paper predicting greater than expected global war ...

»
US East Coast Sea Level Rise: An Adjustocene Hockey Stick


In 2011, Andy Revkin wrote an article (archive) entitled "Straight Talk on Rising Seas in a Wa ...

»
New Antarctic Temperature Reconstruction


Stenni et al (2017), Antarctic climate variability on regional and continental scales over the last ...

»
Reconciling Model-Observation Reconciliations


Two very different representations of consistency between models and observations are popularly circ ...

»
Part 2- The TV5 Monde Hack and APT28


In his attribution of the DNC hack, Dmitri Alperovitch, of Crowdstrike and the Atlantic Council, lin ...

»
From Nigerian Scams to DNC Hack Attribution – Part 1


In Crowdstrike's original announcement that "Russia" had hacked the DNC, Dmitri Al ...

»
Guccifer 2: From January to May, 2016


Within the small community conducting technical analysis of the DNC hack, there has been ongoing con ...

License Plate Frames
Support the Truth


"SKEPTIC"




"It`s Natural"




"Liberty"

* MORE *
Strong and durable metal license plate holder. Uses full color high resolution images. UV and Water Protection. Satisfaction Guaranteed

You can now visit us on your mobile phone! Simply goto http://GlobalWarmingHoax.com on your mobile phone or PDA to get started!
Polar Bear CO2 Regulations Will Cost YOU Thousands Of Dollars
MMulligan
, Thursday 24 January 2008 - 22:37:45 //

comment: 103
//

// Font Size -
Increase
/
Decrease
/
Reset
The Department of Interior and the U.S. Fish and Wildlife Service are likely to very soon list the polar bear as "Threatened" under the Endangered Species Act. This move will likely end up costing every man, woman, and child in the U.S. thousands of dollars per year and vastly expand the powers of these agencies. The claim is that global warming is melting the Arctic ice, so
anything
that produces CO2 will be highly regulated.No Longer Supported
We've all heard of the Spotted Owl. The Northern Spotted Owl has become famous as an endangered species because of the impact that it has had on logging industry in effected areas. Whole areas of private land are off-limits for logging because of the buffer zone setup around an owl's nest or hunting area. Estimates of the direct economic impact on just the timber industry in northern California was over $160 million dollars.
"The Fish and Wildlife Service gave notice that any person carrying out activities "in a manner inconsistent with the guidelines" would be subject to criminal investigations for violating the takings provision." -- Questia "The Endangered Species Act: impact of section 9 on private landowners"
Similar restrictions have been imposed on land owners and municipalities because of salmon,
snail darters
, and various other plant and wildlife species. But even if the government doesn't flex its muscles over private land owners it will be required to step in on the side of protecting polar bears whenever federal funds, lands, or actions are involved.
Listing under the United States Endangered Species Act will provide broad protection to polar bears, including a requirement that United States federal agencies ensure that any action carried out, authorized, or funded by the United States government will not "jeopardize the continued existence" of polar bears, or adversely modify their critical habitat. -- The Natural Resources Defense Council
Biology, not the law or deliberate public policy decision-making, controls decisions made concerning the Endangered Species Act (ESA). So anytime the government does anything it can not have a negative impact on the polar bear. When Alaska wants a new highway the U.S. Federal government may deny funding and permits if the highway cuts through lands where polar bears may migrate. When the government is setting CAFE fuel standards for new cars mileage standards will likely have to be much stiffer in order to cut CO2. When your local power company needs to build a new coal fueled power plant its permit will likely be denied because of the CO2 emissions (thus electric rates will increase). Remember the theory goes that the polar bear is "threatened" because the government believes increases in CO2 will cause warming, and the warming will melt the arctic ice that the polar bears need to survive (so they think). Therefore anything that emits CO2 or sequesters CO2 is effected. "Global Warming" is just that, it is "global". So the argument goes that what you do in Florida, or anywhere in the U.S., can negatively impact the polar bears in Alaska and the Arctic. Besides allowing Department of Interior (DOI) to regulate almost anything that produces CO2 or Methane gas (and other greenhouse gases) probably one of the biggest impacts will be on Alaskan oil and gas exploration. We can probably forget about drilling for oil in the Arctic National Wildlife Refuge (ANWR) once the polar bear is listed.
"Contact with oil spills reduce the insulating effect of bears' fur. The direct effect is that the bear must use more energy to keep warm, and must compensate for this energy loss by increasing its caloric intake, which may be difficult. Given that polar bears have very limited access to food for long periods of time, such an increased demand for food may result in starvation.

Polar bears can also ingest oil through grooming and through scavenging and preying on contaminated seals, seabirds, and other prey The ingested oil can, for example, cause liver and kidney damage, and has long-term toxicity. Even a limited amount of oil on the fur of a polar bear can kill it, primarily by poisoning through grooming....If a major spill occurs at or near areas with high concentrations of polar bear denning sites, for example Hopen Island in the Barents Sea, it could have population-wide consequences." --- World Wildlife Fund
The Center for Biological Diversity, Natural Resources Defense Council, and Greenpeace have already submitted a
formal notice of intent to sue
the administration for missing the deadline to decide whether or not polar bears will be listed under the Endangered Species Act. Several groups have already announced they will sue the government if it does not list the polar bear under the Endangered Species Act. Of course
Greenpeace
would be involved in this: "The Bush administration has squandered seven years denying the devastating scientific evidence of global warming," said Kert Davies, research director for Greenpeace USA.
"The science confirms that the polar bear is endangered, but the Bush administration continues to downplay the danger of global warming and delay any action to address the issue," said Kert Davies, research director at Greenpeace USA. "We took this administration to court over two years ago to protect the polar bear, and we will continue this fight until they get it right." -- UK Guardian
The Endangered Species Act defines an endangered species as one "in danger of extinction throughout all or a significant portion of its range" (§ 1532). A threatened species is one that is "likely to become an endangered species within the foreseeable future throughout all or a significant portion of its range"
Can someone please show proof that the polar bear can not survive climate warming.... stop Googling there is no proof. There have been polar bears on this planet for over 200,000 years. During that time period there have been many, many periods where Arctic ice significantly declined (far below what the UN IPCC is predicting for the next 100 years due to "global warming"). One of the more significant warming periods in recorded history is the Medieval Warm Period from 800-1300 AD. During this period the Vikings took advantage of ice-free seas to colonize Greenland and had prosperous farming communities there. Other interglacial periods have been even warmer and the polar bears did just fine.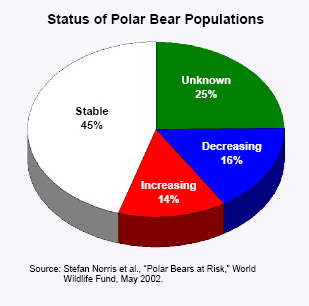 "Circum-Arctic Paleo Environments (CAPE) is an activity within the International Geosphere-Biosphere Program... The group found evidence that "the last interglaciation "LIG persisted for 10,000-12,000 years and that Arctic summer air temperatures during the LIG were 4-5ºC above present for much of the region, which was well above the LIG average temperature for the rest of Earth. The warming seems to have occurred rapidly, peaking in the early portion of the LIG. The group contends that Arctic summer temperatures were warm enough "to melt all glaciers below 5 km elevation, except the Greenland ice sheet, which was reduced by ca 20-50%." In regard to Arctic Ocean sea ice, the group states that the margins of the permanent ice "retracted well into the Arctic Ocean basin" and the ice was of an extent that was smaller than during the highly publicized ice retreat of the Holocene. When examining evidence of vegetation changes, the group concluded that "boreal forests advanced to the Arctic Ocean Coast across vast regions of the Arctic currently occupied by tundra." In fact, across most of northern Russia, they report that forests were displaced northward by as much as 400 to 1000 km." -- World Climate Report
In his book "Cool It: the Skeptical Environmentalist's Guide to Global Warming, Bjorn Lomborg", the Danish professor says that at most we'll save 15 polar bears from dying if we cut greenhouse gases to Kyoto limits. But in reality he says that number would be much closer to 0.06 bears per year. He says right now just in the Hudson Bay population 50 polar bears are shot each year. Many more polar bears would be saved simply by restricting native American subsistence hunting and stopping the illegal hunting than will ever be saved by reducing greenhouse gases or global warming. He goes to say that studies show that nearly all polar bear populations are either stable or growing and in the 1960's there were only approximately 5,000 polar bears globally, that number has increased to over 25,000 today. Of the 13 polar bear populations in Canada, the populations of 11 are stable or growing. As the WWF chart above indicates 59% of the world-wide polar bear populations are either growing or are stable and only 19% are decreasing. Bjorn indicates that in the areas where bear populations are declining it has been from colder temperatures and hunting, not from warming. Remember that photo of the stranded polar bears on the iceberg that made all the papers and magazines? Turns out that the image was taken in August when the fringes of the Arctic are suppose to melt, regardless of global warming (ABC Australia did the piece, see
Newsbusters
for story and video).
So, lets recap. For the polar bear to be listed as an Threatened or Endangered it has to be in danger of extinction in the foreseeable future. Under the UNIPCC's
worst case
scenario (out of 6 listed in the IPCC Fourth Assessment Report) the earth warms 4.0 °C in the next 100 years. Since the polar bear survived these temperature extremes in the past and these extremes are
unlikely
to occur in the next 100 years why is the Department of Interior even considering classifying the polar bear as "threatened" due to climate change?
"This decision would effectively put the Fish and Wildlife Service - and an army of bureaucrats, activists and judges - in charge of every energy and economic decision in the land. The impact could easily be worse than the Kyoto Protocol." --- Canada Free Press
Could it be because it allows them to greatly expand their powers, influence, and budget? You be the judge and let your congressman know what you think.
Michael Mulligan
More References:
Share or Bookmark this Article Using:
| furl

| reddit

| del.icio.us

| magnoliacom

| digg

| newsvine

| Stumble_it

| Facebook

| Google

| Fark

| Sphere

| Netscape
| Technorati

| Yahoo!

|
Add to Favorites and Additional Bookmarks:
GlobalWarmingHoax.com - Where the Truth Heats Up ™