Global Warming Hoax News From Around the WebWorld Climate Report
»
A Classic Tale of Global Warming Alarmism
»
More Evidence Against a Methane Time Bomb
»
Agriculture: Tropical Cyclones are Welcome Visitors
»
Sea Level Acceleration: Not so Fast
»
Hansen Is Wrong
»
Earth's Carbon Sink Still Strong and Growing
»
Wild Speculation on Climate and Polar Bears
»
Illiteracy at NASA
»
The Heat Was On—Before Urbanization and Greenhouse Gases
»
What's to Blame for the Rains on the Plains?
***
NewsBusters - Global Warming
»
CNN's Blitzer: 'I Don't Remember' Biden's Law School Plagiarism
»
CNN's Chetry: 'Please Tell Me It's Not Lipstick Again'
»
MRC Report Asks: Why No Fairness Doctrine for PBS?
***
Science and Public Policy Institute
»
Mammals in a C02-Enriched and Warmer World
»
Climate Model Inadequacies of Earth's Radiative Budget
»
Interactive Effects of C02 and Ozone on Birch Trees
»
Effects of Ocean Acidification on Marine Crustaceans
»
Effects of Ocean Acidification on Marine Bivalves
»
Effects of Ocean Acidification on Marine Bacteria
»
Observed Climate Change and the Negligible Global Effect of Greenhouse-gas Emission Limits in the State of Utah
»
Experimental Artifacts of Free-Air-C02-Enrichment (FACE) Studies
»
The Extinction Risk for Stationary Plants
»
Benefits of Atmospheric C02 Enrichment on Strawberries
»
Forest Growth Responses to Increasing Temperatures
»
Stop Climate Fear Mongering
»
Was 2014 the Warmest Year on Record? No, It Wasn't...
»
Problems with Model Predictions of Species Extinctions
»
The Influence of C02 on Plant Antioxidants
»
Health Effects of Hot vs. Cold Temperatures in Asia
»
Coral Reef Responses to Temperature and Stress: Thermal Adaptation
»
Forest Growth Response to C02
»
Onward Marches the Great Pause
»
Response of Various Marine Animals to Ocean Acidification and Warming
»
FACE Experiments and Grassland Species
»
Effects of Ocean Acidification on Fish
»
Response of Fish to Ocean Warming
»
Additional Grounds for Rejecting Biofuels
»
The Global Medieval Warm Period
***
Climate Science: Roger Pielke Sr. Research Group
»
Roger Pielke Sr. is now on Twitter!
»
2012 Climate Science Weblog in Review by Dallas Jean Staley – A Guest Post
»
The Weblog Is Retiring
»
Publication Of "Reply to "Comment On 'Ocean Heat Content And Earth's Radiation Imbalance. II. Relation To Climate Shifts' " by Nuccitelli Et Al. By Douglass and Knox 2012
»
Q&A From A Group Of Retired NASA Personnel And Associates
»
The Importance of Land Use/Land Practices On Climate – A Perspective From Jon Foley
»
Interview With James Wynn In The English Department At Carnegie Mellon University
»
University Of Alabama At Huntsville October 2012 Lower Tropospheric Temperature Analysis
»
USA Election Day 2012
»
New Paper "Climatic Variability Over Time Scales Spanning Nine Orders of Magnitude: Connecting Milankovitch Cycles With Hurst–Kolmogorov Dynamics" By Markonis And Koutsoyiannis
***
»
Scientific American article: "How to Misinterpret Climate Change Research"
»
Pitfalls in climate sensitivity estimation: Part 3
»
Pitfalls in climate sensitivity estimation: Part 2
»
Pitfalls in climate sensitivity estimation: Part 1
»
Rahmstorf's Third Trick
»
Rahmstorf's Second Trick
»
Rahmstorf's First Trick
»
Jones and Dixon Refute Conspiracy Theorist Lewandowsky
»
Reductio ad mannium
»
How Weaver Ignored Corcoran's Segue
***
Watts Up With That?
»
The Only People Denying Climate Change Are Those Calling Others Climate Change Deniers
»
Why It's So Hard to Convince Warmists
»
Climate Insensitivity
»
The Ethics of Climate Change
»
Norwegian observations confirms: The Gulf Stream has been stable over the past 20 years
»
CIA climate research effort decommissioned
»
Uh, oh: Looks like Lewandowsky and Oreskes will be going after the AGU now for admitting the 'hiatus' exists
»
What would it take to limit climate change to 1.5°C? (answer: more than they can get support for)
»
Friday Funny – the horror of rising sea levels in context
»
Why delegating comprehension of climate science is a bad idea
»
Some pushback against Obama's ridiculous climate remarks at the Coast Guard commencement
»
An inconvenient truth from medical research: cold is far worse than global warming at killing people
***
Global Warming News
»
EU Climate Policy: Unsustainability Update
»
Tom Steyer's Windfall Profits Tax: Recyling Junk Policy
»
Ethanol Industry Ad Campaign: Fuels America or Fools America?
»
Is Ethanol a Green Fuel?
»
Independent Satellite Records Agree: Little to No Global Warming over Past 18 Years
»
Clean Power Plan "Co-Benefits" Are as Insipid as the Rule's Direct Benefits (i.e., the idiotic social cost of carbon)
»
Clean Power Plan Litigation: Thoughts on Ripeness and Standing
»
Forgotten Document Sheds New Light on Legality of EPA Climate Rules
»
EPA Administrator McCarthy: A "Carbon Conscious Economy" Is Inevitable, and EPA Will Make Sure It Happens
»
The Unbearable Lightness of Obama's *Passion* for Mitigating AGW
***
Fox News - Climate Change Stories
***
Michelle Malkin - Enviro-Nitwits
»
Obama: U.S. not losing to ISIS, but definitely getting pushed around by 'climate change'
»
Gore / great lakes
»
Cher'd sacrifice: They don't call 'em 'green' Hollywood libs for nothing
»
Bernie Sanders stumbles upon first campaign slogan: No car in every garage
»
Double dribblers at OFA toss up embarrassing desperation shot on 'climate change'
***
DailyTech Michael Asher`s blog
»
Will the Real Antarctica Please Stand Up?
»
Global Warming May Decrease Hurricanes, Research Suggests
»
Japanese Report Disputes Human Cause for Global Warming
»
Sea Ice Ends Year at Same Level as 1979
»
A Funny Thing Happened on the Way to the (Climate) Forum
»
Climate Report Downgrades Ice Loss; Media Reports Opposite
»
Princeton Physicist Calls Global Warming Science "Mistaken"
»
Defying Predictions, Sea Level Rise Begins to Slow
»
Electric Car Sales in Freefall; Industry Risks Collapse
»
Glaciers in Norway Growing Again
***
C3 - Climate Cycles Change
***
CATO - Global Warming
»
'Should We Have Waged the Iraq War?' Is Not a Gotcha Question
»
Memo to Congress: Don't Do Something, Just Stand There
»
Sen. Paul's Great Surveillance 'Filibuster' and What to Expect Next
»
The Glaring (Ir)Relevance of Ramadi
»
If You Don't Want Your Food Genetically Modified, Tell Nature to Stop It.
»
Currency Manipulation Can't be Fixed by Countervailing Duties
»
An Open Letter to Governor Hogan: the New Metro Lines Are Too Expensive
»
Don't Confuse Tax Credits with School Vouchers
»
Assessing the GOP Candidates' Plans on Poverty
»
Hank Greenberg's AIG Case Might Not be Open and Shut
»
The Pentagon Conned Washington … Again
»
Amtrak Is No Way to Run a Railroad
»
How am I Supposed to Learn Anything without a Lazy River and Wet Wall?
»
Politicians Love Ribbon-Cutting
»
The Increasingly Elusive Climate Consensus
»
Put Harriet Tubman on the $20 Bill
»
Is America about to Make a Fatal Mistake in the South China Sea?
»
Five Things to Know about the Purple Line
»
Rubio's Strangely Stale Foreign Policies
»
Five Rules for an Age of Terrorism, Nuclear Weapons
»
Take Immigration Reform Past Talking Points
»
Gulf States Undermine U.S. Interests, Demand Special Favors: Washington Should Tell Whiny Allies No
»
A Bad Idea: America Concluding a Defense Pact with the GCC
»
Two Years after Snowden, Congress Still Legislating in the Dark
»
De Blasio & Warren's New Progressive Agenda
***
CanadaFreePress - Global Warming
»
Three nations altered temperature data, and you can probably guess why
***
More Global Warming Hoax News Feeds

---
Since Exxon Hasn't Sent Us Our First Million Dollars Yet You're Welcome To Help Pay Our Bills Until They Do.










»
TRMM Satellite Coming Home Next Month


NASA's Tropical Rain Measuring Mission, the first satellite to carry a rain radar, has been on ...

»
New Satellite Upper Troposphere Product: Still No Tropical "Hotspot"


One of the most vivid predictions of global warming theory is a "hotspot" in the tropica ...

»
Iraq's Largest Oil Refinery Still Burning After 5 Weeks


The latest NASA MODIS satellite imagery from today shows that the huge Baiji oil complex continues t ...

»
Nearly 3,500 Days Since Major Hurricane Strike… Despite Record High CO2


As Subtropical Storm Ana churns off the southeast U.S. coast, the global atmosphere has exceeded 400 ...

»
Mystery Climate Index #2 Explanation


Yesterday I presented this time series of climate data and asked if anyone could determine any physi ...

»
Magical Mystery Climate Index #2


A little over a year ago I posted a climate riddle of sorts: a time series that showed warming, then ...

»
This EcoNonsense Has To Stop


I was watching a Ford commercial last night that highlighted their "EcoBoost" engine technology, whi ...

»
UAH V6.0 Global Temperature Update for April, 2015: +0.07 deg. C


NOTE: This is the first montly update with our new Version 6.0 dataset. Differences versus the old V ...

»
Is North Korea Cutting Down All Its Trees?


A secretive government can lie about many things, but it can't hide its landscape from Earth o ...

»
Version 6.0 of the UAH Temperature Dataset Released: New LT Trend = +0.11 C/decade


by Roy W. Spencer, John R. Christy, and William D. Braswell (a PDF version of this post is available ...

Posted by Anonymous
[quote][quote]You put certainly revolutionary idea[more ...]
05/14 11:08

Posted by Anonymous
Anonymous wrote ...You put certainly revolutionary[more ...]
05/12 23:28

Posted by Anonymous
[quote]You put certainly revolutionary ideas in th[more ...]
05/12 23:27

Posted by Anonymous
[quote]You put certainly revolutionary ideas in th[more ...]
05/12 23:25

Posted by Anonymous
[quote]You put certainly revolutionary ideas in th[more ...]
05/12 23:24

Posted by Anonymous
You put certainly revolutionary ideas in the post.[more ...]
05/12 06:06

Posted by Michael Bay
Have you guys ever considered the fact that maybe [more ...]
05/04 12:00

Posted by Anonymous
S L U T
05/04 11:22

Posted by Anonymous
[censored]
05/04 11:17

Posted by Bruce Norris
Great examine post! That's most significant detail[more ...]
04/05 23:52

License Plate Frames
Support the Truth


"SKEPTIC"




"It`s Natural"




"Liberty"

* MORE *
Strong and durable metal license plate holder. Uses full color high resolution images. UV and Water Protection. Satisfaction Guaranteed

You can now visit us on your mobile phone! Simply goto http://GlobalWarmingHoax.com on your mobile phone or PDA to get started!
More Antarctic Drama Put In Context - Early 1900's Explorer Proves The Antarctic Is Growing
Admin
, Tuesday 15 January 2008 - 17:14:41 //

comment: 142
//

// Font Size -
Increase
/
Decrease
/
Reset
Hardly a day goes by where the news isn't blasting us with more examples of something or another melting. The Good Humor Ice Cream Man must be scared to death! The problem is that neither the scientific community nor the popular news media put these reports in proper context. In the current Antarctic example the news makes it sound like the Antarctic is rapidly melting and we can expect "sea-level rises of several meters". This couldn't be further from the truth.No Longer Supported
The above quote is by Rajendra Pachauri, chief of the IPCC. Here is the
full quote from the Washington Post
:
"Both Greenland and the West Antarctic ice sheet are huge bodies of ice and snow, which are sitting on land. If, through a process of melting, they collapse and are submerged in the sea, then we really are talking about sea-level rises of several meters."
The popular news headlines are even more dramatic:
The problem? It isn't true.
The Antarctic is gaining ice, even at the edges
. Keep reading.
Summer temperatures in the Antarctic interior only reach -30°C (-22°F) (with winter temperatures averaging -50°C (-58°F)), this is far too cold for warming to melt the interior ice. Most of the antarctic ice and snow rests on land and is not effected by ocean currents under them (such as at the Arctic). But the amount of ice on the Peninsula subject to melting under any gloom and doom IPCC scenario is very small. In fact
recent studies
show that the Antarctic was able to grow ice even when global temperatures were more than 10°C (18°F) warmer than today. With the vast majority of the Antarctic too cold to melt one really has to wonder what Mr. Pachauri was talking about. But beyond the obvious impossibility of the Antarctic melting it appears the whole study was merely an odd snapshot in time, the Antarctic is obviously gaining ice. The Antarctic Peninsula extends beyond the Antarctic Circle almost to South America and is naturally much warmer than the rest of the Antarctic. It has been theorized by the IPCC that the West Antarctic Ice Sheet (WAIS) could melt if global temperatures increased by just 2C. But ice core studies have proven this to be incorrect and have also proven that a
"2°C warming of the globe would likely have little impact on the stability of the WAIS"
What this latest study by the University of Bristol has shown is that some of the ice on the western coast that is over water may be melting due to a change in ocean currents (not necessarily due to any atmospheric warming). But what they aren't telling you is that ice on the eastern, northern and southern coasts, as well as the interior are all gaining ice in most areas. In fact the southern coast has gained substantial ice since recordings began in 1979. Where there were thousands of square miles of open water in 1979 there is now ice, some of it many meters thick. You can verify this for yourself from the satellite images at the
National Snow and Ice Data Center (NSIDC)
(University of Colorado Boulder, CO).
These two images show the Antarctic sea ice extent and concentration in December 1979 (the year satellite measurements began):


-





The following two images show Antarctic sea ice extend and concentration in December 2007:


-
The pink line is suppose to be the recent median ice edge extent. Total ice edge extent went from 10.5 million sq km in 1979 to 12.6 million in 2007, an increase of 20%. The sea ice concentration went from 6.0 million sq km in 1979 to 8.3 million sq km in 2007,
an increase of nearly 40%!
You can use the NSIDC link above to obtain larger images of this data.
What you see in the images above is significantly less open water in the Antarctic summer of 2007 than when satellite monitoring started in 1979. Over all ice concentrations are higher on 3 of the 4 coasts. So how did the
University of Bristol
study come up with a net loss "Over the 10 year time period of the survey, the ice sheet as a whole was certainly losing mass"? They happened to hit it just right as 2006 (2006 was compared to 1996 in this study) did show significant ice loss on the west coast of Antarctica. But by 2007 it had fully recovered and was approaching a record amount of ice (again this "record" only goes back to 1979 when satellite observations started. Hardly a record in geological terms but the climate change chicken-littles love to call refer to it as such).
Path of Sir Ernest Shackleton's Endurance Expedition: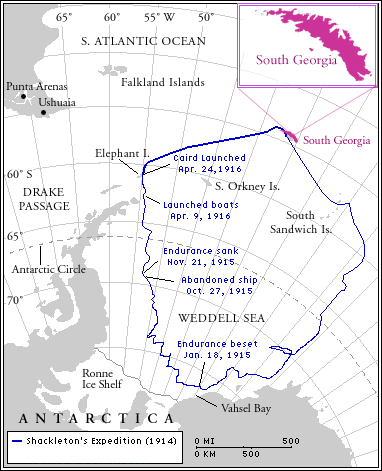 For those of you familiar with Sir Ernest Shackleton's Endurance expedition to the Antarctic you can see that the northwestern coast had to have had open water in the summer of 1915 where in the summer of 2007 it was all ice. The area just above Vahsel Bay where the Endurance was "beset" is just north east of the Rome Ice Shelf. Both the ice extent and concentration would have been far too much in December of 2007 for a ship like the Endurance to take the path that it took in 1915. It hardly looks like global warming has effected Antarctica since Shackleton's expedition.
The cause, Rignot said, may be changes in the flow of the warmer water of the Antarctic Circumpolar Current that circles much of the continent. Because of changed wind patterns and less-well-understood dynamics of the submerged current, its water is coming closer to land in some sectors and melting the edges of glaciers deep underwater. "Something must be changing the ocean to trigger such changes," said Eric Rignot, a senior scientist with NASA's Jet Propulsion Laboratory. "We believe it is related to global climate forcing."
This government scientist is clearly stating that the change in ice extent on the antarctic west coast is due to changes in currents, not direct atmospheric warming over the ice flows. Yet without presenting any evidence to support the claim he goes to say that he "believes" the changes seen in the study are related to global climate forcing (note that he "believes" that this is due to climate change, another pseudo-religious reference. Science is suppose to be based on facts, not beliefs). But historic observations do not support those beliefs. This study was completed by the University of Bristol (link above) using satellite and other public data.
What does all this prove? If you're looking for change you're going to find it. Nature has never sat still, in recent geological history the climate has fluctuated greatly as has arctic / antarctic ice.
Share or Bookmark this Article Using:
| furl

| reddit

| del.icio.us

| magnoliacom

| digg

| newsvine

| Stumble_it

| Facebook

| Google

| Fark

| Sphere

| Netscape
| Technorati

| Yahoo!

|
Add to Favorites and Additional Bookmarks:
GlobalWarmingHoax.com - Where the Truth Heats Up ™
Threads: 2106 | Replies: 833 | Views: 5694797