»
UAH Global Temperature Update for July, 2017: +0.28 deg. C


The Version 6.0 global average lower tropospheric temperature (LT) anomaly for July, 2017 was +0.28 ...

»
4,300 Days Since Last U.S. Major Hurricane Strike


Wednesday of this week will mark 4,300 days since the last major hurricane (Category 3 or stronger, ...

»
Study: Sea Level Rise Revised Downward


If I had not looked past the headline of the press report on a new study, I would have just filed it ...

»
Warming in the Tropics? Even the New RSS Satellite Dataset Says the Models are Wrong


From recent media reports (e.g. the WaPo's Capital Weather Gang) you would think that the new ...

»
The Great American Eclipse – 40 days to go


The Great American Eclipse of Monday, August 21, 2017 will be one of only a couple of chances for ma ...

»
Comments on the New RSS Lower Tropospheric Temperature Dataset


It was inevitable that the new RSS mid-tropospheric (MT) temperature dataset, which showed more warm ...

»
No, it didn't snow in Kenya yesterday


There is much internet buzzing about "snow" in Kenya yesterday, and its connection to cl ...

»
Stephen Hawking Flies off the Scientific Reservation


I can understand when pop-scientists like Bill Nye spout scientific silliness. But complete nonsense ...

»
UAH Global Temperature Update for June, 2017: +0.21 deg. C


Lowest global temperature anomaly in last 2 years (since July, 2015) The Version 6.0 global average ...

»
The AMS Scolds Rick Perry for Believing the Oceans are Stronger than Your SUV


Yesterday, the American Meteorological Society (AMS) sent a letter to DOE Secretary Rick Perry, scol ...

Posted by Nina Dobrev
Really great conversion tool and it can easily sta[more ...]
08/17 04:46

Posted by Anonymous
Get an effective result-oriented tool RecoveryFix [more ...]
08/17 03:11

Posted by Anonymous
Its a good post..keep posting and update the infor[more ...]
08/16 17:27

Posted by Minka Kelly
EDB to PST Converter has been proved as an excelle[more ...]
08/16 03:35

Posted by Anonymous
I am extremely satisfaction to peruse. your distri[more ...]
08/15 01:22

Posted by johnphlip
If you want to convert OLM to PST file format usin[more ...]
08/13 23:27

Posted by Anonymous
Amazing article thanks or sharing..http://csharpai[more ...]
08/11 00:52

Posted by Anonymous
Dissertation Guidance Provides quality Online Diss[more ...]
08/11 00:50

Posted by Anonymous
Amazing article thanks or sharing..<a href="htt[more ...]
08/11 00:48

Posted by Karenjit Kaur
It is very easy to repair recover corrupt or damag[more ...]
08/08 06:50

License Plate Frames
Support the Truth


"SKEPTIC"




"It`s Natural"




"Liberty"

* MORE *
Strong and durable metal license plate holder. Uses full color high resolution images. UV and Water Protection. Satisfaction Guaranteed

You can now visit us on your mobile phone! Simply goto http://GlobalWarmingHoax.com on your mobile phone or PDA to get started!
More Antarctic Drama Put In Context - Early 1900's Explorer Proves The Antarctic Is Growing
Admin
, Tuesday 15 January 2008 - 17:14:41 //

comment: 142
//

// Font Size -
Increase
/
Decrease
/
Reset
Hardly a day goes by where the news isn't blasting us with more examples of something or another melting. The Good Humor Ice Cream Man must be scared to death! The problem is that neither the scientific community nor the popular news media put these reports in proper context. In the current Antarctic example the news makes it sound like the Antarctic is rapidly melting and we can expect "sea-level rises of several meters". This couldn't be further from the truth.No Longer Supported
The above quote is by Rajendra Pachauri, chief of the IPCC. Here is the
full quote from the Washington Post
:
"Both Greenland and the West Antarctic ice sheet are huge bodies of ice and snow, which are sitting on land. If, through a process of melting, they collapse and are submerged in the sea, then we really are talking about sea-level rises of several meters."
The popular news headlines are even more dramatic:
The problem? It isn't true.
The Antarctic is gaining ice, even at the edges
. Keep reading.
Summer temperatures in the Antarctic interior only reach -30°C (-22°F) (with winter temperatures averaging -50°C (-58°F)), this is far too cold for warming to melt the interior ice. Most of the antarctic ice and snow rests on land and is not effected by ocean currents under them (such as at the Arctic). But the amount of ice on the Peninsula subject to melting under any gloom and doom IPCC scenario is very small. In fact
recent studies
show that the Antarctic was able to grow ice even when global temperatures were more than 10°C (18°F) warmer than today. With the vast majority of the Antarctic too cold to melt one really has to wonder what Mr. Pachauri was talking about. But beyond the obvious impossibility of the Antarctic melting it appears the whole study was merely an odd snapshot in time, the Antarctic is obviously gaining ice. The Antarctic Peninsula extends beyond the Antarctic Circle almost to South America and is naturally much warmer than the rest of the Antarctic. It has been theorized by the IPCC that the West Antarctic Ice Sheet (WAIS) could melt if global temperatures increased by just 2C. But ice core studies have proven this to be incorrect and have also proven that a
"2°C warming of the globe would likely have little impact on the stability of the WAIS"
What this latest study by the University of Bristol has shown is that some of the ice on the western coast that is over water may be melting due to a change in ocean currents (not necessarily due to any atmospheric warming). But what they aren't telling you is that ice on the eastern, northern and southern coasts, as well as the interior are all gaining ice in most areas. In fact the southern coast has gained substantial ice since recordings began in 1979. Where there were thousands of square miles of open water in 1979 there is now ice, some of it many meters thick. You can verify this for yourself from the satellite images at the
National Snow and Ice Data Center (NSIDC)
(University of Colorado Boulder, CO).
These two images show the Antarctic sea ice extent and concentration in December 1979 (the year satellite measurements began):


-





The following two images show Antarctic sea ice extend and concentration in December 2007:


-
The pink line is suppose to be the recent median ice edge extent. Total ice edge extent went from 10.5 million sq km in 1979 to 12.6 million in 2007, an increase of 20%. The sea ice concentration went from 6.0 million sq km in 1979 to 8.3 million sq km in 2007,
an increase of nearly 40%!
You can use the NSIDC link above to obtain larger images of this data.
What you see in the images above is significantly less open water in the Antarctic summer of 2007 than when satellite monitoring started in 1979. Over all ice concentrations are higher on 3 of the 4 coasts. So how did the
University of Bristol
study come up with a net loss "Over the 10 year time period of the survey, the ice sheet as a whole was certainly losing mass"? They happened to hit it just right as 2006 (2006 was compared to 1996 in this study) did show significant ice loss on the west coast of Antarctica. But by 2007 it had fully recovered and was approaching a record amount of ice (again this "record" only goes back to 1979 when satellite observations started. Hardly a record in geological terms but the climate change chicken-littles love to call refer to it as such).
Path of Sir Ernest Shackleton's Endurance Expedition: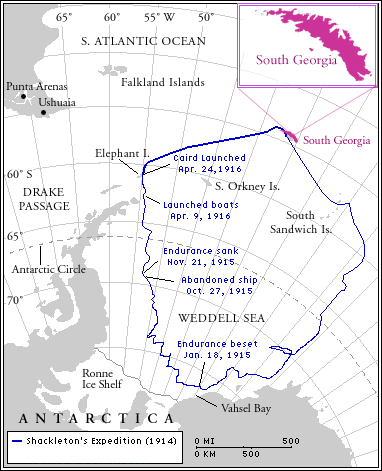 For those of you familiar with Sir Ernest Shackleton's Endurance expedition to the Antarctic you can see that the northwestern coast had to have had open water in the summer of 1915 where in the summer of 2007 it was all ice. The area just above Vahsel Bay where the Endurance was "beset" is just north east of the Rome Ice Shelf. Both the ice extent and concentration would have been far too much in December of 2007 for a ship like the Endurance to take the path that it took in 1915. It hardly looks like global warming has effected Antarctica since Shackleton's expedition.
The cause, Rignot said, may be changes in the flow of the warmer water of the Antarctic Circumpolar Current that circles much of the continent. Because of changed wind patterns and less-well-understood dynamics of the submerged current, its water is coming closer to land in some sectors and melting the edges of glaciers deep underwater. "Something must be changing the ocean to trigger such changes," said Eric Rignot, a senior scientist with NASA's Jet Propulsion Laboratory. "We believe it is related to global climate forcing."
This government scientist is clearly stating that the change in ice extent on the antarctic west coast is due to changes in currents, not direct atmospheric warming over the ice flows. Yet without presenting any evidence to support the claim he goes to say that he "believes" the changes seen in the study are related to global climate forcing (note that he "believes" that this is due to climate change, another pseudo-religious reference. Science is suppose to be based on facts, not beliefs). But historic observations do not support those beliefs. This study was completed by the University of Bristol (link above) using satellite and other public data.
What does all this prove? If you're looking for change you're going to find it. Nature has never sat still, in recent geological history the climate has fluctuated greatly as has arctic / antarctic ice.
Share or Bookmark this Article Using:
| furl

| reddit

| del.icio.us

| magnoliacom

| digg

| newsvine

| Stumble_it

| Facebook

| Google

| Fark

| Sphere

| Netscape
| Technorati

| Yahoo!

|
Add to Favorites and Additional Bookmarks:
GlobalWarmingHoax.com - Where the Truth Heats Up ™
Threads: 2253 | Replies: 1222 | Views: 7742851