Global Warming Hoax News From Around the WebWorld Climate Report
»
A Classic Tale of Global Warming Alarmism
»
More Evidence Against a Methane Time Bomb
»
Agriculture: Tropical Cyclones are Welcome Visitors
»
Sea Level Acceleration: Not so Fast
»
Hansen Is Wrong
»
Earth's Carbon Sink Still Strong and Growing
»
Wild Speculation on Climate and Polar Bears
»
Illiteracy at NASA
»
The Heat Was On—Before Urbanization and Greenhouse Gases
»
What's to Blame for the Rains on the Plains?
***
NewsBusters - Global Warming
»
CNN's Blitzer: 'I Don't Remember' Biden's Law School Plagiarism
»
CNN's Chetry: 'Please Tell Me It's Not Lipstick Again'
»
MRC Report Asks: Why No Fairness Doctrine for PBS?
***
Science and Public Policy Institute
»
Response of Fish to Ocean Warming
»
Additional Grounds for Rejecting Biofuels
»
The Global Medieval Warm Period
»
Growth Rates of Old Versus Young Forest Trees
»
Water Use Efficiency of Agricultural Species
»
Tropical Trees
»
Global Temperatures and Biospheric Productivity
»
Rewriting Sunspot History
»
Analysis of the Second Order Draft of the Working I Contribution to IPCC 5AR
»
The Economics of Biofuels
»
The Warming-Induced Evolution of Terrestrial Plants
»
Medieval Warm Period in Southern Europe
»
Effects of Elevated C02 on the Stomatal Conductance of Agricultural Crops
»
Response of Various Marine Animals to Ocean Warming
»
Medieval Warm Period in Central Europe
»
Growth Response of Grassland Species to Elevated C02 When Water Stressed
»
Effects of Increased C02 on Herbaceous Plant Pests
»
Medieval Warm Period in Northern Europe
»
Loblolly Pines Defy the Progressive Nitrogen Hypothesis
»
Response of Crustaceans to Ocean Warming
»
Energy Inefficiencies of Biofuels
»
Response of Marine Plants to Changes in Temperature
»
Biofuels: The Carbon Debt They Owe
»
Medieval Warm Period in Japan
»
Response of Corals to Ocean Acidification
***
Climate Science: Roger Pielke Sr. Research Group
»
Roger Pielke Sr. is now on Twitter!
»
2012 Climate Science Weblog in Review by Dallas Jean Staley – A Guest Post
»
The Weblog Is Retiring
»
Publication Of "Reply to "Comment On 'Ocean Heat Content And Earth's Radiation Imbalance. II. Relation To Climate Shifts' " by Nuccitelli Et Al. By Douglass and Knox 2012
»
Q&A From A Group Of Retired NASA Personnel And Associates
»
The Importance of Land Use/Land Practices On Climate – A Perspective From Jon Foley
»
Interview With James Wynn In The English Department At Carnegie Mellon University
»
University Of Alabama At Huntsville October 2012 Lower Tropospheric Temperature Analysis
»
USA Election Day 2012
»
New Paper "Climatic Variability Over Time Scales Spanning Nine Orders of Magnitude: Connecting Milankovitch Cycles With Hurst–Kolmogorov Dynamics" By Markonis And Koutsoyiannis
***
»
Anti-SLAPP Hearing Today
»
New Data and Upside-Down Moberg
»
Data Torture in Gergis2K
»
PAGES2K and Nature's Policy against Self-Plagiarism
»
Gergis2K and the Oroko "Disturbance-Corrected" Blade
»
Gergis and the PAGES2K Regional Average
»
The Kaufman Tautology
»
Warmest since, uh, the Medieval Warm Period
»
The Third Warmest Arctic Century
»
Gavin Schmidt and the EPA Denial Decision
***
Watts Up With That?
»
Open Thread
»
A big (goose) step backwards
»
The Art of Art
»
Claim: A warming world may spell bad news for honey bees
»
Model claim: airplanes of the future won't be able to take off at some airports due to global warming
»
Better forecasts for sea ice under climate change?
»
Claim: Researchers find way to turn sawdust into gasoline
»
Michael Mann lawsuit appeal to be streamed live today
»
Russian Official is Optimistic about Global Warming
»
A First Look At SURFRAD
»
Michigan State professor labels skeptics as "global warming cynics" due to not getting on board with the extreme weather link
»
Surprise: Robot Sub Finds Much Thicker Than Expected Antarctic Sea Ice
***
Global Warming News
»
Supreme Court to Review EPA's Mercury (Utility MACT) Rule — We Told You So!
»
U.S.-China Climate Deal: Who Snookered Whom?
»
Renewable Fuel Standard: EPA Retreats from Cutbacks
»
EPA Air Regulations: 15% Real-Dollar (35% Nominal-Dollar) Increase in Utility Bills by 2020, Study Finds
»
No Brainer: Senate Should Approve Keystone XL
»
The Profound Political Illegitimacy of Obama's Climate "Deal" with China
»
Carbon Tax Advocates Discuss Post-Election Prospects; Ignore Lesson of Plato's Republic
»
A Single Non-Binding Climate "Deal" with China Is Meaningless, But a Series of Them Could Be Trouble
»
Obama, Xi Agree on Meaningless Climate Deal
»
Cellulosic Ethanol: KiOR Files for Bankruptcy
***
Fox News - Climate Change Stories
***
Michelle Malkin - Enviro-Nitwits
»
Berkeley City Council votes to put 'climate change' warning labels on gas pumps
»
White House: Do something about 'climate change' or prepare for a fiery death — or worse
»
'XL' in Keystone XL stands for X-tra Lethal, says abortion advocate Barbara Boxer; Updated
»
More chilling news for Al Gore
»
Emission Impossible: Obama reaches 'climate change' agreement with China
***
DailyTech Michael Asher`s blog
»
Will the Real Antarctica Please Stand Up?
»
Global Warming May Decrease Hurricanes, Research Suggests
»
Japanese Report Disputes Human Cause for Global Warming
»
Sea Ice Ends Year at Same Level as 1979
»
A Funny Thing Happened on the Way to the (Climate) Forum
»
Climate Report Downgrades Ice Loss; Media Reports Opposite
»
Princeton Physicist Calls Global Warming Science "Mistaken"
»
Defying Predictions, Sea Level Rise Begins to Slow
»
Electric Car Sales in Freefall; Industry Risks Collapse
»
Glaciers in Norway Growing Again
***
C3 - Climate Cycles Change
***
CATO - Global Warming
»
Some Perspective on What We Have to Be Thankful For
»
NSA Reform -- The Consequences of Failure
»
U.S. Filled Okinawa with Bases and Japan Kept Them There: Okinawans Again Say No
»
The Uniquely Widespread Presidential Campaign of Rand Paul
»
China Takes another Step toward Capital Freedom
»
Bury Lenin's Body and the Rest of Communism: In Red Square He Lies in State, Mocking Humanity
»
America's Dangerous Double Standard on Air and Sea "Provocations"
»
Going Overboard at the Labor Board
»
NAGPRA, Indian Burials, and the Unquiet Grave
»
The School Religious Holidays Problem Is Really a Public Schooling Problem
»
Currency Wars, the Ruble and Keynes
»
Inequality and Envy
»
Bad Laws Lead to Bad Executive Orders
»
Bring China and Its Neighbors Under the INF Missile Treaty
»
A Perplexing Foreign Policy
»
NSA Reform: Not Dead Yet
»
A Constitutional Amendment on Marriage
»
America's Leadership Crisis--and Its Economic Implications
»
An Awkward Celebration in the Heart of Europe
»
What the Inequality Warriors Really Want
»
Why Congress Should Legalize Pot
»
The 2014 Tax Revolt
»
Why Ending FEMA Will Improve Disaster Response
»
Letter to the Editor: Not One Rule for Thee, But Another for Me
»
Ukrainian Crisis Must Not Become a Frozen Conflict
***
CanadaFreePress - Global Warming
»
White House stuffs 3,400 new regulations into your Thanksgiving turkey
***
More Global Warming Hoax News Feeds

---
Since Exxon Hasn't Sent Us Our First Million Dollars Yet You're Welcome To Help Pay Our Bills Until They Do.










»
Anti-SLAPP Hearing Today


Mann v CEI, National Review, Simberg, Steyn and their amici is being argued today. Amici for Steyn, ...

»
New Data and Upside-Down Moberg


I've been re-examining SH proxies for some time now, both in connection with PAGES2K and out o ...

»
Data Torture in Gergis2K


Reflecting on then current scandals in psychology arising from non-replicable research,  E. Wagenmak ...

»
PAGES2K and Nature's Policy against Self-Plagiarism


Nature's policies on plagiarism state: Duplicate publication, sometimes called self-plagiarism ...

»
Gergis2K and the Oroko "Disturbance-Corrected" Blade


Only two Gergis proxies (both tree ring) go back to the medieval period: Oroko Swamp, New Zealand an ...

»
Gergis and the PAGES2K Regional Average


The calculation of the PAGES2K regional average contains a very odd procedure that thus far has esca ...

»
The Kaufman Tautology


The revised PAGES2K Arctic reconstruction used 56 proxies (down three from the original 59).  Althou ...

»
Warmest since, uh, the Medieval Warm Period


The money quote in the PAGES2K abstract was that there wasn't any worldwide Little Ice Age of ...

»
The Third Warmest Arctic Century


PAGES2K (2013) unequivocally stated that the Arctic was "warmest during the 20th century ...

»
Gavin Schmidt and the EPA Denial Decision


About eight weeks ago, Jean S postulated that Gavin Schmidt had been involved in writing the documen ...

Posted by Anonymous
I've learn all the posts and i discovered very uni[more ...]
11/27 01:55

Posted by Melantha 
  It is already August, the day of Cheap FIFA 15 C[more ...]
11/14 23:16

Posted by  The statement is a
  /  The other week, we saw the top player ranking[more ...]
10/01 02:26

Posted by Anonymous
Search AGWunveiled to discover the two drivers tha[more ...]
08/18 07:00

Posted by Anonymous
[ REQUIRES ADMIN APPROVAL ]
07/28 02:48

Posted by Anonymous
Yes
07/25 01:42

Posted by Joel Carlson
What do all the green plants on earth need to prod[more ...]
07/17 12:10

Posted by Anonymous
http://cpubuilds.com offers some insight into glob[more ...]
06/15 13:46

Posted by Anonymous
Global warming - this is old news for everyone! I [more ...]
02/27 12:28

Posted by Anonymous
Interesting blog about Global Warming in space. Th[more ...]
02/22 09:27

License Plate Frames
Support the Truth


"SKEPTIC"




"It`s Natural"




"Liberty"

* MORE *
Strong and durable metal license plate holder. Uses full color high resolution images. UV and Water Protection. Satisfaction Guaranteed

You can now visit us on your mobile phone! Simply goto http://GlobalWarmingHoax.com on your mobile phone or PDA to get started!
More Antarctic Drama Put In Context - Early 1900's Explorer Proves The Antarctic Is Growing
Admin
, Tuesday 15 January 2008 - 17:14:41 //

comment: 142
//

// Font Size -
Increase
/
Decrease
/
Reset
Hardly a day goes by where the news isn't blasting us with more examples of something or another melting. The Good Humor Ice Cream Man must be scared to death! The problem is that neither the scientific community nor the popular news media put these reports in proper context. In the current Antarctic example the news makes it sound like the Antarctic is rapidly melting and we can expect "sea-level rises of several meters". This couldn't be further from the truth.No Longer Supported
The above quote is by Rajendra Pachauri, chief of the IPCC. Here is the
full quote from the Washington Post
:
"Both Greenland and the West Antarctic ice sheet are huge bodies of ice and snow, which are sitting on land. If, through a process of melting, they collapse and are submerged in the sea, then we really are talking about sea-level rises of several meters."
The popular news headlines are even more dramatic:
The problem? It isn't true.
The Antarctic is gaining ice, even at the edges
. Keep reading.
Summer temperatures in the Antarctic interior only reach -30°C (-22°F) (with winter temperatures averaging -50°C (-58°F)), this is far too cold for warming to melt the interior ice. Most of the antarctic ice and snow rests on land and is not effected by ocean currents under them (such as at the Arctic). But the amount of ice on the Peninsula subject to melting under any gloom and doom IPCC scenario is very small. In fact
recent studies
show that the Antarctic was able to grow ice even when global temperatures were more than 10°C (18°F) warmer than today. With the vast majority of the Antarctic too cold to melt one really has to wonder what Mr. Pachauri was talking about. But beyond the obvious impossibility of the Antarctic melting it appears the whole study was merely an odd snapshot in time, the Antarctic is obviously gaining ice. The Antarctic Peninsula extends beyond the Antarctic Circle almost to South America and is naturally much warmer than the rest of the Antarctic. It has been theorized by the IPCC that the West Antarctic Ice Sheet (WAIS) could melt if global temperatures increased by just 2C. But ice core studies have proven this to be incorrect and have also proven that a
"2°C warming of the globe would likely have little impact on the stability of the WAIS"
What this latest study by the University of Bristol has shown is that some of the ice on the western coast that is over water may be melting due to a change in ocean currents (not necessarily due to any atmospheric warming). But what they aren't telling you is that ice on the eastern, northern and southern coasts, as well as the interior are all gaining ice in most areas. In fact the southern coast has gained substantial ice since recordings began in 1979. Where there were thousands of square miles of open water in 1979 there is now ice, some of it many meters thick. You can verify this for yourself from the satellite images at the
National Snow and Ice Data Center (NSIDC)
(University of Colorado Boulder, CO).
These two images show the Antarctic sea ice extent and concentration in December 1979 (the year satellite measurements began):


-





The following two images show Antarctic sea ice extend and concentration in December 2007:


-
The pink line is suppose to be the recent median ice edge extent. Total ice edge extent went from 10.5 million sq km in 1979 to 12.6 million in 2007, an increase of 20%. The sea ice concentration went from 6.0 million sq km in 1979 to 8.3 million sq km in 2007,
an increase of nearly 40%!
You can use the NSIDC link above to obtain larger images of this data.
What you see in the images above is significantly less open water in the Antarctic summer of 2007 than when satellite monitoring started in 1979. Over all ice concentrations are higher on 3 of the 4 coasts. So how did the
University of Bristol
study come up with a net loss "Over the 10 year time period of the survey, the ice sheet as a whole was certainly losing mass"? They happened to hit it just right as 2006 (2006 was compared to 1996 in this study) did show significant ice loss on the west coast of Antarctica. But by 2007 it had fully recovered and was approaching a record amount of ice (again this "record" only goes back to 1979 when satellite observations started. Hardly a record in geological terms but the climate change chicken-littles love to call refer to it as such).
Path of Sir Ernest Shackleton's Endurance Expedition: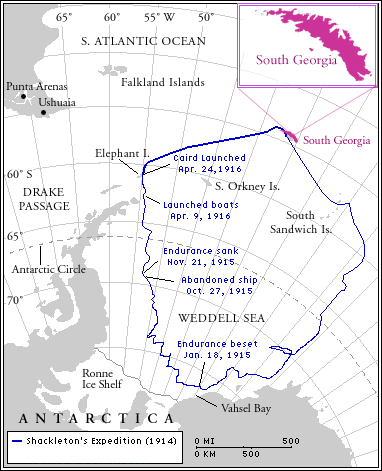 For those of you familiar with Sir Ernest Shackleton's Endurance expedition to the Antarctic you can see that the northwestern coast had to have had open water in the summer of 1915 where in the summer of 2007 it was all ice. The area just above Vahsel Bay where the Endurance was "beset" is just north east of the Rome Ice Shelf. Both the ice extent and concentration would have been far too much in December of 2007 for a ship like the Endurance to take the path that it took in 1915. It hardly looks like global warming has effected Antarctica since Shackleton's expedition.
The cause, Rignot said, may be changes in the flow of the warmer water of the Antarctic Circumpolar Current that circles much of the continent. Because of changed wind patterns and less-well-understood dynamics of the submerged current, its water is coming closer to land in some sectors and melting the edges of glaciers deep underwater. "Something must be changing the ocean to trigger such changes," said Eric Rignot, a senior scientist with NASA's Jet Propulsion Laboratory. "We believe it is related to global climate forcing."
This government scientist is clearly stating that the change in ice extent on the antarctic west coast is due to changes in currents, not direct atmospheric warming over the ice flows. Yet without presenting any evidence to support the claim he goes to say that he "believes" the changes seen in the study are related to global climate forcing (note that he "believes" that this is due to climate change, another pseudo-religious reference. Science is suppose to be based on facts, not beliefs). But historic observations do not support those beliefs. This study was completed by the University of Bristol (link above) using satellite and other public data.
What does all this prove? If you're looking for change you're going to find it. Nature has never sat still, in recent geological history the climate has fluctuated greatly as has arctic / antarctic ice.
Share or Bookmark this Article Using:
| furl

| reddit

| del.icio.us

| magnoliacom

| digg

| newsvine

| Stumble_it

| Facebook

| Google

| Fark

| Sphere

| Netscape
| Technorati

| Yahoo!

|
Add to Favorites and Additional Bookmarks:
GlobalWarmingHoax.com - Where the Truth Heats Up ™
Threads: 2105 | Replies: 812 | Views: 5010536