»
Reply to Patrick Brown's response to my article commenting on his Nature paper


Introduction I thank Patrick Brown for his detailed response (also here) to statistical issues that ...

»
Polar Bears, Inadequate data and Statistical Lipstick


A recent paper Internet Blogs, Polar Bears, and Climate-Change Denial by Proxy by JEFFREY A. HARVEY ...

»
Brown and Caldeira: A closer look shows global warming will not be greater than we thought


A guest post by Nic Lewis Introduction Last week a paper predicting greater than expected global war ...

»
US East Coast Sea Level Rise: An Adjustocene Hockey Stick


In 2011, Andy Revkin wrote an article (archive) entitled "Straight Talk on Rising Seas in a Wa ...

»
New Antarctic Temperature Reconstruction


Stenni et al (2017), Antarctic climate variability on regional and continental scales over the last ...

»
Reconciling Model-Observation Reconciliations


Two very different representations of consistency between models and observations are popularly circ ...

»
Part 2- The TV5 Monde Hack and APT28


In his attribution of the DNC hack, Dmitri Alperovitch, of Crowdstrike and the Atlantic Council, lin ...

»
From Nigerian Scams to DNC Hack Attribution – Part 1


In Crowdstrike's original announcement that "Russia" had hacked the DNC, Dmitri Al ...

»
Guccifer 2: From January to May, 2016


Within the small community conducting technical analysis of the DNC hack, there has been ongoing con ...

»
Guccifer 2 and "Russian" Metadata


The DHS-FBI intel assessment of the DNC hack concluded with "high confidence" that Gucci ...

License Plate Frames
Support the Truth


"SKEPTIC"




"It`s Natural"




"Liberty"

* MORE *
Strong and durable metal license plate holder. Uses full color high resolution images. UV and Water Protection. Satisfaction Guaranteed

You can now visit us on your mobile phone! Simply goto http://GlobalWarmingHoax.com on your mobile phone or PDA to get started!
NASA Revises Temperature Data - 1930's warmest on record!
Admin
, Thursday 09 August 2007 - 20:06:13 //

comment: 25
//

// Font Size -
Increase
/
Decrease
/
Reset
In a stunning turn of events data (quietly) released by NASA shows that the 4 warmest years ever recorded occurred in the 1930's, with the warmest year on record being 1934 (not 1998). Lets see if Al Gore revises his road show. Update - Global Warming is actually a Y2K bug!No Longer Supported
Data discovered on NASA's Goddard Institute for Space Studies (GISS) website revises recorded temperatures for the United States. It is expected that similar revisions will also be made for global temperature recordings. This information was discovered by Steve McIntyre of Climate Audit on Wednesday (8/8/2007). No NASA press release, no James Hansen (head of GISS) announcement, nothing. Could it be because they don't want anyone to see it? The data is certainly devastating for the Al Gore camp which has based much of their Carbon Credits sales pitch on recent temperatures (e.g. claiming that 1998 was the warmest on record).
Other aspects of the data are just as stunning.
Only 4 of the top 10 warmest years occurred in the past 10 years (1998, 1999, 2006)

Out of the top 10 warmest years half occurred before 1940

The years 2000, 2002, 2003 and 2004 were cooler than the year 1900

1996, just two years before what Al Gore called the hottest year in the history of the planet, was actually cooler than average.

1921 was the third warmest year in recorded history (behind 1934 and 1998).
We're almost back to the 1970's theory of global cooling! The data clearly changes things.
Had we been living in 1934 we would have heard the same claims of global warming, this is the evidence that we would have heard at the time:
8 of the past 10 years had been above average.

1934 was the warmest year ever recorded. The warmest in over 54 years!
Shift that to 1944 and you would have seen that 17 of the past 21 years had been warmer than average. It is obvious that in just the past 125 years there have been other periods just as warm, or warmer, than what we are now experiencing. If we could look at the past 1,000 years with the accuracy of the past 100 years we would most likely find that this is not unusual at all.
Update:
Turns out this NASA data was revised because of a Y2K bug in the algorithm used to adjust measurement station raw data.
Blogger Finds Y2K Bug in NASA Climate Data
. NASA's James Hansen has refused to release his algorithms but they were reverse engineered by Steve McIntyre of
Climate Audit
and NASA has since updated their data (so you know he Steve got it right). What this author finds truly disturbing (and disgusting) is that NASA would keep these algorithms secret. This is
public
information. Steve really should file a Freedom of Information (FOIA) request to obtain this and what ever else he needs. NASA would be very hard pressed to justify withholding that information. These events seriously call in to question anything James Hansen has touched, supervised, or managed. Not just because he got the math wrong but because he also hides his methods. He is apparently attempting to establish a new religion by requiring people to have
faith
in his data.
References:
As one blogger said "1998 had El Nino and 367ppmv CO2. What did 1934 have?", was 1934 mans fault too?
Climate Audit
is being hit by either too much traffic or a Distributed Denial of Service Attack (they aren't sure which at this point). Below are the two blog posts that started it all.
Share or Bookmark this Article Using:
| furl

| reddit

| del.icio.us

| magnoliacom

| digg

| newsvine

| Stumble_it

| Facebook

| Google

| Fark

| Sphere

| Netscape
| Technorati

| Yahoo!

|
Add to Favorites and Additional Bookmarks:
GlobalWarmingHoax.com - Where the Truth Heats Up ™
==== CLIMATE AUDIT'S August 8th, 2007 POST =====
A New Leaderboard at the U.S. Open
By Steve McIntyre
A little unexpectedly, 1998 had a late bogey and 1934 had a late birdie. (I thought that they were both in the clubhouse since the turmoil seemed to be in the 2000s.) In any event, the new leader atop the U.S. Open is 1934.
2006 had a couple of late bogeys and fell to 4th place, behind even 1921. I think that there's a little air in the 2006 numbers even within GISS procedures as the other post-2000 lost about 0.15 strokes through late bogeys, while it lost only 0.10 strokes. It is faltering and it might yet fall behind 1931 into 5th place.
Four of the top 10 are now from the 1930s: 1934, 1931, 1938 and 1939, while only 3 of the top 10 are from the last 10 years (1998, 2006, 1999). Several years (2000, 2002, 2003, 2004) fell well down the leaderboard, behind even 1900. (World rankings are calculated separately.) Note: For the new leaderboard see

. The old data has been erased; by sheer chance, I had the old data active in my R-session but I can't give a link to it.)
GISS U.S. Temperatures (deg C) in New Order
| | | |
| --- | --- | --- |
| Year | Old | New |
| 1934 | 1.23 | 1.25 |
| 1998 | 1.24 | 1.23 |
| 1921 | 1.12 | 1.15 |
| 2006 | 1.23 | 1.13 |
| 1931 | 1.08 | 1.08 |
| 1999 | 0.94 | 0.93 |
| 1953 | 0.91 | 0.90 |
| 1990 | 0.88 | 0.87 |
| 1938 | 0.85 | 0.86 |
| 1939 | 0.84 | 0.85 |
Here's the old leaderboard.
| | | |
| --- | --- | --- |
| Year | Old | New |
| 1998 | 1.24 | 1.23 |
| 1934 | 1.23 | 1.25 |
| 2006 | 1.23 | 1.13 |
| 1921 | 1.12 | 1.15 |
| 1931 | 1.08 | 1.08 |
| 1999 | 0.94 | 0.93 |
| 1953 | 0.91 | 0.90 |
| 2001 | 0.90 | 0.76 |
| 1990 | 0.88 | 0.87 |
| 1938 | 0.85 | 0.86 |
==== END OF POST ====
==== CLIMATE AUDIT'S August 7th, 2007 POST =====
Will the Real USHCN Data Set Please Stand Up?
By Steve McIntyre
The GISS homepage formerly said:
The NASA GISS Surface Temperature Analysis (GISTEMP) provides a measure of the changing global surface temperature with monthly resolution for the period since 1880, when a reasonably global distribution of meteorological stations was established. Input data for the analysis, collected by many national meteorological services around the world, is the unadjusted data of the Global Historical Climatology Network (Peterson and Vose, 1997 and 1998) except that the USHCN station records included were replaced by a later corrected version.
In econometrics, you couldn't use loosy-goosy phrases like "replaced by a later corrected version." You'd have to identify the version. Actually AGU policies (which apply to JGR) require proper data citation, although climate scientists publishing in AGU journals flout this policy, including Hansen here. Following an email to Hansen and Ruedy of GISS, they changed the introduction at the GISTEMP intro from:to the following:
Input data for the analysis, collected by many national meteorological services around the world, is the unadjusted data of the Global Historical Climatology Network (Peterson and Vose, 1997 and 1998) except that the USHCN station records up to 1999 were replaced by a version of USHCN data with further corrections after an adjustment computed by comparing the common 1990-1999 period of the two data sets. (We wish to thank Stephen McIntyre for bringing to our attention that such an adjustment is necessary to prevent creating an artificial jump in year 2000.)
This doesn't really clarify the provenance of the data. In his email, Ruedy added:
In 2000, USHCN provided us with a file with corrections not contained in the GHCN data. Unlike the GHCN data, that product is not kept current on a regular basis. Hence we used (as you noticed) the GHCN data to extend those data in our further updates (2000-present)
Well, I hadn't really "noticed" that they had used GHCN data to extend the USHCN data. I've done lots of cross-comparisons with different variations trying to identify exactly where the GHCN raw data came from. I've put up many plots at CA showing GISS raw as compared to different USHCN versions and I've done many more that I've not posted up. At his point, there's one thing that we can say for sure: I've now looked at GISS raw as compared to GHCN raw data in the post-2000 period and in the few sites that I've examined since receiving this email (Detroit Lakes, Port Angeles), there is an exact match. So at least we've tracked down one aspect of the provenance of GISS raw data. I've done a comparison plot below for Detroit Lakes MN, a series that we've looked at before. After 2000, the match is exact (the delta is 0.0). However, before 2000, the USHCN TOBS/adjusted series sort of match for a while but the match tails off in the earlier portions, with the GISS raw version being quite different.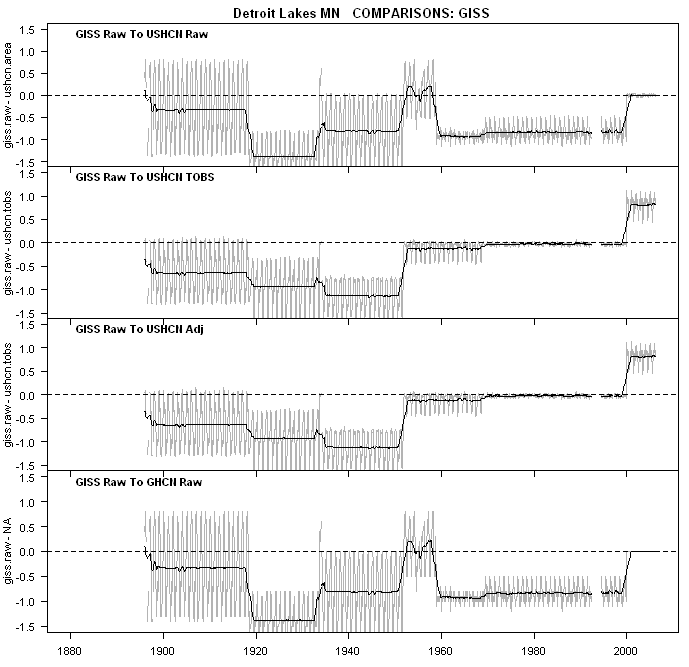 hansen48.gif
So where does the GISS raw version come from? At this stage, I think that we can declare that it doesn't come from any of the USHCN version 2 (raw, TOBS, adjsted). If it did, then the versions would match as exactly as the GHCN raw and GISS raw after 2000. So where does it come from? Another stupid climate science guessing game, although hopefully it will solved in a shorter time than the unsolved MBH99 confidence intervals.
Ruedy's letter has opened up the possibility of really obsolete data being used - I hadn't thought to look at really obsolete data. I browsed through some obsolete data in connection with Swindle - who would have thought that we'd be doing so again. Two possibilities spring to mind: (1) maybe he's using something from USHCN version 1; this is online, but I don't think that the dates are right. (2) Maybe there's an earlier USHCN version 2 that's been overwritten (3) maybe he's using an old GHCN version before 2000. Maybe none of the above - hey, it's climate science.
==== END OF POST ====