Global Warming Hoax News From Around the WebWorld Climate Report
»
A Classic Tale of Global Warming Alarmism
»
More Evidence Against a Methane Time Bomb
»
Agriculture: Tropical Cyclones are Welcome Visitors
»
Sea Level Acceleration: Not so Fast
»
Hansen Is Wrong
»
Earth's Carbon Sink Still Strong and Growing
»
Wild Speculation on Climate and Polar Bears
»
Illiteracy at NASA
»
The Heat Was On—Before Urbanization and Greenhouse Gases
»
What's to Blame for the Rains on the Plains?
***
NewsBusters - Global Warming
»
Mediaite Catches CNN's Weir Calling Fox Nation 'Ignorant F***sticks'
»
NYT Reporter & Former Dem Staffer Claims 'Conservative Christians' (like Sojourners?) Embrace Strict EPA Regs on Coal
»
NBC: Firefighters Battling California Wildfires Are On 'Front Lines of Climate Change'
»
Five Climate-Change Claims as Ridiculous as Sharknado
»
WashPost 'Humorist' Tries to Decide If Caveman Conservatives Belong in 8,000 B.C. or 3,000,000 B.C.
»
CBS Shamelessly Hypes Climate Change Will Cause More Turbulence For Airplanes
»
Imagine That: 45 Days After Predicted 'Irreversible Collapse,' Antarctic Sea Ice Sets New Record
»
NYT: Scientists 'Startled' at Great Lakes' Rise; Another Warmist Prediction Is Biting the Dust
»
As Wind Farm Gets Permit to Kill Eagles, AP's Scott Smith Claims Wind Energy Has 'Exploded' Under Obama
»
Column: It's the Global Warming Alarmists Who Are the Real 'Deniers'
»
'Big Three' Networks Ignore Supreme Court Ruling on EPA's Emissions Regulations
»
President Obama Mocks Climate Deniers In UC Irvine Commencement Address
»
Obama and Showtime Admit to Exploiting Extreme Weather Events to 'Shift' Public Opinion
»
AP Reports Another Data-Free South Florida Rising Sea Fable
»
PBS Anchor: 'Why Does the White House Rub Salt Into the Wound' of Red-State Democrats With EPA Emissions Crackdown?
»
Politico Produces 5,900 Words on 'Less in Control' Obama; All Scandals Except HealthCare.gov Unmentioned
»
Daily Show Targets Anti-Vaxxers As 'Left-Leaning Idiocy'
»
ABC Spends Twice As Much Time on Hedgehogs Than New EPA Regulations
»
Jake Tapper Takes on EPA Head Over New Climate Change Regulations, Lack of Dem. Support
»
CBS Hails 'Groundbreaking' New EPA Regulations on Climate Change, Skips Job Risk
***
Science and Public Policy Institute
»
Response of Various Marine Animals to Ocean Warming
»
Medieval Warm Period in Central Europe
»
Growth Response of Grassland Species to Elevated C02 When Water Stressed
»
Effects of Increased C02 on Herbaceous Plant Pests
»
Medieval Warm Period in Northern Europe
»
Loblolly Pines Defy the Progressive Nitrogen Hypothesis
»
Response of Crustaceans to Ocean Warming
»
Energy Inefficiencies of Biofuels
»
Response of Marine Plants to Changes in Temperature
»
Biofuels: The Carbon Debt They Owe
»
Medieval Warm Period in Japan
»
Response of Corals to Ocean Acidification
»
Interactive Effects of C02 and Water Stress on the Growth of Woody Plant Species
»
Biofuels: Land and Water Concerns
»
Medieval Warm Period in Upper North America
»
Can Plants Evolve Fast Enough to Cope with Increased Drought?
»
Health Promoting Effects of Elevated C02 on Common Food Plants
»
Response of Corals to Ocean Acidification
»
Effects of Ocean Acidification and Warming on Marine Echinoderms
»
Effects of Elevated C02 on Soil Carbon Sequestration
»
Biospheric Productivity in South America
»
Killing Wildlife in the Name of Climate Change
»
Natural Resource Adaptation: Protecting Resources and Economies
»
The Interaction of C02 and Non-Ozone Air Pollutants on Plant Growth
»
Global Cooling
***
Climate Science: Roger Pielke Sr. Research Group
»
Roger Pielke Sr. is now on Twitter!
»
2012 Climate Science Weblog in Review by Dallas Jean Staley – A Guest Post
»
The Weblog Is Retiring
»
Publication Of "Reply to "Comment On 'Ocean Heat Content And Earth's Radiation Imbalance. II. Relation To Climate Shifts' " by Nuccitelli Et Al. By Douglass and Knox 2012
»
Q&A From A Group Of Retired NASA Personnel And Associates
»
The Importance of Land Use/Land Practices On Climate – A Perspective From Jon Foley
»
Interview With James Wynn In The English Department At Carnegie Mellon University
»
University Of Alabama At Huntsville October 2012 Lower Tropospheric Temperature Analysis
»
USA Election Day 2012
»
New Paper "Climatic Variability Over Time Scales Spanning Nine Orders of Magnitude: Connecting Milankovitch Cycles With Hurst–Kolmogorov Dynamics" By Markonis And Koutsoyiannis
***
»
Paper justifying AR4's use of a uniform prior for estimating climate sensitivity shown to be faulty
»
Cook's Trick
»
Cook's Fake Ethics Approval
»
New Paper by McKitrick and Vogelsang comparing models and observations in the tropical troposphere
»
Was Lawson Right about the UK Floods?
»
George Zimmerman's Libel Lawsuit
»
Abram et al 2014 and the Southern Annular Mode
»
Mann's new paper recharacterizing the Atlantic Multidecadal Oscillation
»
Threats from the University of Queensland
»
IOP: expecting consistency between models and observations is an "error"
***
Watts Up With That?
»
So far in 2014, record low temperatures outpace record highs nearly 2-1 in the USA
»
Extremes Of Temperature Decreasing In The US
»
Australian Tropical Cyclone activity said to be at the lowest level in modern history
»
The 'Gore effect' turns ugly – CNN climate bias revealed
»
Capture the Sun & Power America With Solar – Is There a Business Case?
»
The Unqualified Judging the Self-Interested
»
CO2, destroyer of entire continents at the touch of a knob
»
BREAKING: Senate report exposes the climate-environmental movement as being a cash machine controlling the EPA
»
New paper from Nic Lewis on climate sensitivity corrects 'prior' errors in an IPCC AR4 reference
»
Heap big data science at Northeastern University
»
List of excuses for 'the pause' now up to 29
»
100 year old cold record broken in Huntsville, AL
***
Global Warming News
»
Monckton's Latest Commentary on the Pause
»
House Panel Hears Testimony from Federal Energy Regulators on EPA's Clean Power Plan
»
New Paper: EPA's Illegitimate Climate Rule
»
Heritage Panel Addresses EPA's Unprecedented Climate Change Regulations
»
Wasted in Margarita Island: Hugo Chavez as Climate Action Hero (Some People Say There's a Capitalist to Blame)
»
Cooler Heads Digest 25 July 2014
»
Shocker: Greens' Favorite Court for "Sue and Settle" Is in California Bay Area
»
How Undemocratic Is EPA's Clean Power Plan?
»
Solar Thermal: Hazard for Pilots?
»
Platts Energy Week Review: Rep. Olson Shines, Ambassador Pascual Demonstrates Futility of Climate Diplomacy, U.S. Lucky to Lose the Great Global Green Race, and More
***
Fox News - Climate Change Stories
***
Michelle Malkin - Enviro-Nitwits
»
Guy who operates dozens of jets and a spacecraft fleet to help save planet by giving up… hamburgers
»
You'll never guess what might have contributed to the current Iraq crisis
»
Obama declares large areas of Pacific off limits so divers can retrieve his sunken approval rating
»
With Iraq on the brink, John Kerry draws a red line on the oceans with help from Leonardo DiCaprio
»
Obama slams climate change 'deniers' before firing up Air Force One to go play golf
***
DailyTech Michael Asher`s blog
»
Will the Real Antarctica Please Stand Up?
»
Global Warming May Decrease Hurricanes, Research Suggests
»
Japanese Report Disputes Human Cause for Global Warming
»
Sea Ice Ends Year at Same Level as 1979
»
A Funny Thing Happened on the Way to the (Climate) Forum
»
Climate Report Downgrades Ice Loss; Media Reports Opposite
»
Princeton Physicist Calls Global Warming Science "Mistaken"
»
Defying Predictions, Sea Level Rise Begins to Slow
»
Electric Car Sales in Freefall; Industry Risks Collapse
»
Glaciers in Norway Growing Again
***
C3 - Climate Cycles Change
»
IPCC Climate Models: The Divergence From Climate Reality Continues In 2014
»
Per NOAA, Extreme Hot Months In U.S. Less Frequent After 1980 Despite Huge CO2 Emissions
»
The Tropical Hotspot: Still Frigid After All These Years (& CO2 Emissions)
»
NOAA Determines U.S. Precipitation Unaffected By CO2, Extreme Climate Change Non-Existent
»
Latest Research: "Extreme" Climate Change & Recent Weather Disasters Don't Correlate
»
NASA Research Indicates Pre-1950 Climate Change Greater - Modern Global Warming Tepid
»
NOAA Confirms: Climate Warming Due To Temperature Fabrication, Not Empirical Measurements
»
"While the planet burns" – Elites & Cronies Deny Empirical Science, Push Climate Policies To Enrich Themselves
»
Extreme Climate Change: Abrupt, Accelerating & Unequivocal Global Warming - Ooops, UK Confirms Not Happening
»
Connect The Dots: Is CO2 Turning Earth's Atmosphere Into A Venus Cauldron As Predicted?
»
CO2 Emission Reductions: Since Kyoto Protocol Of 1997, U.S. Outperforms Major World Regions
»
State-Of-The-Art Satellite Technology Provides Proof: CO2's Almost Non-Existent Global Warming Influence
»
NOAA Confirms: Huge CO2 Emissions Have Zero Impact On U.S. Maximum Temperatures
»
Climate Change FactCheck: UK Analysis Confirms CO2 Emissions Not Producing Unprecedented, Irreversible & Accelerating Global Warming
»
Those Stubborn Facts: NOAA's Empirical Climate Records Reveal Truth, Modern Warming Same As Pre-1950 Natural Warming
***
CATO - Global Warming
»
Rapid Buses Beat Rails
»
The Conservative Case for Immigration Reform
»
China's Risky Play in the U.S. Debt Market
»
Border Patrols Backfire
»
Government's Ultimate Power: Executing Americans, with Atrocities
»
Dangerously Demagoguing Entitlements
»
Ukraine Crisis Reminds Americans Why NATO Should Not Expand: Not to Ukraine, Georgia, Or Anyone Else
»
Back in Iraq?
»
Keep Chopping Federal Spending
»
The Flip-Flopping Architect of the ACA
»
Conservatives Would Do Well to Resurrect Ronald Reagan's Middle East Policy
»
When Money Mischief Goes Global
»
South Korea: Forever Dependent on America
»
Could Putin's War be Good for Ukraine?
»
It's Time States Were Transparent about Lethal Injection Drugs
»
An Economic and Moral Case for Legalizing Cocaine and Heroin
»
Reversing the Decline in Small Business Lending
»
Stay out of This Iraq War
»
China's Big Course Correction in the South China Sea?
»
Reining in ObamaCare--and the President
»
Fed Proposal to End Bailouts Falls Short
»
A Big Hole in the Heart of Obamacare
»
Should the 'Right to be Forgotten' be Reviewed by an International Court?
»
How Much Digital Reading Stays inside You?
»
D.C. Forgets about the Debt
***
CanadaFreePress - Global Warming
»
EPA's Misleading PR Campaign on Power Plant Rules
»
Lake Superior, the Great Lakes and Europe Defy Climate Experts
»
Hearing with FERC Reveals Uncertainties in EPA's Power Plant Rule
***
More Global Warming Hoax News Feeds

---
Since Exxon Hasn't Sent Us Our First Million Dollars Yet You're Welcome To Help Pay Our Bills Until They Do.











Posted by Anonymous
[ REQUIRES ADMIN APPROVAL ]
07/28 02:48

Posted by Anonymous
Yes
07/25 01:42

Posted by Joel Carlson
What do all the green plants on earth need to prod[more ...]
07/17 12:10

Posted by Anonymous
http://cpubuilds.com offers some insight into glob[more ...]
06/15 13:46

Posted by Anonymous
Global warming - this is old news for everyone! I [more ...]
02/27 12:28

Posted by Anonymous
Interesting blog about Global Warming in space. Th[more ...]
02/22 09:27

Posted by Anonymous
I want to thank you for this wonderful blog. And I[more ...]
02/22 08:21

Posted by Anonymous
Interesting blog about climate and global warming.[more ...]
02/22 08:18

Posted by Anonymous
Interesting blog about climate and global warming.[more ...]
02/22 08:15

Posted by Anonymous
It has long been began talking about global warmin[more ...]
02/10 13:34

License Plate Frames
Support the Truth


"SKEPTIC"




"It`s Natural"




"Liberty"

* MORE *
Strong and durable metal license plate holder. Uses full color high resolution images. UV and Water Protection. Satisfaction Guaranteed

You can now visit us on your mobile phone! Simply goto http://GlobalWarmingHoax.com on your mobile phone or PDA to get started!
NASA Revises Temperature Data - 1930's warmest on record!
Admin
, Thursday 09 August 2007 - 20:06:13 //

comment: 25
//

// Font Size -
Increase
/
Decrease
/
Reset
In a stunning turn of events data (quietly) released by NASA shows that the 4 warmest years ever recorded occurred in the 1930's, with the warmest year on record being 1934 (not 1998). Lets see if Al Gore revises his road show. Update - Global Warming is actually a Y2K bug!No Longer Supported
Data discovered on NASA's Goddard Institute for Space Studies (GISS) website revises recorded temperatures for the United States. It is expected that similar revisions will also be made for global temperature recordings. This information was discovered by Steve McIntyre of Climate Audit on Wednesday (8/8/2007). No NASA press release, no James Hansen (head of GISS) announcement, nothing. Could it be because they don't want anyone to see it? The data is certainly devastating for the Al Gore camp which has based much of their Carbon Credits sales pitch on recent temperatures (e.g. claiming that 1998 was the warmest on record).
Other aspects of the data are just as stunning.
Only 4 of the top 10 warmest years occurred in the past 10 years (1998, 1999, 2006)

Out of the top 10 warmest years half occurred before 1940

The years 2000, 2002, 2003 and 2004 were cooler than the year 1900

1996, just two years before what Al Gore called the hottest year in the history of the planet, was actually cooler than average.

1921 was the third warmest year in recorded history (behind 1934 and 1998).
We're almost back to the 1970's theory of global cooling! The data clearly changes things.
Had we been living in 1934 we would have heard the same claims of global warming, this is the evidence that we would have heard at the time:
8 of the past 10 years had been above average.

1934 was the warmest year ever recorded. The warmest in over 54 years!
Shift that to 1944 and you would have seen that 17 of the past 21 years had been warmer than average. It is obvious that in just the past 125 years there have been other periods just as warm, or warmer, than what we are now experiencing. If we could look at the past 1,000 years with the accuracy of the past 100 years we would most likely find that this is not unusual at all.
Update:
Turns out this NASA data was revised because of a Y2K bug in the algorithm used to adjust measurement station raw data.
Blogger Finds Y2K Bug in NASA Climate Data
. NASA's James Hansen has refused to release his algorithms but they were reverse engineered by Steve McIntyre of
Climate Audit
and NASA has since updated their data (so you know he Steve got it right). What this author finds truly disturbing (and disgusting) is that NASA would keep these algorithms secret. This is
public
information. Steve really should file a Freedom of Information (FOIA) request to obtain this and what ever else he needs. NASA would be very hard pressed to justify withholding that information. These events seriously call in to question anything James Hansen has touched, supervised, or managed. Not just because he got the math wrong but because he also hides his methods. He is apparently attempting to establish a new religion by requiring people to have
faith
in his data.
References:
As one blogger said "1998 had El Nino and 367ppmv CO2. What did 1934 have?", was 1934 mans fault too?
Climate Audit
is being hit by either too much traffic or a Distributed Denial of Service Attack (they aren't sure which at this point). Below are the two blog posts that started it all.
Share or Bookmark this Article Using:
| furl

| reddit

| del.icio.us

| magnoliacom

| digg

| newsvine

| Stumble_it

| Facebook

| Google

| Fark

| Sphere

| Netscape
| Technorati

| Yahoo!

|
Add to Favorites and Additional Bookmarks:
GlobalWarmingHoax.com - Where the Truth Heats Up ™
==== CLIMATE AUDIT'S August 8th, 2007 POST =====
A New Leaderboard at the U.S. Open
By Steve McIntyre
A little unexpectedly, 1998 had a late bogey and 1934 had a late birdie. (I thought that they were both in the clubhouse since the turmoil seemed to be in the 2000s.) In any event, the new leader atop the U.S. Open is 1934.
2006 had a couple of late bogeys and fell to 4th place, behind even 1921. I think that there's a little air in the 2006 numbers even within GISS procedures as the other post-2000 lost about 0.15 strokes through late bogeys, while it lost only 0.10 strokes. It is faltering and it might yet fall behind 1931 into 5th place.
Four of the top 10 are now from the 1930s: 1934, 1931, 1938 and 1939, while only 3 of the top 10 are from the last 10 years (1998, 2006, 1999). Several years (2000, 2002, 2003, 2004) fell well down the leaderboard, behind even 1900. (World rankings are calculated separately.) Note: For the new leaderboard see

. The old data has been erased; by sheer chance, I had the old data active in my R-session but I can't give a link to it.)
GISS U.S. Temperatures (deg C) in New Order
| | | |
| --- | --- | --- |
| Year | Old | New |
| 1934 | 1.23 | 1.25 |
| 1998 | 1.24 | 1.23 |
| 1921 | 1.12 | 1.15 |
| 2006 | 1.23 | 1.13 |
| 1931 | 1.08 | 1.08 |
| 1999 | 0.94 | 0.93 |
| 1953 | 0.91 | 0.90 |
| 1990 | 0.88 | 0.87 |
| 1938 | 0.85 | 0.86 |
| 1939 | 0.84 | 0.85 |
Here's the old leaderboard.
| | | |
| --- | --- | --- |
| Year | Old | New |
| 1998 | 1.24 | 1.23 |
| 1934 | 1.23 | 1.25 |
| 2006 | 1.23 | 1.13 |
| 1921 | 1.12 | 1.15 |
| 1931 | 1.08 | 1.08 |
| 1999 | 0.94 | 0.93 |
| 1953 | 0.91 | 0.90 |
| 2001 | 0.90 | 0.76 |
| 1990 | 0.88 | 0.87 |
| 1938 | 0.85 | 0.86 |
==== END OF POST ====
==== CLIMATE AUDIT'S August 7th, 2007 POST =====
Will the Real USHCN Data Set Please Stand Up?
By Steve McIntyre
The GISS homepage formerly said:
The NASA GISS Surface Temperature Analysis (GISTEMP) provides a measure of the changing global surface temperature with monthly resolution for the period since 1880, when a reasonably global distribution of meteorological stations was established. Input data for the analysis, collected by many national meteorological services around the world, is the unadjusted data of the Global Historical Climatology Network (Peterson and Vose, 1997 and 1998) except that the USHCN station records included were replaced by a later corrected version.
In econometrics, you couldn't use loosy-goosy phrases like "replaced by a later corrected version." You'd have to identify the version. Actually AGU policies (which apply to JGR) require proper data citation, although climate scientists publishing in AGU journals flout this policy, including Hansen here. Following an email to Hansen and Ruedy of GISS, they changed the introduction at the GISTEMP intro from:to the following:
Input data for the analysis, collected by many national meteorological services around the world, is the unadjusted data of the Global Historical Climatology Network (Peterson and Vose, 1997 and 1998) except that the USHCN station records up to 1999 were replaced by a version of USHCN data with further corrections after an adjustment computed by comparing the common 1990-1999 period of the two data sets. (We wish to thank Stephen McIntyre for bringing to our attention that such an adjustment is necessary to prevent creating an artificial jump in year 2000.)
This doesn't really clarify the provenance of the data. In his email, Ruedy added:
In 2000, USHCN provided us with a file with corrections not contained in the GHCN data. Unlike the GHCN data, that product is not kept current on a regular basis. Hence we used (as you noticed) the GHCN data to extend those data in our further updates (2000-present)
Well, I hadn't really "noticed" that they had used GHCN data to extend the USHCN data. I've done lots of cross-comparisons with different variations trying to identify exactly where the GHCN raw data came from. I've put up many plots at CA showing GISS raw as compared to different USHCN versions and I've done many more that I've not posted up. At his point, there's one thing that we can say for sure: I've now looked at GISS raw as compared to GHCN raw data in the post-2000 period and in the few sites that I've examined since receiving this email (Detroit Lakes, Port Angeles), there is an exact match. So at least we've tracked down one aspect of the provenance of GISS raw data. I've done a comparison plot below for Detroit Lakes MN, a series that we've looked at before. After 2000, the match is exact (the delta is 0.0). However, before 2000, the USHCN TOBS/adjusted series sort of match for a while but the match tails off in the earlier portions, with the GISS raw version being quite different.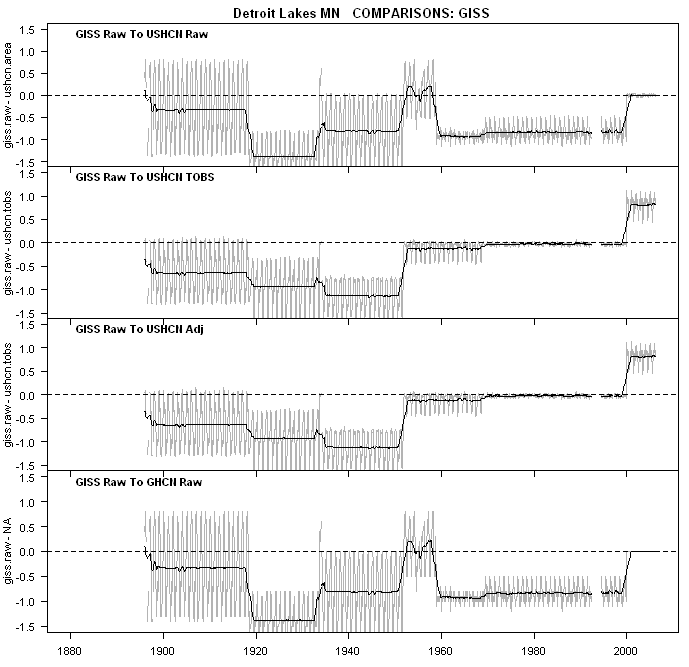 hansen48.gif
So where does the GISS raw version come from? At this stage, I think that we can declare that it doesn't come from any of the USHCN version 2 (raw, TOBS, adjsted). If it did, then the versions would match as exactly as the GHCN raw and GISS raw after 2000. So where does it come from? Another stupid climate science guessing game, although hopefully it will solved in a shorter time than the unsolved MBH99 confidence intervals.
Ruedy's letter has opened up the possibility of really obsolete data being used - I hadn't thought to look at really obsolete data. I browsed through some obsolete data in connection with Swindle - who would have thought that we'd be doing so again. Two possibilities spring to mind: (1) maybe he's using something from USHCN version 1; this is online, but I don't think that the dates are right. (2) Maybe there's an earlier USHCN version 2 that's been overwritten (3) maybe he's using an old GHCN version before 2000. Maybe none of the above - hey, it's climate science.
==== END OF POST ====
Threads: 2103 | Replies: 810 | Views: 4412086