Global Warming Hoax News From Around the WebWorld Climate Report
»
A Classic Tale of Global Warming Alarmism
»
More Evidence Against a Methane Time Bomb
»
Agriculture: Tropical Cyclones are Welcome Visitors
»
Sea Level Acceleration: Not so Fast
»
Hansen Is Wrong
»
Earth's Carbon Sink Still Strong and Growing
»
Wild Speculation on Climate and Polar Bears
»
Illiteracy at NASA
»
The Heat Was On—Before Urbanization and Greenhouse Gases
»
What's to Blame for the Rains on the Plains?
***
NewsBusters - Global Warming
»
CNN's Blitzer: 'I Don't Remember' Biden's Law School Plagiarism
»
CNN's Chetry: 'Please Tell Me It's Not Lipstick Again'
»
MRC Report Asks: Why No Fairness Doctrine for PBS?
***
Science and Public Policy Institute
»
Growth Rates of Old Versus Young Forest Trees
»
Water Use Efficiency of Agricultural Species
»
Tropical Trees
»
Global Temperatures and Biospheric Productivity
»
Rewriting Sunspot History
»
Analysis of the Second Order Draft of the Working I Contribution to IPCC 5AR
»
The Economics of Biofuels
»
The Warming-Induced Evolution of Terrestrial Plants
»
Medieval Warm Period in Southern Europe
»
Effects of Elevated C02 on the Stomatal Conductance of Agricultural Crops
»
Response of Various Marine Animals to Ocean Warming
»
Medieval Warm Period in Central Europe
»
Growth Response of Grassland Species to Elevated C02 When Water Stressed
»
Effects of Increased C02 on Herbaceous Plant Pests
»
Medieval Warm Period in Northern Europe
»
Loblolly Pines Defy the Progressive Nitrogen Hypothesis
»
Response of Crustaceans to Ocean Warming
»
Energy Inefficiencies of Biofuels
»
Response of Marine Plants to Changes in Temperature
»
Biofuels: The Carbon Debt They Owe
»
Medieval Warm Period in Japan
»
Response of Corals to Ocean Acidification
»
Interactive Effects of C02 and Water Stress on the Growth of Woody Plant Species
»
Biofuels: Land and Water Concerns
»
Medieval Warm Period in Upper North America
***
Climate Science: Roger Pielke Sr. Research Group
»
Roger Pielke Sr. is now on Twitter!
»
2012 Climate Science Weblog in Review by Dallas Jean Staley – A Guest Post
»
The Weblog Is Retiring
»
Publication Of "Reply to "Comment On 'Ocean Heat Content And Earth's Radiation Imbalance. II. Relation To Climate Shifts' " by Nuccitelli Et Al. By Douglass and Knox 2012
»
Q&A From A Group Of Retired NASA Personnel And Associates
»
The Importance of Land Use/Land Practices On Climate – A Perspective From Jon Foley
»
Interview With James Wynn In The English Department At Carnegie Mellon University
»
University Of Alabama At Huntsville October 2012 Lower Tropospheric Temperature Analysis
»
USA Election Day 2012
»
New Paper "Climatic Variability Over Time Scales Spanning Nine Orders of Magnitude: Connecting Milankovitch Cycles With Hurst–Kolmogorov Dynamics" By Markonis And Koutsoyiannis
***
»
Gavin Schmidt and the EPA Denial Decision
»
Millennial Quebec Tree Rings
»
Decomposing Paico
»
New Article on Igaliku
»
PAGES2K vs the Hanhijarvi Reconstruction
»
PAGES2K: More Upside Down?
»
Okshola: which way is up?
»
Revisions to Pages2K Arctic
»
Sliming by Stokes
»
ClimateBallers and the MM05 Simulations
***
Watts Up With That?
»
Video: Why science reporter Seth Borenstein at the Associated Press is more about 'New Catch Phrases' and less about science
»
Slimed by Naomi Oreskes – In Defense of Dr. Fred Singer
»
Red or Blue pill? Light sensitive diatoms may hold key to a big portion of the climate puzzle
»
FEMA edict to U.S. states: 'Provide a Climate Plan or Lose Funding'
»
California trees 'smart response' to drought
»
Fire at Didcot power station means the UK power grid is in for a rough ride this winter
»
Weekly Climate and Energy News Roundup #154
»
Study: Improved electricity access has little impact on climate change
»
Secret Post Facto Changes in the IPCC AR5 Report
»
Poland To Veto EU's 40% CO2 Reduction Proposal
»
Claim: Cheap energy stimulates the economy too much – Natural Gas will not reduce CO2
»
World Disasters Report for 2013 – lowest number of catastrophies and deaths in 10 years
***
Global Warming News
»
Which Is the Bigger Threat to People in Developing Countries: Climate Change or Energy Poverty?
»
"Topsy-Turvy" Clean Power Plan Could "Substantially" Raise Electric Bills — Virginia State Corporate Commission
»
EPA's Clean Power Plan: Huge Electric Sector Impacts, Undetectably Small Climate Benefits — Study
»
The Divestment Movement's Heart of Darkness
»
EPA's Clean Power Plan: Strategy for One-Party Rule? (Updated 10-17-2014)
»
Will eBay Stand with ALEC?
»
Good News on Air Quality Not Featured on EPA's Web Site
»
How Unlawful Is EPA's Clean Power Plan?
»
Dressing Properly for Ben Santer's Invitation
»
Big Wind Encounters Turbulence in Oklahoma, Kansas, and Texas
***
Fox News - Climate Change Stories
***
Michelle Malkin - Enviro-Nitwits
»
Fanboy of scare monger Al Gore accuses conservative of scare mongering about Ebola
»
Predictable scapegoat for first ever diagnosis of Ebola in US
»
New scare tactic highlights gravity of the 'climate crisis'
»
Obama fires up Air Force One, Marine One, huge motorcade to deliver climate change warning at UN
»
Al Gore has lost so much weight that he makes a Prius look like a Chevy Suburban SUV
***
DailyTech Michael Asher`s blog
»
Will the Real Antarctica Please Stand Up?
»
Global Warming May Decrease Hurricanes, Research Suggests
»
Japanese Report Disputes Human Cause for Global Warming
»
Sea Ice Ends Year at Same Level as 1979
»
A Funny Thing Happened on the Way to the (Climate) Forum
»
Climate Report Downgrades Ice Loss; Media Reports Opposite
»
Princeton Physicist Calls Global Warming Science "Mistaken"
»
Defying Predictions, Sea Level Rise Begins to Slow
»
Electric Car Sales in Freefall; Industry Risks Collapse
»
Glaciers in Norway Growing Again
***
C3 - Climate Cycles Change
»
The Renewable Ears Market Potential: Low Frequency Noise From Wind Turbines Potentially Harmful Long-Term
»
Climate headlines from other sources this past week...
»
Americans Vote: Climate Change & Global Warming Still Not Important
»
CO2's Impact On Global Temperature Trends: Minimal To Non-Existent, Per IPCC's Gold-Standard
»
Peer-Reviewed Study: Canadian Climate Warming - Not So Much, eh?
»
Climate headlines from other sources this past week...
»
Can The All-Electric Nissan Leaf Save The World From A 0.01 Degree Warming? Yep & It Would Only Cost $40+ Trillion
»
After 20 Years of Cumulative CO2 Growth, Global Warming Trend Creeps Towards +0.38°C by 2050AD
»
Memo To GOP: Cut Def. Budget Until Idiot AGW-Warriors Retired From Service
»
Climate headlines from other sources this past week...
»
U.S. Wildfires Inversely Correlated With CO2 - The More CO2 The Less Acres Burnt, Per Empirical Evidence
»
Comparison of NASA/Hansen Climate Model Vs. Climate Reality: As of August 2014
»
Climate Headlines From Other Sources This Past Week
»
NOAA Confirms With Empirical Proof: CO2 Changes Not Causing Dangerous Global Temperature Changes
»
Climate Models Can't Predict Squat: Simulations of Critical ENSO Asymmetry Are Lame
***
CATO - Global Warming
»
More Bad News for Airbnb
»
China's Challenge: Growing the Market, Limiting the State
»
Why Doctors Give Obamacare a Failing Grade
»
America Adrift
»
America's Fatal Blunder in the War against ISIS
»
Securing Individual Education of Students and Teachers Simultaneously
»
Budget Cuts and Ebola
»
In Big Government, Breaking Up Is Always Hard to Do
»
U.S. Now Reaping the Iraqi Whirlwind: Washington Should Back out of Iraq's New Civil War
»
Mike Pence's Approach to Taxes Earns an 'A'
»
Will India Destroy the WTO's Agricultural Reforms?
»
Why So Many Are Unemployed for So Long
»
The Right Wing Screams for the Wambulance over Gay Marriage Ruling
»
The Forever-War President: Obama's 'Transformational' War Powers Legacy
»
Why the Middle East Still Doesn't Matter
»
War with Islamic State Would be Obama's Folly
»
School Tax Credits Are Good for Parents, Taxpayers
»
The Left's Legal War on Children
»
Immigration Bolsters American Freedom
»
Rand Paul vs. Current Assaults on Monstrous ISIS
»
Beijing's New Charm Offensive
»
The Minimum Wage Struggle: Bootleggers and Baptists
»
Land of the Free?
»
Why North Carolina Got the Highest Grade on Cato's Fiscal Report Card
»
Saudi Arabia: an Unsavory, Untrustworthy Member of the Anti-ISIL Coalition
***
CanadaFreePress - Global Warming
***
More Global Warming Hoax News Feeds

---
Since Exxon Hasn't Sent Us Our First Million Dollars Yet You're Welcome To Help Pay Our Bills Until They Do.










»
Watch: Princeton Physicist Dr. Will Happer: 'The Myth of Carbon Pollution' – 'Carbon pollution' is a propaganda slogan…It is not science'


On October 15, 2014 Dr. William Happer, Chairman of the George C. Marshall Institute, discusse ...

»
AP's Seth Borenstein: 'Some nonscientists claim no warming in 18 years, Fed scientist: 'no one's told the globe that' 2014 likely hottest year'


Another month, another global heat record broken: Last month again set a new mark for global heat. A ...

»
Even ignoring satellite data Year-to-date 'record' temps are 0.21C *below* climate model projections


»
Warmists trying to tout 'Hottest Year Ever' – 'Unfortunately, the satellite data does not agree'


As at the end of September, RSS is only ranking 7th hottest since 1998, and UAH tie 3rd. On both da ...

»
Flashback: 1990 NASA Report: 'Satellite analysis of upper atmosphere is more accurate, & should be adopted as the standard way to monitor temp change.'


April 1990 - The Canberra Times: 'A report Issued by the U.S. space agency NASA...' 'The report's a ...

»
Arctic Sea Ice Recovering Strongly – Extent is slightly above 2005's level

»
'We all pay the price for climate hysteria as alarmist predictions fail'

»
Analysis: 'Obama's foolish green agenda interferes with the military's core mission'

»
'Computer modelling has failed climate science'

»
New Oreskes Documentary Claims Dr. Fred Singer & Morano are 'Liars for Hire' – Morano called 'star of this show' – 'The astonishingly charming rogue Marc Morano'


New Warmist film: 'But the star of this show is the astonishingly charming rogue Marc Morano, a freq ...
»
Solar Thursday USA: An Eclipse AND a Massive Sunspot Group


Residents of the eastern U.S. will be in a particularly good location to see a partial solar eclipse ...

»
Dr. Roy's Earth Today #12: Central Siberian Plateau


Lying mostly north of the Arctic Circle, the Central Siberian Plateau is enjoying sunshine today, bu ...

»
From Russia, With Cold


Winter has gotten an early start in Russia, with much of the expansive country already covered in sn ...

»
Gonzalo: 144 mph Gust Measured on Bermuda


As predicted, the eye of Hurricane Gonzalo passed directly over Bermuda last night. Most of the isla ...

»
Target, Bermuda: Will Hurricane Gonzalo Rival Fabian?


UPDATE 7 am ET Oct. 18: As was forecast, the eye of Gonzalo passed over Bermuda last night. The high ...

»
How Safe is the Air You Breathe in Planes?


With increasing concerns that Ebola apparently spreads more readily than we were told, I thought it ...

»
Hurricane Gonzalo Intensifying North of Puerto Rico


Here's the latest MODIS color image of Hurricane Gonzalo, currently a 110 mph (Category 2) sto ...

»
Dr. Roy's Earth Today #11: Dust Over the Arabian Sea


Clouds of dust blow southward out of Pakistan over the Arabian Sea today, as seen in this Terra MODI ...

»
Dr. Roy's Earth Today #10: Montreal, Quebec City, Maine, Nova Scotia, New Brunswick


Spectacular fall color was captured in this MODIS satellite image yesterday covering Maine, New Hamp ...

»
Watch Out, Bermuda: T.S. Gonzalo Approaches Hurricane Strength


The various tropical cyclone track models have Tropical Storm Gonzalo tracking very near Bermuda on ...
»
Gavin Schmidt and the EPA Denial Decision


About eight weeks ago, Jean S postulated that Gavin Schmidt had been involved in writing the documen ...

»
Millennial Quebec Tree Rings


In today's post, I'm going to discuss an important new 1000-year chronology from norther ...

»
Decomposing Paico


In today's post, Jean S and I are going to show that the paico reconstruction, as implemented ...

»
New Article on Igaliku


Shortly after the publication of PAGES2K, I pointed out that the Igaliku lake sediment proxy, had be ...

»
PAGES2K vs the Hanhijarvi Reconstruction


The PAGES2K (2013) Arctic reconstruction of Kaufman et al has attracted considerable attention as a ...

»
PAGES2K: More Upside Down?


Does it matter whether proxies are used upside-down or not? Maybe not in Mann-world (where, in respo ...

»
Okshola: which way is up?


The recent revisions to PAGES2K included a dramatic flipping of the Hvitarvatn varve series to the o ...

»
Revisions to Pages2K Arctic


Kaufman and the PAGES2K Arctic2K group recently published a series of major corrections to their dat ...

»
Sliming by Stokes


Stokes' most recent post, entitled "What Steve McIntyre Won't Show You Now", ...

»
ClimateBallers and the MM05 Simulations


ClimateBallers are extremely suspicious of the MM05 simulation methodology, to say the least.  A rec ...

Posted by  The statement is a
  /  The other week, we saw the top player ranking[more ...]
10/01 02:26

Posted by Anonymous
Search AGWunveiled to discover the two drivers tha[more ...]
08/18 07:00

Posted by Anonymous
[ REQUIRES ADMIN APPROVAL ]
07/28 02:48

Posted by Anonymous
Yes
07/25 01:42

Posted by Joel Carlson
What do all the green plants on earth need to prod[more ...]
07/17 12:10

Posted by Anonymous
http://cpubuilds.com offers some insight into glob[more ...]
06/15 13:46

Posted by Anonymous
Global warming - this is old news for everyone! I [more ...]
02/27 12:28

Posted by Anonymous
Interesting blog about Global Warming in space. Th[more ...]
02/22 09:27

Posted by Anonymous
I want to thank you for this wonderful blog. And I[more ...]
02/22 08:21

Posted by Anonymous
Interesting blog about climate and global warming.[more ...]
02/22 08:18

License Plate Frames
Support the Truth


"SKEPTIC"




"It`s Natural"




"Liberty"

* MORE *
Strong and durable metal license plate holder. Uses full color high resolution images. UV and Water Protection. Satisfaction Guaranteed

You can now visit us on your mobile phone! Simply goto http://GlobalWarmingHoax.com on your mobile phone or PDA to get started!
One Fewer Carbon Dioxide Spewer
Admin
, Wednesday 01 September 2010 - 21:12:09 //

comment: 11
//

// Font Size -
Increase
/
Decrease
/
Reset
Is global warming rhetoric leading to environmental terrorism? Is it pushing some people over the edge. It obviously contributed to James Lee's rampage.No Longer Supported
We couldn't decide on the title for this article, there were just too many good one's! Like: "Environmentalist Dies of Lead Poisoning", "Greenie Pushing Up Daisies", "Environmental Terrorist
Discovers
The Truth". (do you have any more possible headlines? Post them as comments.)
OK, enough fun. On September 1st James Lee stormed in to the Discovery Channel building with a gun and said he had a bomb, he then took several people hostage. After his bomb failed to go off (it did fizzle and produce smoke) he pointed a gun at the hostages and was shot and killed by police.
Most of you know that the environmental terrorists are a real problem in this country. People have died, businesses have been burned, and good people harassed. One of these went too far today. James Lee had been protesting at the Discovery Channel building for over 2 years. Reports indicate that he had even paid homeless people to protest with him.
Lee said that the Discovery Channel wasn't doing enough stories about how man was destroying the planet through global warming. He also was very much against what he called "pollution babies", "FIND SOLUTIONS FOR THEM TO STOP THEIR HUMAN GROWTH AND THE EXPORTATION OF THAT DISGUSTING FILTH!". You can read his
full anti-human manifesto here
. Lee is not some lone nutcase, many prominent leftist environmental wackos have said publicly that they'll be
glad when humans are gone from this planet
.
One has to wonder how much of an investigation is going to take place to see if there were any co-conspirators or if he was funded by any environmental groups. Much of the main stream news media isn't even reporting that Lee had an environmental agenda, much less that he had admitted to becoming extreme after watching Al Gore's "An Inconvenient Truth". See Fox News for the
full story
. At some of his protests he would throw money to the crowd and said that money was nothing more than "trash", he paid homeless people to protest with him, and he awarded $1,000 cash prizes for environmental prize winning essays. Where did all of this money come from? Lee was long time unemployed.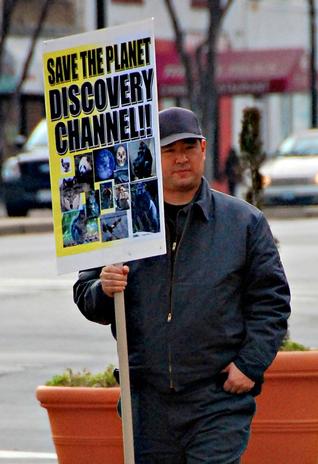 Share or Bookmark this Article Using:
| furl

| reddit

| del.icio.us

| magnoliacom

| digg

| newsvine

| Stumble_it

| Facebook

| Google

| Fark

| Sphere

| Netscape
| Technorati

| Yahoo!

|
Add to Favorites and Additional Bookmarks:
GlobalWarmingHoax.com - Where the Truth Heats Up ™
Threads: 2104 | Replies: 811 | Views: 4766053