Global Warming Hoax News From Around the WebWorld Climate Report
»
A Classic Tale of Global Warming Alarmism
»
More Evidence Against a Methane Time Bomb
»
Agriculture: Tropical Cyclones are Welcome Visitors
»
Sea Level Acceleration: Not so Fast
»
Hansen Is Wrong
»
Earth's Carbon Sink Still Strong and Growing
»
Wild Speculation on Climate and Polar Bears
»
Illiteracy at NASA
»
The Heat Was On—Before Urbanization and Greenhouse Gases
»
What's to Blame for the Rains on the Plains?
***
NewsBusters - Global Warming
»
Arctic Ice Cap Grows Same Year Al Gore Predicted It Would Disappear, Networks Ignore
»
A Moderate Bush Wins NYT Kudos for Climate Change Concern, Unlike Anti-'Climate Science' Ideology of Texas GOP
»
Arctic Ice Cap Expands by 41 Percent in Two Years; Al Gore Thought It Might Be Gone by Now
»
HuffPo Features Photos of Scientists With Expressions of Global Warming Concern
»
Liberal Media Love Flawed Studies Claiming a Vast Scientific Consensus on Climate
»
NYT's Retired Reporters Now Deliver Their Left-Wing Diatribes Online
»
MSNBC's Schultz Uses Ohio Water Crisis To Attack GOP: 'Anti-Regulation, Science-Denying Republicans'
»
Mediaite Catches CNN's Weir Calling Fox Nation 'Ignorant F***sticks'
»
NYT Reporter & Former Dem Staffer Claims 'Conservative Christians' (like Sojourners?) Embrace Strict EPA Regs on Coal
»
NBC: Firefighters Battling California Wildfires Are On 'Front Lines of Climate Change'
»
Five Climate-Change Claims as Ridiculous as Sharknado
»
WashPost 'Humorist' Tries to Decide If Caveman Conservatives Belong in 8,000 B.C. or 3,000,000 B.C.
»
CBS Shamelessly Hypes Climate Change Will Cause More Turbulence For Airplanes
»
Imagine That: 45 Days After Predicted 'Irreversible Collapse,' Antarctic Sea Ice Sets New Record
»
NYT: Scientists 'Startled' at Great Lakes' Rise; Another Warmist Prediction Is Biting the Dust
»
As Wind Farm Gets Permit to Kill Eagles, AP's Scott Smith Claims Wind Energy Has 'Exploded' Under Obama
»
Column: It's the Global Warming Alarmists Who Are the Real 'Deniers'
»
'Big Three' Networks Ignore Supreme Court Ruling on EPA's Emissions Regulations
»
President Obama Mocks Climate Deniers In UC Irvine Commencement Address
»
Obama and Showtime Admit to Exploiting Extreme Weather Events to 'Shift' Public Opinion
***
Science and Public Policy Institute
»
The Economics of Biofuels
»
The Warming-Induced Evolution of Terrestrial Plants
»
Medieval Warm Period in Southern Europe
»
Effects of Elevated C02 on the Stomatal Conductance of Agricultural Crops
»
Response of Various Marine Animals to Ocean Warming
»
Medieval Warm Period in Central Europe
»
Growth Response of Grassland Species to Elevated C02 When Water Stressed
»
Effects of Increased C02 on Herbaceous Plant Pests
»
Medieval Warm Period in Northern Europe
»
Loblolly Pines Defy the Progressive Nitrogen Hypothesis
»
Response of Crustaceans to Ocean Warming
»
Energy Inefficiencies of Biofuels
»
Response of Marine Plants to Changes in Temperature
»
Biofuels: The Carbon Debt They Owe
»
Medieval Warm Period in Japan
»
Response of Corals to Ocean Acidification
»
Interactive Effects of C02 and Water Stress on the Growth of Woody Plant Species
»
Biofuels: Land and Water Concerns
»
Medieval Warm Period in Upper North America
»
Can Plants Evolve Fast Enough to Cope with Increased Drought?
»
Health Promoting Effects of Elevated C02 on Common Food Plants
»
Response of Corals to Ocean Acidification
»
Effects of Ocean Acidification and Warming on Marine Echinoderms
»
Effects of Elevated C02 on Soil Carbon Sequestration
»
Biospheric Productivity in South America
***
Climate Science: Roger Pielke Sr. Research Group
»
Roger Pielke Sr. is now on Twitter!
»
2012 Climate Science Weblog in Review by Dallas Jean Staley – A Guest Post
»
The Weblog Is Retiring
»
Publication Of "Reply to "Comment On 'Ocean Heat Content And Earth's Radiation Imbalance. II. Relation To Climate Shifts' " by Nuccitelli Et Al. By Douglass and Knox 2012
»
Q&A From A Group Of Retired NASA Personnel And Associates
»
The Importance of Land Use/Land Practices On Climate – A Perspective From Jon Foley
»
Interview With James Wynn In The English Department At Carnegie Mellon University
»
University Of Alabama At Huntsville October 2012 Lower Tropospheric Temperature Analysis
»
USA Election Day 2012
»
New Paper "Climatic Variability Over Time Scales Spanning Nine Orders of Magnitude: Connecting Milankovitch Cycles With Hurst–Kolmogorov Dynamics" By Markonis And Koutsoyiannis
***
»
Who Wrote EPA's "Myths vs Facts"?
»
Mannomatic smoothing: technical details
»
Who wrote the EPA documents?
»
Misrepresentations and the Tainted Narrative of Mann's Complaint
»
The "Discovery" of the EPA Inquiry
»
EPA on Mann's "Fraud" Invective
»
Spam
»
Yet Another Misrepresentation in the Mann Pleadings
»
ACLU and National Media Intervene in Mann v Steyn et al
»
WG2 Misleads on Undernourishment Trend
***
Watts Up With That?
»
Yes, but what about the 'carbon emissions' of PlayStation® climatology computers?
»
Recent paper finds extreme weather & flooding became less frequent/extreme in Southwest England
»
UAH Global Temperature Report: August 2014 down by .11C
»
Status report on WUWT updates – reader poll on threaded comments
»
Inconvenient: New paper finds the last interglacial was warmer than today – not simulated by climate models
»
The Global Warming Policy Foundation Launches Campaigning Arm
»
UN/WMO Propaganda Stunt: climate fantasy forecasts of hell on Earth from the future
»
Sierra Nevada freshwater runoff could drop 26 percent by 2100, tree growth due to improved climate blamed
»
Monday Mirthiness – 'Adrift – living on an iceberg for a year' guy Alex Bellini drives an SUV to highlight his 'concern about climate change'
»
New paper on 'the pause' says it is 19 years at surface and 16-26 years at the lower troposphere
»
Great moments in climate prediction: 'World will warm faster than predicted in next five years, study warns'
»
Alarmism Warning – Preliminary Monthly Global Sea Surface Temperatures at Record High Levels
***
Global Warming News
»
Separation of Powers Alert: Obama Seeks Climate 'Treaty' without Senate Ratification
»
Social Cost of Carbon: GAO Report Ignores Pro-Regulation Bias
»
Increase in Reported UK Floods Due to Population Growth, Not Climate Change – Study
»
KiOR News Underscores Problems With Renewable Energy Industrial Policy
»
Are Fossil Fuels the Past, Renewables the Future?
»
Can Natural Variability Save Climate Models?
»
Do Greens Oppose Keystone XL Because It Would Increase Gas Prices or Lower Them? Yes!
»
Cooler Heads Digest 8 August 2014
»
Is British Columbia's Carbon Tax a Model for the U.S.?
»
Greens' Pending Suit over Aviation GHGs Demonstrates Dangers of EPA's Climate Change Regulatory Regime
***
Fox News - Climate Change Stories
***
Michelle Malkin - Enviro-Nitwits
»
Global warming causing Al Gore's predictions to melt at an alarming rate
»
Faces of climate change: Maybe pictures of 'scared scientists' will convert deniers
»
Al Gore sues Al Jazeera for fair share of Big Oil cash so he can keep saving the planet from Big Oil greed
»
Horror at 30,000 feet: 'Mr. Climate' John Kerry forced to fly commercial after private jet problems
»
Pompous, high-flying global warming alarmist John Kerry draws a red line on new farmland in Africa
***
DailyTech Michael Asher`s blog
»
Will the Real Antarctica Please Stand Up?
»
Global Warming May Decrease Hurricanes, Research Suggests
»
Japanese Report Disputes Human Cause for Global Warming
»
Sea Ice Ends Year at Same Level as 1979
»
A Funny Thing Happened on the Way to the (Climate) Forum
»
Climate Report Downgrades Ice Loss; Media Reports Opposite
»
Princeton Physicist Calls Global Warming Science "Mistaken"
»
Defying Predictions, Sea Level Rise Begins to Slow
»
Electric Car Sales in Freefall; Industry Risks Collapse
»
Glaciers in Norway Growing Again
***
C3 - Climate Cycles Change
»
Democrats Believe Antarctica Is Melting - Oops, Scientists Confirm South Pole Is Now Colder
»
Compulsive Climate Change Obsession - A Mental Disorder Recognized Close To 150 Years Ago With No Cure In Sight Yet
»
New: 'The Global Warming War' Documentary Movie: Free Access If You Move Quickly
»
What Do Elections, pH Levels, Oysters, Democrat Politicians & CO2 Have in Common? Crony-Capitalism, Of Course
»
It's A 97% Consensus: Accelerating Reasons For Global Warming 'Pause' Climbs To 40
»
Multi-$Billion Climate Models Continue To Be Abysmal Failures; Low-Cost, Non-CO2 Model Kicks Butt
»
The 'Sick-Fųck' Club: Greg Blanchette, One Very Deranged Climate Change Alarmist
»
More Climate Model Failure: CO2-Based Computer Simulations Prove They Can't Predict Great Lakes' Water Levels
»
Experts Now Think They Have Answer To World's Frequent Climate Changes: Oceans
»
Uh-Oh: 85-Year Cooling Trend For Major U.S. Crop Areas Since 1929, NOAA Confirms
»
Crushing Blow To Climate Change Alarmists: Evidence Proves Hurricane Extremes Not Happening As Predicted
»
17 Scientists From 11 Countries: Research Confirms That IPCC Climate Models' Flood Predictions Are Spectacular Failure
»
Catastrophe Canceled: Per Physics, The "Powerful" CO2 Emissions Prove To Be Trace Gas Without Power
»
STOP LYING!: New Scientific Research Studies Provide Proof Obama Misleads On Wildfire Increase
»
As Atmospheric CO2 Increases Last 20+ Years, Global Undernourishment Declines 17%
***
CATO - Global Warming
»
I'm Trying to Solve a Decades Old Mystery: How Many People Were Killed by China's Great Famine?
»
Restarting the Common Core Debate
»
Barack Obama, the King of Climate Change
»
The Executive Action Obama Should Take on Immigration
»
PM Narendra Modi's 100 Days: Even One Small Step Day Can Bring Growth into Play
»
Debate over Monetary Rule Should Trump Labor Market Conundrum
»
We Awaken to National Militarization of Police, Not Only in Ferguson
»
The Welfare State
»
Defeat ISIS by Letting Syria Loose
»
More Christians than Party Members
»
Europe's Depressing Dog Days of Summer
»
The Entitlement Spending Tsunami
»
India's Dangerous Food Subsidies
»
Fight against Militarized Police Is a Culture War Worth Having
»
For-Profit Colleges: Felonies or Feeding Frenzy?
»
Obama Administration Debates Bombing Syria to Fight Islamic State; Instead, Washington Should Allow Syria and Others to Battle Killer Radicals
»
A Simple Tax Reform Can Help Families and Promote Economic Growth
»
No Government Austerity, No Gain
»
A Few Things the Fed Has Done Right
»
Keeping Score on the Libya Intervention: Good Idea or Tragic Mistake?
»
Hillary Clinton, ISIL, and the Interventionist Bias
»
America's Libertarian Moment?
»
Should Washington Consider Accepting a Chinese Monroe Doctrine?
»
Should the U.S. Lead on Climate Change Policies?
»
Rising Anti-semitism (Not Just vs. Israel) Renews My Boyhood
***
CanadaFreePress - Global Warming
***
More Global Warming Hoax News Feeds

---
Since Exxon Hasn't Sent Us Our First Million Dollars Yet You're Welcome To Help Pay Our Bills Until They Do.











Posted by Anonymous
Search AGWunveiled to discover the two drivers tha[more ...]
08/18 07:00

Posted by Anonymous
[ REQUIRES ADMIN APPROVAL ]
07/28 02:48

Posted by Anonymous
Yes
07/25 01:42

Posted by Joel Carlson
What do all the green plants on earth need to prod[more ...]
07/17 12:10

Posted by Anonymous
http://cpubuilds.com offers some insight into glob[more ...]
06/15 13:46

Posted by Anonymous
Global warming - this is old news for everyone! I [more ...]
02/27 12:28

Posted by Anonymous
Interesting blog about Global Warming in space. Th[more ...]
02/22 09:27

Posted by Anonymous
I want to thank you for this wonderful blog. And I[more ...]
02/22 08:21

Posted by Anonymous
Interesting blog about climate and global warming.[more ...]
02/22 08:18

Posted by Anonymous
Interesting blog about climate and global warming.[more ...]
02/22 08:15

License Plate Frames
Support the Truth


"SKEPTIC"




"It`s Natural"




"Liberty"

* MORE *
Strong and durable metal license plate holder. Uses full color high resolution images. UV and Water Protection. Satisfaction Guaranteed

You can now visit us on your mobile phone! Simply goto http://GlobalWarmingHoax.com on your mobile phone or PDA to get started!
One Fewer Carbon Dioxide Spewer
Admin
, Wednesday 01 September 2010 - 21:12:09 //

comment: 11
//

// Font Size -
Increase
/
Decrease
/
Reset
Is global warming rhetoric leading to environmental terrorism? Is it pushing some people over the edge. It obviously contributed to James Lee's rampage.No Longer Supported
We couldn't decide on the title for this article, there were just too many good one's! Like: "Environmentalist Dies of Lead Poisoning", "Greenie Pushing Up Daisies", "Environmental Terrorist
Discovers
The Truth". (do you have any more possible headlines? Post them as comments.)
OK, enough fun. On September 1st James Lee stormed in to the Discovery Channel building with a gun and said he had a bomb, he then took several people hostage. After his bomb failed to go off (it did fizzle and produce smoke) he pointed a gun at the hostages and was shot and killed by police.
Most of you know that the environmental terrorists are a real problem in this country. People have died, businesses have been burned, and good people harassed. One of these went too far today. James Lee had been protesting at the Discovery Channel building for over 2 years. Reports indicate that he had even paid homeless people to protest with him.
Lee said that the Discovery Channel wasn't doing enough stories about how man was destroying the planet through global warming. He also was very much against what he called "pollution babies", "FIND SOLUTIONS FOR THEM TO STOP THEIR HUMAN GROWTH AND THE EXPORTATION OF THAT DISGUSTING FILTH!". You can read his
full anti-human manifesto here
. Lee is not some lone nutcase, many prominent leftist environmental wackos have said publicly that they'll be
glad when humans are gone from this planet
.
One has to wonder how much of an investigation is going to take place to see if there were any co-conspirators or if he was funded by any environmental groups. Much of the main stream news media isn't even reporting that Lee had an environmental agenda, much less that he had admitted to becoming extreme after watching Al Gore's "An Inconvenient Truth". See Fox News for the
full story
. At some of his protests he would throw money to the crowd and said that money was nothing more than "trash", he paid homeless people to protest with him, and he awarded $1,000 cash prizes for environmental prize winning essays. Where did all of this money come from? Lee was long time unemployed.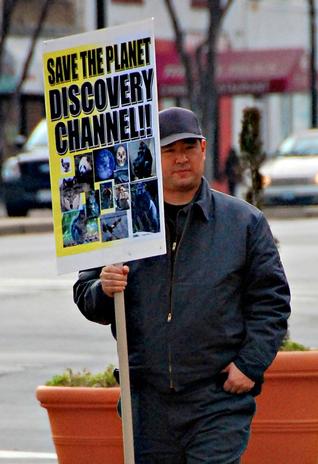 Share or Bookmark this Article Using:
| furl

| reddit

| del.icio.us

| magnoliacom

| digg

| newsvine

| Stumble_it

| Facebook

| Google

| Fark

| Sphere

| Netscape
| Technorati

| Yahoo!

|
Add to Favorites and Additional Bookmarks:
GlobalWarmingHoax.com - Where the Truth Heats Up ™
Threads: 2103 | Replies: 811 | Views: 4530346