Global Warming Hoax News From Around the WebWorld Climate Report
»
A Classic Tale of Global Warming Alarmism
»
More Evidence Against a Methane Time Bomb
»
Agriculture: Tropical Cyclones are Welcome Visitors
»
Sea Level Acceleration: Not so Fast
»
Hansen Is Wrong
»
Earth's Carbon Sink Still Strong and Growing
»
Wild Speculation on Climate and Polar Bears
»
Illiteracy at NASA
»
The Heat Was On—Before Urbanization and Greenhouse Gases
»
What's to Blame for the Rains on the Plains?
***
NewsBusters - Global Warming
»
CNN's Blitzer: 'I Don't Remember' Biden's Law School Plagiarism
»
CNN's Chetry: 'Please Tell Me It's Not Lipstick Again'
»
MRC Report Asks: Why No Fairness Doctrine for PBS?
***
Science and Public Policy Institute
»
Response of Various Marine Animals to Ocean Acidification and Warming
»
FACE Experiments and Grassland Species
»
Effects of Ocean Acidification on Fish
»
Response of Fish to Ocean Warming
»
Additional Grounds for Rejecting Biofuels
»
The Global Medieval Warm Period
»
Growth Rates of Old Versus Young Forest Trees
»
Water Use Efficiency of Agricultural Species
»
Tropical Trees
»
Global Temperatures and Biospheric Productivity
»
Rewriting Sunspot History
»
Analysis of the Second Order Draft of the Working I Contribution to IPCC 5AR
»
The Economics of Biofuels
»
The Warming-Induced Evolution of Terrestrial Plants
»
Medieval Warm Period in Southern Europe
»
Effects of Elevated C02 on the Stomatal Conductance of Agricultural Crops
»
Response of Various Marine Animals to Ocean Warming
»
Medieval Warm Period in Central Europe
»
Growth Response of Grassland Species to Elevated C02 When Water Stressed
»
Effects of Increased C02 on Herbaceous Plant Pests
»
Medieval Warm Period in Northern Europe
»
Loblolly Pines Defy the Progressive Nitrogen Hypothesis
»
Response of Crustaceans to Ocean Warming
»
Energy Inefficiencies of Biofuels
»
Response of Marine Plants to Changes in Temperature
***
Climate Science: Roger Pielke Sr. Research Group
»
Roger Pielke Sr. is now on Twitter!
»
2012 Climate Science Weblog in Review by Dallas Jean Staley – A Guest Post
»
The Weblog Is Retiring
»
Publication Of "Reply to "Comment On 'Ocean Heat Content And Earth's Radiation Imbalance. II. Relation To Climate Shifts' " by Nuccitelli Et Al. By Douglass and Knox 2012
»
Q&A From A Group Of Retired NASA Personnel And Associates
»
The Importance of Land Use/Land Practices On Climate – A Perspective From Jon Foley
»
Interview With James Wynn In The English Department At Carnegie Mellon University
»
University Of Alabama At Huntsville October 2012 Lower Tropospheric Temperature Analysis
»
USA Election Day 2012
»
New Paper "Climatic Variability Over Time Scales Spanning Nine Orders of Magnitude: Connecting Milankovitch Cycles With Hurst–Kolmogorov Dynamics" By Markonis And Koutsoyiannis
***
»
IPCC Lead Author and the Nazca Vandalism
»
Reply to Laden and Hughes on Sheep Mountain
»
"Unprecedented" Model Discrepancy
»
Sheep Mountain Update
»
Anti-SLAPP Hearing Today
»
New Data and Upside-Down Moberg
»
Data Torture in Gergis2K
»
PAGES2K and Nature's Policy against Self-Plagiarism
»
Gergis2K and the Oroko "Disturbance-Corrected" Blade
»
Gergis and the PAGES2K Regional Average
***
Watts Up With That?
»
Weekly Climate and Energy News Roundup #161
»
Settled science? The IPCC's premature consensus is demonstrated by the Orbiting Carbon Observatory
»
'Weather Porn' – The latest smear attack on TV Meteorologists who don't kowtow to 'global warming'
»
NASA's missions reveal the origin of theta auroras
»
There's a model for everything, including Yellowstone's colorful thermal springs
»
#AGU14 NASA's Orbiting Carbon Observatory shows surprising CO2 emissions in Southern Hemisphere
»
Friday Funny – Mann Overboard at #AGU14
»
#AGU14 poster demonstrates the divergence problem with IPCC climate models and observations
»
97 Articles Refuting The '97% Consensus' on global warming
»
#AGU14 Stanford researchers use a girl scout troop as guinea pigs for climate 'behavior change'
»
#AGU14 – NOAA establishes 'tipping points' for sea level rise related flooding
»
Ironically, Change Catches Up With Climate Change Alarmists in Lima
***
Global Warming News
»
Climate Policy Risk: Who's In Denial?
»
EPA's Coal Ash Rule Demonstrates Worthiness of White House Regulatory Review
»
EPA's Expected Coal Ash Rule: The Shortest, Most Thorough Primer on the Internet
»
HBO's Saving My Tomorrow Is Too Boring & Gloomy To Instill Global Warming Alarmism in Kids
»
The Absurd Reach of EPA's/USACE's Clean Water Act Jurisdictional Rule
»
Japan's Turn to Coal Belies Claim That Climate Change Mitigation Comes Cheap
»
Thanks to EPA's Clean Power Plan, New England's Expensive Electricity Reality Could Be the Nation's Fate
»
Weekend Media Roundup: COP-20 Ignored by Sunday Talkies, Platts Interview on North Dakota Oil Regulations, and Video of Greenpeace Activists Damaging World Heritage Site
»
Cooler Heads Digest 12 December 2014
»
EPA Should Re-Examine Climate Rule's Scientific Basis – Part II
***
Fox News - Climate Change Stories
***
Michelle Malkin - Enviro-Nitwits
»
Priorities: Obama admin tasks healthcare facilities with focusing more on … climate change
»
Obama's 2011 prediction of a million electric vehicles on the road by 2015 **barely missed
»
Berkeley City Council votes to put 'climate change' warning labels on gas pumps
»
White House: Do something about 'climate change' or prepare for a fiery death — or worse
»
'XL' in Keystone XL stands for X-tra Lethal, says abortion advocate Barbara Boxer; Updated
***
DailyTech Michael Asher`s blog
»
Will the Real Antarctica Please Stand Up?
»
Global Warming May Decrease Hurricanes, Research Suggests
»
Japanese Report Disputes Human Cause for Global Warming
»
Sea Ice Ends Year at Same Level as 1979
»
A Funny Thing Happened on the Way to the (Climate) Forum
»
Climate Report Downgrades Ice Loss; Media Reports Opposite
»
Princeton Physicist Calls Global Warming Science "Mistaken"
»
Defying Predictions, Sea Level Rise Begins to Slow
»
Electric Car Sales in Freefall; Industry Risks Collapse
»
Glaciers in Norway Growing Again
***
C3 - Climate Cycles Change
***
CATO - Global Warming
»
Common Core Supporters Can't Demonstrate Its Effectiveness. Are They Counting on a Christmas Miracle?
»
Stop Attacking Uber for Lax Safety Standards
»
The Link between the Ruble and Keynes
»
The Cuba Opening: American Foreign Policy Meets Reality
»
President Obama Right to Call for Trade with Cuba: Half Century of Failed Embargo Is Enough
»
Republicans Are Winning the Fiscal Fight
»
The Court and Obamacare
»
The Goal of Sanctions Shouldn't Be to Wreck Russia's Economy
»
When Will Court Trials Begin on CIA Torturers or Their Government Authorizers?
»
Libertarian Internationalism
»
Increasing Economic Growth Means Shrinking the Size and Scope of Government
»
Socialist Policies Undoing Success of South America's Strongest Economy
»
The Cromnibus: The Good, the Bad, and the Ugly
»
Burma Enjoys an Uneasy Peace: Time to Close Thailand's Refugee Camps?
»
How Many Enemies Does America Want? Congress Sacrifices U.S. Security with New Sanctions against Russia
»
An Honest Debate on Investor-State
»
Washington Refuses to Face Contradictions in ISIS Fight
»
Federal Reserve Bank Policy Can't Heal Economic Malaise
»
The KGB's Old Headquarters Lives On
»
At I.C.C., Due Process Deficiencies Mar Credibility
»
If Paul Krugman Gets the Higher Inflation He Wants, the U.S. Will Return to Recession
»
How Our Government Tricks Us into Being Its Careless Spies
»
The Hypocrisy Label
»
How States Can Fix the Police
»
Confronting Our Dark Era
***
CanadaFreePress - Global Warming
***
More Global Warming Hoax News Feeds

---
Since Exxon Hasn't Sent Us Our First Million Dollars Yet You're Welcome To Help Pay Our Bills Until They Do.










»
IPCC Lead Author and the Nazca Vandalism


IPCC Lead Author Sven Teske, as alertly observed by Shub Niggurath, was one of the leaders of the va ...

»
Reply to Laden and Hughes on Sheep Mountain


A couple of days ago, Greg Laden published a response from Malcolm Hughes to my recent Sheep Mountai ...

»
"Unprecedented" Model Discrepancy


Judy Curry recently noted that Phil Jones' 2014 temperature index (recently the subject of maj ...

»
Sheep Mountain Update


Several weeks ago,  a new article (open access) on Sheep Mountain (Salzer et al 2014 , Env Res Lett) ...

»
Anti-SLAPP Hearing Today


Mann v CEI, National Review, Simberg, Steyn and their amici is being argued today. Amici for Steyn, ...

»
New Data and Upside-Down Moberg


I've been re-examining SH proxies for some time now, both in connection with PAGES2K and out o ...

»
Data Torture in Gergis2K


Reflecting on then current scandals in psychology arising from non-replicable research,  E. Wagenmak ...

»
PAGES2K and Nature's Policy against Self-Plagiarism


Nature's policies on plagiarism state: Duplicate publication, sometimes called self-plagiarism ...

»
Gergis2K and the Oroko "Disturbance-Corrected" Blade


Only two Gergis proxies (both tree ring) go back to the medieval period: Oroko Swamp, New Zealand an ...

»
Gergis and the PAGES2K Regional Average


The calculation of the PAGES2K regional average contains a very odd procedure that thus far has esca ...

Posted by Anonymous
Peer Reviewed Hoax Busting Studies Kristen Byrnes[more ...]
12/01 02:44

Posted by Anonymous
I've learn all the posts and i discovered very uni[more ...]
11/27 01:55

Posted by Melantha 
  It is already August, the day of Cheap FIFA 15 C[more ...]
11/14 23:16

Posted by  The statement is a
  /  The other week, we saw the top player ranking[more ...]
10/01 02:26

Posted by Anonymous
Search AGWunveiled to discover the two drivers tha[more ...]
08/18 07:00

Posted by Anonymous
[ REQUIRES ADMIN APPROVAL ]
07/28 02:48

Posted by Anonymous
Yes
07/25 01:42

Posted by Joel Carlson
What do all the green plants on earth need to prod[more ...]
07/17 12:10

Posted by Anonymous
http://cpubuilds.com offers some insight into glob[more ...]
06/15 13:46

Posted by Anonymous
Global warming - this is old news for everyone! I [more ...]
02/27 12:28

License Plate Frames
Support the Truth


"SKEPTIC"




"It`s Natural"




"Liberty"

* MORE *
Strong and durable metal license plate holder. Uses full color high resolution images. UV and Water Protection. Satisfaction Guaranteed

You can now visit us on your mobile phone! Simply goto http://GlobalWarmingHoax.com on your mobile phone or PDA to get started!
One Fewer Carbon Dioxide Spewer
Admin
, Wednesday 01 September 2010 - 21:12:09 //

comment: 11
//

// Font Size -
Increase
/
Decrease
/
Reset
Is global warming rhetoric leading to environmental terrorism? Is it pushing some people over the edge. It obviously contributed to James Lee's rampage.No Longer Supported
We couldn't decide on the title for this article, there were just too many good one's! Like: "Environmentalist Dies of Lead Poisoning", "Greenie Pushing Up Daisies", "Environmental Terrorist
Discovers
The Truth". (do you have any more possible headlines? Post them as comments.)
OK, enough fun. On September 1st James Lee stormed in to the Discovery Channel building with a gun and said he had a bomb, he then took several people hostage. After his bomb failed to go off (it did fizzle and produce smoke) he pointed a gun at the hostages and was shot and killed by police.
Most of you know that the environmental terrorists are a real problem in this country. People have died, businesses have been burned, and good people harassed. One of these went too far today. James Lee had been protesting at the Discovery Channel building for over 2 years. Reports indicate that he had even paid homeless people to protest with him.
Lee said that the Discovery Channel wasn't doing enough stories about how man was destroying the planet through global warming. He also was very much against what he called "pollution babies", "FIND SOLUTIONS FOR THEM TO STOP THEIR HUMAN GROWTH AND THE EXPORTATION OF THAT DISGUSTING FILTH!". You can read his
full anti-human manifesto here
. Lee is not some lone nutcase, many prominent leftist environmental wackos have said publicly that they'll be
glad when humans are gone from this planet
.
One has to wonder how much of an investigation is going to take place to see if there were any co-conspirators or if he was funded by any environmental groups. Much of the main stream news media isn't even reporting that Lee had an environmental agenda, much less that he had admitted to becoming extreme after watching Al Gore's "An Inconvenient Truth". See Fox News for the
full story
. At some of his protests he would throw money to the crowd and said that money was nothing more than "trash", he paid homeless people to protest with him, and he awarded $1,000 cash prizes for environmental prize winning essays. Where did all of this money come from? Lee was long time unemployed.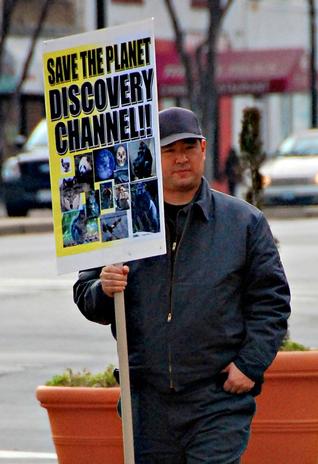 Share or Bookmark this Article Using:
| furl

| reddit

| del.icio.us

| magnoliacom

| digg

| newsvine

| Stumble_it

| Facebook

| Google

| Fark

| Sphere

| Netscape
| Technorati

| Yahoo!

|
Add to Favorites and Additional Bookmarks:
GlobalWarmingHoax.com - Where the Truth Heats Up ™
Threads: 2105 | Replies: 813 | Views: 5125207