»
"Climate System Scientist" Claims Jet Stream Crossing the Equator is Unprecedented


Paul Beckwith has a masters degree in laser optics, which he has somehow parlayed into being a "Climate System Scientist" to spread alarmism about the climate system. But his post "Unprecedented, Jet Stream Crosses Equator" suggests he knows little of meteorology, let alone climate. A "jet stream" in the usual sense of the word is […]

»
2016 Will Likely See Record Global Warmth in Satellite Data


…but the approaching La Nina might extend the global warming pause to 20 years. Even though gl ...

»
If Skeptics can be Prosecuted for Fraud, So can Alarmists


I'm glad to see this news report today, and I've been saying the same thing ever since t ...

»
No, Spencer's Research Wasn't Funded by Peabody


My vacation this week was interrupted this morning by some hate e-mail…apparently, the recent ...

»
Another Potential Reason Why Climate Sensitivity is Over-Estimated


BACKGROUND It's been quite a while since I've discussed why the diagnosis of feedbacks i ...

»
UAH Global Temperature Update for May, 2016: +0.55 deg. C


NOTE: This is the fourteenth monthly update with our new Version 6.0 dataset. Differences versus the ...

»
UAH V6 Global Temperature Update for April, 2016: +0.71 deg. C


NOTE: This is the thirteenth monthly update with our new Version 6.0 dataset. Differences versus the ...

»
William Gray, Hurricane Researcher and Skeptic, Dead at 86


I just learned through Climate Depot and Tony Heller that Bill Gray has died. Bill was a pioneering ...

»
Why Gavin Schmidt's Temperature Plot Baseline Issue is Irrelevant


Ever since we started posting global temperature comparisons between models and observations there h ...

»
UPDATE: It Did Not Snow in Guadeloupe


On April Fools day (April 1), there was a report of snow on the tropical island of Guadeloupe on the ...

Posted by Source
[quote]It's just the way I like it. Get over it No[more ...]
06/25 04:44

Posted by Anonymous
It's just the way I like it. Get over it No need t[more ...]
06/25 04:42

Posted by Anonymous
Really great post, Thank you for sharing this know[more ...]
06/15 01:46

Posted by Anonymous
You can use the Samsung Data Recovery software to[more ...]
05/26 03:46

Posted by Anonymous
You can get the help of Android Data Recovery, whi[more ...]
05/26 03:44

Posted by Anonymous
Android Data Recovery software will help recover d[more ...]
05/26 03:40

Posted by Ben Green
Hi, there. Do you guys know how to get back lost p[more ...]
05/23 01:33

Posted by Anonymous
Have you ever met the problem about losing your fi[more ...]
05/19 01:56

Posted by Anonymous
Android Data Recovery is a professional and user-f[more ...]
05/19 01:51

Posted by Anonymous
Android Data Recoverycan help you get out of these[more ...]
05/19 01:48

License Plate Frames
Support the Truth


"SKEPTIC"




"It`s Natural"




"Liberty"

* MORE *
Strong and durable metal license plate holder. Uses full color high resolution images. UV and Water Protection. Satisfaction Guaranteed

You can now visit us on your mobile phone! Simply goto http://GlobalWarmingHoax.com on your mobile phone or PDA to get started!
One Fewer Carbon Dioxide Spewer
Admin
, Wednesday 01 September 2010 - 21:12:09 //

comment: 11
//

// Font Size -
Increase
/
Decrease
/
Reset
Is global warming rhetoric leading to environmental terrorism? Is it pushing some people over the edge. It obviously contributed to James Lee's rampage.No Longer Supported
We couldn't decide on the title for this article, there were just too many good one's! Like: "Environmentalist Dies of Lead Poisoning", "Greenie Pushing Up Daisies", "Environmental Terrorist
Discovers
The Truth". (do you have any more possible headlines? Post them as comments.)
OK, enough fun. On September 1st James Lee stormed in to the Discovery Channel building with a gun and said he had a bomb, he then took several people hostage. After his bomb failed to go off (it did fizzle and produce smoke) he pointed a gun at the hostages and was shot and killed by police.
Most of you know that the environmental terrorists are a real problem in this country. People have died, businesses have been burned, and good people harassed. One of these went too far today. James Lee had been protesting at the Discovery Channel building for over 2 years. Reports indicate that he had even paid homeless people to protest with him.
Lee said that the Discovery Channel wasn't doing enough stories about how man was destroying the planet through global warming. He also was very much against what he called "pollution babies", "FIND SOLUTIONS FOR THEM TO STOP THEIR HUMAN GROWTH AND THE EXPORTATION OF THAT DISGUSTING FILTH!". You can read his
full anti-human manifesto here
. Lee is not some lone nutcase, many prominent leftist environmental wackos have said publicly that they'll be
glad when humans are gone from this planet
.
One has to wonder how much of an investigation is going to take place to see if there were any co-conspirators or if he was funded by any environmental groups. Much of the main stream news media isn't even reporting that Lee had an environmental agenda, much less that he had admitted to becoming extreme after watching Al Gore's "An Inconvenient Truth". See Fox News for the
full story
. At some of his protests he would throw money to the crowd and said that money was nothing more than "trash", he paid homeless people to protest with him, and he awarded $1,000 cash prizes for environmental prize winning essays. Where did all of this money come from? Lee was long time unemployed.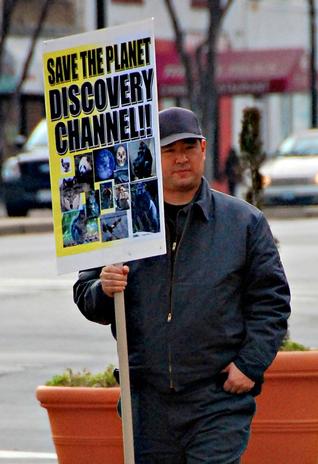 Share or Bookmark this Article Using:
| furl

| reddit

| del.icio.us

| magnoliacom

| digg

| newsvine

| Stumble_it

| Facebook

| Google

| Fark

| Sphere

| Netscape
| Technorati

| Yahoo!

|
Add to Favorites and Additional Bookmarks:
GlobalWarmingHoax.com - Where the Truth Heats Up ™
Threads: 2131 | Replies: 958 | Views: 6888029