»
Marvel et al.'s new paper on estimating climate sensitivity from observations


A guest post by Nic Lewis Introduction and summary Recently a new model-based paper on climate sensi ...

»
Reply to Patrick Brown's response to my article commenting on his Nature paper


Introduction I thank Patrick Brown for his detailed response (also here) to statistical issues that ...

»
Polar Bears, Inadequate data and Statistical Lipstick


A recent paper Internet Blogs, Polar Bears, and Climate-Change Denial by Proxy by JEFFREY A. HARVEY ...

»
Brown and Caldeira: A closer look shows global warming will not be greater than we thought


A guest post by Nic Lewis Introduction Last week a paper predicting greater than expected global war ...

»
US East Coast Sea Level Rise: An Adjustocene Hockey Stick


In 2011, Andy Revkin wrote an article (archive) entitled "Straight Talk on Rising Seas in a Wa ...

»
New Antarctic Temperature Reconstruction


Stenni et al (2017), Antarctic climate variability on regional and continental scales over the last ...

»
Reconciling Model-Observation Reconciliations


Two very different representations of consistency between models and observations are popularly circ ...

»
Part 2- The TV5 Monde Hack and APT28


In his attribution of the DNC hack, Dmitri Alperovitch, of Crowdstrike and the Atlantic Council, lin ...

»
From Nigerian Scams to DNC Hack Attribution – Part 1


In Crowdstrike's original announcement that "Russia" had hacked the DNC, Dmitri Al ...

»
Guccifer 2: From January to May, 2016


Within the small community conducting technical analysis of the DNC hack, there has been ongoing con ...

License Plate Frames
Support the Truth


"SKEPTIC"




"It`s Natural"




"Liberty"

* MORE *
Strong and durable metal license plate holder. Uses full color high resolution images. UV and Water Protection. Satisfaction Guaranteed

You can now visit us on your mobile phone! Simply goto http://GlobalWarmingHoax.com on your mobile phone or PDA to get started!
Antarctic Sea Ice for March 2010 Significantly Greater Than 1980
Admin
, Tuesday 06 April 2010 - 22:14:32 //

comment: 1
//

// Font Size -
Increase
/
Decrease
/
Reset
Contrary to media reports Antarctic sea ice continues to expand. Ice totals for March 2010 are significantly higher than 1980. The main stream media concentrates on a couple of small areas of the Antarctic in order to scare you in to believing that Antarctica is melting, when in fact its gaining ice.
No Longer Supported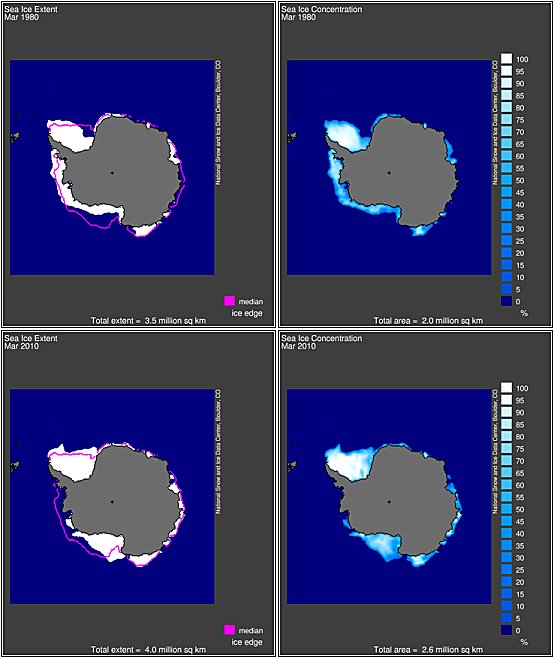 From the National Snow and Ice Data Center, University of Colorado
Antarctic Sea Ice for March 1980 and 2010
              Extent                   Concentration
2010     4.0 million sq km          2.6 million sq km
1980     3.5 million sq km          2.0 million sq km

Sea Ice Extent in March 2010 is over 14% greater than in 1980
Sea Ice Concentration in March 2010 is 30% greater than in 1980!
Since measurements began in 1979 antarctic sea ice has continued to expand, contrary to what the news media would have you believe. We bring this information to you month after month and still there is no sign of the main stream media picking up on the story. They continue to discuss the relatively small areas of the Western Antarctic Peninsula that are melting due to changes in ocean currents.
You may have heard that some of the "computer models" predicted increases in antarctic ice, but they predicted increased "interior ice" due to increased snow fall.
None
of the models predicted increased sea ice around the antarctic. Yet that is what we have, more sea ice in March 2010 than what we had in March of 1980. This is highly significant yet hardly anyone in the main stream media (MSM) is talking about it.
Sea ice is much different than interior ice. Some of the computer models predicted increased ice over the interior of antarctic. If you've ever lived in the extreme cold temperature regions you already understand the reason why. When it gets very cold the air become drier and it snows less, as the temperature warms towards freezing it actually snows more. Since the antarctic rarely even gets close to freezing its understandable that warming would cause more snow fall. Over time compacted snow would lead to more ice. But that is not what is happening here. We're seeing increases in "sea ice", this ice is over the ocean. Sea ice is caused by colder temperatures, not by increased snow fall. But we hear nothing from either the MSM or the scientific community. Especially compared to the out 6%-7% decrease at the arctic (this isn't year over year, this is a 6% decline since 1980!).
This continues a long trend of increasing sea ice that has been noted here for several months.
Share or Bookmark this Article Using:
| furl

| reddit

| del.icio.us

| magnoliacom

| digg

| newsvine

| Stumble_it

| Facebook

| Google

| Fark

| Sphere

| Netscape
| Technorati

| Yahoo!

|
Add to Favorites and Additional Bookmarks:
GlobalWarmingHoax.com - Where the Truth Heats Up ™