»
Schmidt's Histogram Diagram Doesn't Refute Christy


In my most recent post,  I discussed yet another incident in the long running dispute about the inco ...

»
Gavin Schmidt and Reference Period "Trickery"


In the past few weeks, I've been re-examining the long-standing dispute over the discrepancy b ...

»
Objective Bayesian parameter estimation: Incorporating prior information


A guest article by Nic Lewis Introduction In a recent article I discussed Bayesian parameter inferen ...

»
Marvel et al.: GISS did omit land use forcing


A guest article by Nic Lewis I reported in a previous post, here, a number of serious problems that ...

»
Bayesian parameter estimation: Radiocarbon dating re-examined


A guest article by Nic Lewis Introduction In April 2014 I published a guest article about statistica ...

»
Gerry Browning: In Memory of Professor Heinz Kreiss


Gerry Browning writes: The Correct System of Equations for Climate and Weather Models The system of ...

»
Disappearing the MWP at Icefields, Alberta


In today's post, I'm going to critically examine another widely used tree ring chronolog ...

»
New Light on Gulf of Alaska


Last week, I posted on the effect of ex post site selection on the Gulf of Alaska tree ring chronolo ...

»
Marvel et al. – Gavin Schmidt admits key error but disputes everything else


A guest article by Nicholas Lewis Introduction Gavin Schmidt has finally provided, at the GISS websi ...

»
A Return to Polar Urals: Wilson et al 2016


Wilson et al 2016, like D'Arrigo et al 2006, includes a 'Polar Urals' chronology a ...

Posted by Anonymous
You can use the Samsung Data Recovery software to[more ...]
05/26 03:46

Posted by Anonymous
You can get the help of Android Data Recovery, whi[more ...]
05/26 03:44

Posted by Anonymous
Android Data Recovery software will help recover d[more ...]
05/26 03:40

Posted by Ben Green
Hi, there. Do you guys know how to get back lost p[more ...]
05/23 01:33

Posted by Anonymous
Have you ever met the problem about losing your fi[more ...]
05/19 01:56

Posted by Anonymous
Android Data Recovery is a professional and user-f[more ...]
05/19 01:51

Posted by Anonymous
Android Data Recoverycan help you get out of these[more ...]
05/19 01:48

Posted by Tomhanks
HI,is it possible to recover SMS on Galaxy S8?I de[more ...]
04/27 02:05

Posted by Anonymous
Is it possible to restore deleted SMS and more fil[more ...]
04/19 01:49

Posted by Anonymous
This solution can help you retrieve deleted data l[more ...]
04/19 01:47

License Plate Frames
Support the Truth


"SKEPTIC"




"It`s Natural"




"Liberty"

* MORE *
Strong and durable metal license plate holder. Uses full color high resolution images. UV and Water Protection. Satisfaction Guaranteed

You can now visit us on your mobile phone! Simply goto http://GlobalWarmingHoax.com on your mobile phone or PDA to get started!
Antarctic Sea Ice for March 2010 Significantly Greater Than 1980
Admin
, Tuesday 06 April 2010 - 21:14:32 //

comment: 1
//

// Font Size -
Increase
/
Decrease
/
Reset
Contrary to media reports Antarctic sea ice continues to expand. Ice totals for March 2010 are significantly higher than 1980. The main stream media concentrates on a couple of small areas of the Antarctic in order to scare you in to believing that Antarctica is melting, when in fact its gaining ice.
No Longer Supported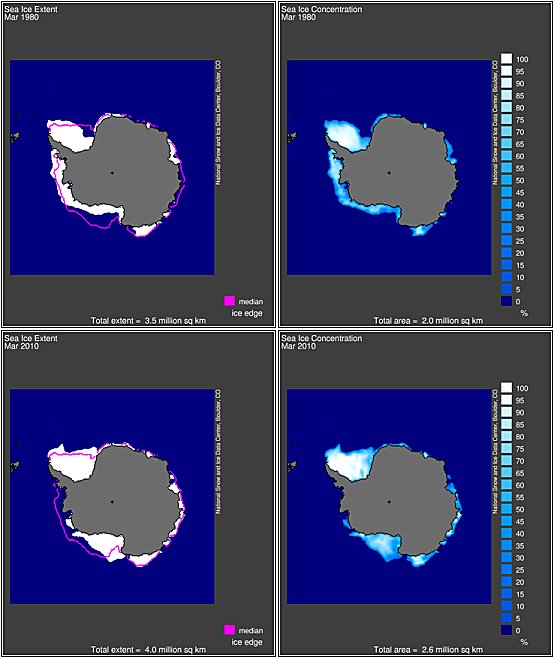 From the National Snow and Ice Data Center, University of Colorado
Antarctic Sea Ice for March 1980 and 2010
              Extent                   Concentration
2010     4.0 million sq km          2.6 million sq km
1980     3.5 million sq km          2.0 million sq km

Sea Ice Extent in March 2010 is over 14% greater than in 1980
Sea Ice Concentration in March 2010 is 30% greater than in 1980!
Since measurements began in 1979 antarctic sea ice has continued to expand, contrary to what the news media would have you believe. We bring this information to you month after month and still there is no sign of the main stream media picking up on the story. They continue to discuss the relatively small areas of the Western Antarctic Peninsula that are melting due to changes in ocean currents.
You may have heard that some of the "computer models" predicted increases in antarctic ice, but they predicted increased "interior ice" due to increased snow fall.
None
of the models predicted increased sea ice around the antarctic. Yet that is what we have, more sea ice in March 2010 than what we had in March of 1980. This is highly significant yet hardly anyone in the main stream media (MSM) is talking about it.
Sea ice is much different than interior ice. Some of the computer models predicted increased ice over the interior of antarctic. If you've ever lived in the extreme cold temperature regions you already understand the reason why. When it gets very cold the air become drier and it snows less, as the temperature warms towards freezing it actually snows more. Since the antarctic rarely even gets close to freezing its understandable that warming would cause more snow fall. Over time compacted snow would lead to more ice. But that is not what is happening here. We're seeing increases in "sea ice", this ice is over the ocean. Sea ice is caused by colder temperatures, not by increased snow fall. But we hear nothing from either the MSM or the scientific community. Especially compared to the out 6%-7% decrease at the arctic (this isn't year over year, this is a 6% decline since 1980!).
This continues a long trend of increasing sea ice that has been noted here for several months.
Share or Bookmark this Article Using:
| furl

| reddit

| del.icio.us

| magnoliacom

| digg

| newsvine

| Stumble_it

| Facebook

| Google

| Fark

| Sphere

| Netscape
| Technorati

| Yahoo!

|
Add to Favorites and Additional Bookmarks:
GlobalWarmingHoax.com - Where the Truth Heats Up ™
Threads: 2131 | Replies: 955 | Views: 6828254