»
Solar Impulse: Poster Child for the Impracticality of Solar Power


Solar energy has some legitimate uses in isolated cases, such as providing electricity where there i ...

»
Record Warm 2016? What a Difference One Month Makes


With the rapid cooling now occurring in the global average tropospheric temperature, my previous pre ...

»
UAH Global Temperature Update for June 2016: +0.34 deg. C


Second largest 2-month drop in global average satellite temperatures. Largest 2-month drop in tropic ...

»
More on the Global Climate Emergency: Email from a "Fan"


I get some hate email from time to time. Actually, not very much. I guess I'm still cruising u ...

»
"Climate System Scientist" Claims Jet Stream Crossing the Equator is Unprecedented


Paul Beckwith has a masters degree in laser optics, which he has somehow parlayed into being a "Climate System Scientist" to spread alarmism about the climate system. But his post "Unprecedented, Jet Stream Crosses Equator" suggests he knows little of meteorology, let alone climate. A "jet stream" in the usual sense of the word is […]

»
2016 Will Likely See Record Global Warmth in Satellite Data


…but the approaching La Nina might extend the global warming pause to 20 years. Even though gl ...

»
If Skeptics can be Prosecuted for Fraud, So can Alarmists


I'm glad to see this news report today, and I've been saying the same thing ever since t ...

»
No, Spencer's Research Wasn't Funded by Peabody


My vacation this week was interrupted this morning by some hate e-mail…apparently, the recent ...

»
Another Potential Reason Why Climate Sensitivity is Over-Estimated


BACKGROUND It's been quite a while since I've discussed why the diagnosis of feedbacks i ...

»
UAH Global Temperature Update for May, 2016: +0.55 deg. C


NOTE: This is the fourteenth monthly update with our new Version 6.0 dataset. Differences versus the ...

Posted by Anonymous
It is said that when playing CSGO games.Having the[more ...]
07/21 00:18

Posted by Anonymous
< Global Offensive > is a sequel to the distinc[more ...]
07/21 00:17

Posted by HaHa
< Global Offensive > is a sequel to the distinc[more ...]
07/21 00:15

Posted by Anonymous
This article can tell you recover deleted photos f[more ...]
07/17 18:49

Posted by Anonymous
You can try this android data recovery to recover [more ...]
07/17 18:46

Posted by Anonymous
This article may be helpful to you: recover delete[more ...]
07/17 18:43

Posted by Anonymous
Sometimes it happens that we mistakenly delete som[more ...]
07/13 20:34

Posted by aaronbaker
Anonymous wrote ...I have a similar experience. Tw[more ...]
07/04 19:26

Posted by Anonymous
I have a similar experience. Two months ago I dele[more ...]
07/04 02:45

Posted by Anonymous
That was truly amazing post thanks for share this [more ...]
07/02 06:13

License Plate Frames
Support the Truth


"SKEPTIC"




"It`s Natural"




"Liberty"

* MORE *
Strong and durable metal license plate holder. Uses full color high resolution images. UV and Water Protection. Satisfaction Guaranteed

You can now visit us on your mobile phone! Simply goto http://GlobalWarmingHoax.com on your mobile phone or PDA to get started!
Antarctic Sea Ice for March 2010 Significantly Greater Than 1980
Admin
, Tuesday 06 April 2010 - 21:14:32 //

comment: 1
//

// Font Size -
Increase
/
Decrease
/
Reset
Contrary to media reports Antarctic sea ice continues to expand. Ice totals for March 2010 are significantly higher than 1980. The main stream media concentrates on a couple of small areas of the Antarctic in order to scare you in to believing that Antarctica is melting, when in fact its gaining ice.
No Longer Supported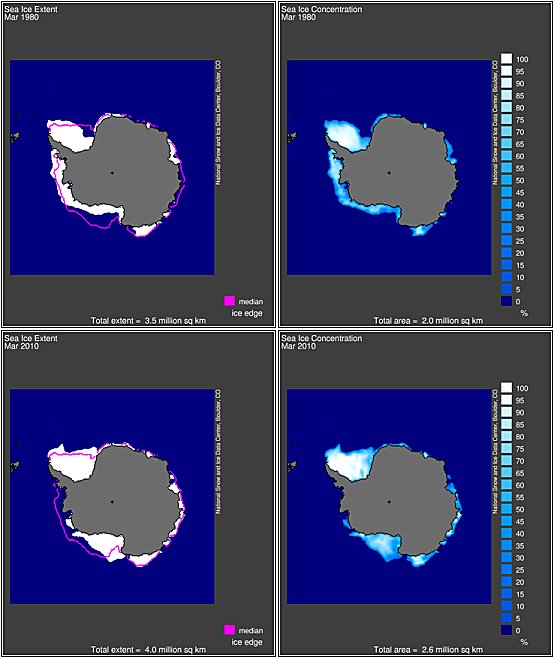 From the National Snow and Ice Data Center, University of Colorado
Antarctic Sea Ice for March 1980 and 2010
              Extent                   Concentration
2010     4.0 million sq km          2.6 million sq km
1980     3.5 million sq km          2.0 million sq km

Sea Ice Extent in March 2010 is over 14% greater than in 1980
Sea Ice Concentration in March 2010 is 30% greater than in 1980!
Since measurements began in 1979 antarctic sea ice has continued to expand, contrary to what the news media would have you believe. We bring this information to you month after month and still there is no sign of the main stream media picking up on the story. They continue to discuss the relatively small areas of the Western Antarctic Peninsula that are melting due to changes in ocean currents.
You may have heard that some of the "computer models" predicted increases in antarctic ice, but they predicted increased "interior ice" due to increased snow fall.
None
of the models predicted increased sea ice around the antarctic. Yet that is what we have, more sea ice in March 2010 than what we had in March of 1980. This is highly significant yet hardly anyone in the main stream media (MSM) is talking about it.
Sea ice is much different than interior ice. Some of the computer models predicted increased ice over the interior of antarctic. If you've ever lived in the extreme cold temperature regions you already understand the reason why. When it gets very cold the air become drier and it snows less, as the temperature warms towards freezing it actually snows more. Since the antarctic rarely even gets close to freezing its understandable that warming would cause more snow fall. Over time compacted snow would lead to more ice. But that is not what is happening here. We're seeing increases in "sea ice", this ice is over the ocean. Sea ice is caused by colder temperatures, not by increased snow fall. But we hear nothing from either the MSM or the scientific community. Especially compared to the out 6%-7% decrease at the arctic (this isn't year over year, this is a 6% decline since 1980!).
This continues a long trend of increasing sea ice that has been noted here for several months.
Share or Bookmark this Article Using:
| furl

| reddit

| del.icio.us

| magnoliacom

| digg

| newsvine

| Stumble_it

| Facebook

| Google

| Fark

| Sphere

| Netscape
| Technorati

| Yahoo!

|
Add to Favorites and Additional Bookmarks:
GlobalWarmingHoax.com - Where the Truth Heats Up ™
Threads: 2132 | Replies: 969 | Views: 6945042