Global Warming Hoax News From Around the WebWorld Climate Report
»
A Classic Tale of Global Warming Alarmism
»
More Evidence Against a Methane Time Bomb
»
Agriculture: Tropical Cyclones are Welcome Visitors
»
Sea Level Acceleration: Not so Fast
»
Hansen Is Wrong
»
Earth's Carbon Sink Still Strong and Growing
»
Wild Speculation on Climate and Polar Bears
»
Illiteracy at NASA
»
The Heat Was On—Before Urbanization and Greenhouse Gases
»
What's to Blame for the Rains on the Plains?
***
NewsBusters - Global Warming
»
CNN's Blitzer: 'I Don't Remember' Biden's Law School Plagiarism
»
CNN's Chetry: 'Please Tell Me It's Not Lipstick Again'
»
MRC Report Asks: Why No Fairness Doctrine for PBS?
***
Science and Public Policy Institute
»
Climate Model Inadequacies (Sea Ice)
»
A C02-Enriched World of Worms
»
Mammals in a C02-Enriched and Warmer World
»
Climate Model Inadequacies of Earth's Radiative Budget
»
Interactive Effects of C02 and Ozone on Birch Trees
»
Effects of Ocean Acidification on Marine Crustaceans
»
Effects of Ocean Acidification on Marine Bivalves
»
Effects of Ocean Acidification on Marine Bacteria
»
Observed Climate Change and the Negligible Global Effect of Greenhouse-gas Emission Limits in the State of Utah
»
Experimental Artifacts of Free-Air-C02-Enrichment (FACE) Studies
»
The Extinction Risk for Stationary Plants
»
Benefits of Atmospheric C02 Enrichment on Strawberries
»
Forest Growth Responses to Increasing Temperatures
»
Stop Climate Fear Mongering
»
Was 2014 the Warmest Year on Record? No, It Wasn't...
»
Problems with Model Predictions of Species Extinctions
»
The Influence of C02 on Plant Antioxidants
»
Health Effects of Hot vs. Cold Temperatures in Asia
»
Coral Reef Responses to Temperature and Stress: Thermal Adaptation
»
Forest Growth Response to C02
»
Onward Marches the Great Pause
»
Response of Various Marine Animals to Ocean Acidification and Warming
»
FACE Experiments and Grassland Species
»
Effects of Ocean Acidification on Fish
»
Response of Fish to Ocean Warming
***
Climate Science: Roger Pielke Sr. Research Group
»
Roger Pielke Sr. is now on Twitter!
»
2012 Climate Science Weblog in Review by Dallas Jean Staley – A Guest Post
»
The Weblog Is Retiring
»
Publication Of "Reply to "Comment On 'Ocean Heat Content And Earth's Radiation Imbalance. II. Relation To Climate Shifts' " by Nuccitelli Et Al. By Douglass and Knox 2012
»
Q&A From A Group Of Retired NASA Personnel And Associates
»
The Importance of Land Use/Land Practices On Climate – A Perspective From Jon Foley
»
Interview With James Wynn In The English Department At Carnegie Mellon University
»
University Of Alabama At Huntsville October 2012 Lower Tropospheric Temperature Analysis
»
USA Election Day 2012
»
New Paper "Climatic Variability Over Time Scales Spanning Nine Orders of Magnitude: Connecting Milankovitch Cycles With Hurst–Kolmogorov Dynamics" By Markonis And Koutsoyiannis
***
»
Exponent's Transients: Bodge or Botch?
»
NFL Officials Over-Inflated Patriot Balls
»
More on Deflategate
»
Deflategate and Errors in the Wells Report
»
Implications of recent multimodel attribution studies for climate sensitivity
»
Scientific American article: "How to Misinterpret Climate Change Research"
»
Pitfalls in climate sensitivity estimation: Part 3
»
Pitfalls in climate sensitivity estimation: Part 2
»
Pitfalls in climate sensitivity estimation: Part 1
»
Rahmstorf's Third Trick
***
Watts Up With That?
»
Debunking Bloomberg's 'alarming' climate graph: Are we really on track for 4°C global warming by 2100?
»
More pointless worrying from NOAA: July 4th fireworks cause a spike in particulate matter for a day
»
Good news: posited global warming won't kill off ocean phytoplankton
»
The Conclusions of a Press Release Should Match the Scientific Study, Don't Ya Think?
»
Did green madness help create the Greek debt crisis?
»
Study: Arctic sea ice retreat is creating ocean circulation changes
»
New findings on sprite formation above thunderstorms
»
Generalization, Specialization And Climatology
»
Pope recruits Naomi Klein to fight Climate Change and Capitalism
»
Weekly Climate and Energy News Roundup #185
»
Repeated Trials, Autocorrelation, and Albedo
»
Weekend Open Thread
***
Global Warming News
»
IER Study: Existing Coal Much Less Costly than New Gas, Wind
»
EPA's Climate Action Flim-Flam Report
»
Why the Ratepayer Protection Act Is Worthy
»
Computer-Aided Sophistry: My Power Point on the Social Cost of Carbon
»
Sowing Local Opposition to COP-21 in Paris
»
Pope Francis's Climate Encyclical: Help Poor People by Dismantling Industrial Civilization
»
How to Rebut the Coming Wave of Tasteless Green TV Ads Defending Congress's Bipartisan Effort to Check EPA (BONUS BLOGS: "Niskanen Center's Unreasonable Case for Carbon Tax" & "Progressives' Insincere Response to Pope")
»
Does EPA's Clean Power Plan Endanger Manatees?
»
Renewable Fuel Standard: Can EPA Regulate America Beyond the 'Blend Wall'?
»
Cooler Heads Digest 12 June 2015
***
Fox News - Climate Change Stories
***
Michelle Malkin - Enviro-Nitwits
»
Going green: Obama and Bill Nye's Earth Day fuel-fry cost taxpayers a cool million
»
Holy hypocrisy and hot air
»
EPA chief wants to help 'climate deniers' be 'normal'
»
Friday idiocy dump: Obama admin says EPA's new truck emission regs will make shipping things totally cheaper
»
G7 agrees to control earth's temperature but remains split on if Superman could beat up Batman
***
DailyTech Michael Asher`s blog
»
Will the Real Antarctica Please Stand Up?
»
Global Warming May Decrease Hurricanes, Research Suggests
»
Japanese Report Disputes Human Cause for Global Warming
»
Sea Ice Ends Year at Same Level as 1979
»
A Funny Thing Happened on the Way to the (Climate) Forum
»
Climate Report Downgrades Ice Loss; Media Reports Opposite
»
Princeton Physicist Calls Global Warming Science "Mistaken"
»
Defying Predictions, Sea Level Rise Begins to Slow
»
Electric Car Sales in Freefall; Industry Risks Collapse
»
Glaciers in Norway Growing Again
***
C3 - Climate Cycles Change
***
CATO - Global Warming
»
Government Debt: Jefferson and Gallatin Were Right
»
Uber Execs Arrested in France after Luddite Protests
»
Export-Import Bank Closes: Kill Subsidies to Cut Federal Liabilities, Promote Economic Fairness
»
How Many More Greek Tragedies?
»
The New Front in the Global War on Drugs
»
Six Humpty Dumptys Playing Calvinball
»
Scalia's Obamacare Argument Is Stronger than Roberts'
»
Top Dozen Villains in Greek Soap Opera: Who Is to Blame as Greece and Euro Stagger toward the Brink?
»
Justice John Roberts's Obamacare Decision Is an Orwellian Mess
»
Taper Talk, and the $10 Bill
»
Libertarians Have Long Led the Way on Marriage
»
Shortcomings Undercut Message of Encyclical
»
Disclosure Rules Are the Wrong Way to Push Social Change
»
How China and the United States Can Learn to Get Along
»
Washington Confronts Russia over Ukraine: Yet Europeans Won't Protect Themselves from Vladimir Putin
»
The New Saudi-Russian Axis: Should America Worry?
»
Millennials on Foreign Policy: More Cooperation, Less Use of Force
»
Who Would Not Favor Economic Growth?
»
Who Wins if the Supreme Court Disables Obamacare?
»
Supreme Court Dries Price Controls Like a Raisin in the Sun
»
The Grasping Hand: "Kelo v. City of New London" and the Limits of Eminent Domain
»
Think (Hard) before You Collect
»
The Real World Is Better Off than Pope Francis's Gloomy Vision of It
»
Victory Over The Raisin Administrative Committee: The New Deal Case That Took 80 Years To Bring
»
Why the Rule of Law Is Vital to the Value of Money
***
CanadaFreePress - Global Warming
***
More Global Warming Hoax News Feeds

---
Since Exxon Hasn't Sent Us Our First Million Dollars Yet You're Welcome To Help Pay Our Bills Until They Do.











Posted by Anonymous
Very good digestive tract wellbeing = bodily healt[more ...]
06/21 05:40

Posted by Anonymous
[quote][quote]You put certainly revolutionary idea[more ...]
05/14 11:08

Posted by Anonymous
Anonymous wrote ...You put certainly revolutionary[more ...]
05/12 23:28

Posted by Anonymous
[quote]You put certainly revolutionary ideas in th[more ...]
05/12 23:27

Posted by Anonymous
[quote]You put certainly revolutionary ideas in th[more ...]
05/12 23:25

Posted by Anonymous
[quote]You put certainly revolutionary ideas in th[more ...]
05/12 23:24

Posted by Anonymous
You put certainly revolutionary ideas in the post.[more ...]
05/12 06:06

Posted by Michael Bay
Have you guys ever considered the fact that maybe [more ...]
05/04 12:00

Posted by Anonymous
S L U T
05/04 11:22

Posted by Anonymous
[censored]
05/04 11:17

License Plate Frames
Support the Truth


"SKEPTIC"




"It`s Natural"




"Liberty"

* MORE *
Strong and durable metal license plate holder. Uses full color high resolution images. UV and Water Protection. Satisfaction Guaranteed

You can now visit us on your mobile phone! Simply goto http://GlobalWarmingHoax.com on your mobile phone or PDA to get started!
Antarctic Sea Ice for March 2010 Significantly Greater Than 1980
Admin
, Tuesday 06 April 2010 - 21:14:32 //

comment: 1
//

// Font Size -
Increase
/
Decrease
/
Reset
Contrary to media reports Antarctic sea ice continues to expand. Ice totals for March 2010 are significantly higher than 1980. The main stream media concentrates on a couple of small areas of the Antarctic in order to scare you in to believing that Antarctica is melting, when in fact its gaining ice.
No Longer Supported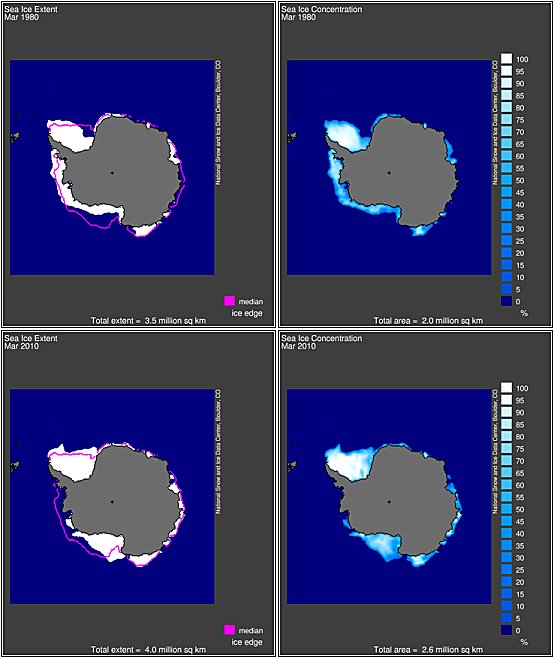 From the National Snow and Ice Data Center, University of Colorado
Antarctic Sea Ice for March 1980 and 2010
              Extent                   Concentration
2010     4.0 million sq km          2.6 million sq km
1980     3.5 million sq km          2.0 million sq km

Sea Ice Extent in March 2010 is over 14% greater than in 1980
Sea Ice Concentration in March 2010 is 30% greater than in 1980!
Since measurements began in 1979 antarctic sea ice has continued to expand, contrary to what the news media would have you believe. We bring this information to you month after month and still there is no sign of the main stream media picking up on the story. They continue to discuss the relatively small areas of the Western Antarctic Peninsula that are melting due to changes in ocean currents.
You may have heard that some of the "computer models" predicted increases in antarctic ice, but they predicted increased "interior ice" due to increased snow fall.
None
of the models predicted increased sea ice around the antarctic. Yet that is what we have, more sea ice in March 2010 than what we had in March of 1980. This is highly significant yet hardly anyone in the main stream media (MSM) is talking about it.
Sea ice is much different than interior ice. Some of the computer models predicted increased ice over the interior of antarctic. If you've ever lived in the extreme cold temperature regions you already understand the reason why. When it gets very cold the air become drier and it snows less, as the temperature warms towards freezing it actually snows more. Since the antarctic rarely even gets close to freezing its understandable that warming would cause more snow fall. Over time compacted snow would lead to more ice. But that is not what is happening here. We're seeing increases in "sea ice", this ice is over the ocean. Sea ice is caused by colder temperatures, not by increased snow fall. But we hear nothing from either the MSM or the scientific community. Especially compared to the out 6%-7% decrease at the arctic (this isn't year over year, this is a 6% decline since 1980!).
This continues a long trend of increasing sea ice that has been noted here for several months.
Share or Bookmark this Article Using:
| furl

| reddit

| del.icio.us

| magnoliacom

| digg

| newsvine

| Stumble_it

| Facebook

| Google

| Fark

| Sphere

| Netscape
| Technorati

| Yahoo!

|
Add to Favorites and Additional Bookmarks:
GlobalWarmingHoax.com - Where the Truth Heats Up ™
Threads: 2106 | Replies: 834 | Views: 5796740