»
Marvel et al.'s new paper on estimating climate sensitivity from observations


A guest post by Nic Lewis Introduction and summary Recently a new model-based paper on climate sensi ...

»
Reply to Patrick Brown's response to my article commenting on his Nature paper


Introduction I thank Patrick Brown for his detailed response (also here) to statistical issues that ...

»
Polar Bears, Inadequate data and Statistical Lipstick


A recent paper Internet Blogs, Polar Bears, and Climate-Change Denial by Proxy by JEFFREY A. HARVEY ...

»
Brown and Caldeira: A closer look shows global warming will not be greater than we thought


A guest post by Nic Lewis Introduction Last week a paper predicting greater than expected global war ...

»
US East Coast Sea Level Rise: An Adjustocene Hockey Stick


In 2011, Andy Revkin wrote an article (archive) entitled "Straight Talk on Rising Seas in a Wa ...

»
New Antarctic Temperature Reconstruction


Stenni et al (2017), Antarctic climate variability on regional and continental scales over the last ...

»
Reconciling Model-Observation Reconciliations


Two very different representations of consistency between models and observations are popularly circ ...

»
Part 2- The TV5 Monde Hack and APT28


In his attribution of the DNC hack, Dmitri Alperovitch, of Crowdstrike and the Atlantic Council, lin ...

»
From Nigerian Scams to DNC Hack Attribution – Part 1


In Crowdstrike's original announcement that "Russia" had hacked the DNC, Dmitri Al ...

»
Guccifer 2: From January to May, 2016


Within the small community conducting technical analysis of the DNC hack, there has been ongoing con ...

License Plate Frames
Support the Truth


"SKEPTIC"




"It`s Natural"




"Liberty"

* MORE *
Strong and durable metal license plate holder. Uses full color high resolution images. UV and Water Protection. Satisfaction Guaranteed

You can now visit us on your mobile phone! Simply goto http://GlobalWarmingHoax.com on your mobile phone or PDA to get started!
Houston, we've got a problem!
Admin
, Thursday 14 June 2007 - 07:42:24 // Comments are turned off for this item //

// Font Size -
Increase
/
Decrease
/
Reset
by Kristen Byrnes: Astronomer, physicist, mathematician, and "father of global warming." James Hansen seems to have a busy life for someone from Iowa. But the real question seems to be is whether or not Hansen is too busy to realize what he is actually saying to the public.
As Hansen attempts to seduce, exaggerate, and alarm the public, some people (like me) attempt to inform the public of the reality of global warming, its impacts, and now, the truth behind James Hansen.
Dr. Hansen was born 1941 and grew up in Iowa. He has a Bachelors in Physics and Mathematics, Masters in Astronomy, and a Ph.D. in Physics under Dr. James Van Allen. Most importantly he is the head of NASA Goddard Institute for Space Studies in New York.
Who is James Hansen:
"The fun in science is to explore a topic from all angles and figure out how something works. To do this well, a scientist learns to be open-minded, ignoring prejudices that might be imposed by religious, political or other tendencies (Galileo being a model of excellence)." Hansen wrote this statement in 1999 in
"The Global Warming Debate".
Hansen claims that he is an "independent", but he seems to be the only person who believes it. Readers may already be aware of this, but if not… James Hansen was granted a quarter of a million dollars from the Heinz Environment Award a.k.a. U. S. Senator and former Presidential Candidate John Kerry's wife's foundation. You know the old saying; "nothing in politics is free." So my first question is: what did he do to get the quarter of a million dollars? Was it the price for switching his political standing from "independent" to democratic when he later endorsed John Kerry for President? Was it payment for interpreting his department's data in a way that would benefit his political friends?
More evidence of his connections to the Democratic Party was his endorsement of Al Gore's presidential campaign in 2000. James Hansen was also a science advisor to Al Gore's movie An Inconvenient Truth. I watched that movie six times and thoroughly researched the claims that Al Gore made. I came to the conclusion that his movie misinterpreted a whole area of science and should not be shown in schools. This leads to a number of questions. Did they really think the people of the world would be so blind? Did they think that the world would spend enormous resources solving a problem without first looking it over carefully?
James Hansen is a scientist who admittedly uses scare tactics to convince the public that global warming will be "potentially disastrous". Consider this statement from Hansen in his own document called "Can We Defuse the Global Warming Time Bomb?" in August of 2003.
"Emphasis on extreme scenarios may have been appropriate at one time, when the public and decision-makers were relatively unaware of the global warming issue, and energy sources such as "synfuels," shale oil and tar sands were receiving strong consideration. Now, however, the need is for demonstrably objective climate forcing scenarios consistent with what is realistic under current conditions. Scenarios that accurately fit recent and near-future observations have the best chance of bringing all of the important players into the discussion, and they also are what is needed for the purpose of providing policy-makers the most effective and efficient options to stop global warming."
Despite this statement several years ago, Hansen continues to make extreme claims. One such claim that contradicts even AGW scientists is that sea level is and will remain rising one meter per 20 years, as was stated by Hansen in an interview with Der Spiegel in April of 2007. AGW scientists at the IPCC are claiming that sea levels will rise between .09 and .88 meters in the next century.
There are two main pieces of evidence that James Hansen uses to claim that global warming exists. First, the observations of receding glaciers and thinning ice sheets in Greenland and West Antarctica.
"All glaciers in America's Glacier National Park are retreating inexorably to their final demise. Global warming is real, and the melting ice is a portent of potentially disastrous consequences."
I have read many articles where Hansen makes such statements, including those on the NASA GISS site, and never does he mention that all of these ice masses have been receding for over 100 years since the end of the Little Ice Age. Next question: Does he consistently fail to mention this very important information because it indicates a natural cause of warming?
The second area of evidence that is used to prove global warming is surface temperature. It is important to understand that global warming has been measured in tenths of degrees, .77 degrees Celsius in the past 100 years. There has been a great deal of controversy about the accuracy of the temperature data, mainly the bias of temperature data due to urban heat island effect. This controversy has lead many to focus on rural temperature stations. Rural stations are intended to represent the cool breezy countryside, small towns, farms, trees and grass.
In recent weeks, researchers have been visiting these temperature stations. What they noticed was that there are serious problems with the quality of these temperature stations. They noticed that many of these temperature stations were located next to concrete buildings, near hot exhausts of air conditioning units, attached to metal towers and poles, surrounded by driveways and above gravel. When I looked at the photos taken from the ground and backed up by satellite photos, I was shocked. Have you ever walked on pavement on a sunny day and wanted to move quickly to the grass because of the uncomfortable heat? Have you ever touched a metal fence post on a sunny day and noticed how hot it gets?
The photos of these temperature stations are not just a few of many; they are the first few dozen that have been visited. About 80% of the temperature stations that have been visited and photographed have serious quality problems. This brings up some more questions: How many tenths of a degree will temperatures rise when the thermometer is near the hot exhaust of an AC unit? Or how about when it is located above gravel or near a paved road or driveway? How many tenths of a degree will the temperature rise when the thermometer is above pavement and surrounded by buildings (no wind)? And in one case, as documented by the photograph below, how many tenths of a degree will the temperature rise when the caretaker of the facility burns trash in a metal barrel just 5 feet away from the temperature station?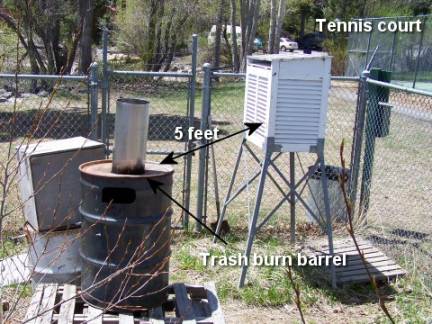 Houston, we've got a problem! NASA GISS Temperature Station # 425724880010
Is this what they mean by man made global warming?
Is this the kind of quality we expect from NASA?
Many of the photos described above can be found at ClimateAudit by Steve McIntyre. I do not always agree with Steve but on this one he is right on the mark. I strongly encourage people to visit his site at the links below. While you are there, notice the little "tip jar" in the upper left hand corner of his page. It's there because he is not funded by the oil industry.
There is also discussion on his website about very questionable adjustments to the temperature records.
Many of the same photos can be found at the
weblog of Anthony Watts
, Mr. Watts is also organizing
another website
.
The photographs discussed above are good evidence that there are quality control problems with the Global and US Historical Climate Network stations. It is quite apparent that the installers and caretakers of these temperature stations lack training and understanding in rural temperature measuring. This seems to be the first problem that needs to be resolved.
The second problem is the adjustments that scientists, particularly James Hansen, have made to the temperature record.
The third problem is how to fix the problem of exactly what the temperature record should be since the evidence clearly demonstrates that the human errors have made temperatures appear warmer.
How you can help
:
The only way these problems will be resolved is by making each and every one of your voices heard. We want to resolve the problem and not escalate the current arguing. Dr. Hansen needs to set his politics aside and give us the corrections that are needed.
You can send comments to
James Hansen at his NASA GISS email
. Please be polite.
You can also send your thoughts: Attention
NASA Administrator Michael Griffin
©
Kristen Byrnes
and Ponder the Maunder - All Rights Reserved. Reprinted on GlobalWarmingHoax.com with Permission.
Share or Bookmark this Article Using:
| furl

| reddit

| del.icio.us

| magnoliacom

| digg

| newsvine

| Stumble_it

| Facebook

| Google

| Fark

| Sphere

| Netscape
| Technorati

| Yahoo!

|
Add to Favorites and Additional Bookmarks:
GlobalWarmingHoax.com - Where the Truth Heats Up ™