»
Marvel et al.'s new paper on estimating climate sensitivity from observations


A guest post by Nic Lewis Introduction and summary Recently a new model-based paper on climate sensi ...

»
Reply to Patrick Brown's response to my article commenting on his Nature paper


Introduction I thank Patrick Brown for his detailed response (also here) to statistical issues that ...

»
Polar Bears, Inadequate data and Statistical Lipstick


A recent paper Internet Blogs, Polar Bears, and Climate-Change Denial by Proxy by JEFFREY A. HARVEY ...

»
Brown and Caldeira: A closer look shows global warming will not be greater than we thought


A guest post by Nic Lewis Introduction Last week a paper predicting greater than expected global war ...

»
US East Coast Sea Level Rise: An Adjustocene Hockey Stick


In 2011, Andy Revkin wrote an article (archive) entitled "Straight Talk on Rising Seas in a Wa ...

»
New Antarctic Temperature Reconstruction


Stenni et al (2017), Antarctic climate variability on regional and continental scales over the last ...

»
Reconciling Model-Observation Reconciliations


Two very different representations of consistency between models and observations are popularly circ ...

»
Part 2- The TV5 Monde Hack and APT28


In his attribution of the DNC hack, Dmitri Alperovitch, of Crowdstrike and the Atlantic Council, lin ...

»
From Nigerian Scams to DNC Hack Attribution – Part 1


In Crowdstrike's original announcement that "Russia" had hacked the DNC, Dmitri Al ...

»
Guccifer 2: From January to May, 2016


Within the small community conducting technical analysis of the DNC hack, there has been ongoing con ...

License Plate Frames
Support the Truth


"SKEPTIC"




"It`s Natural"




"Liberty"

* MORE *
Strong and durable metal license plate holder. Uses full color high resolution images. UV and Water Protection. Satisfaction Guaranteed

You can now visit us on your mobile phone! Simply goto http://GlobalWarmingHoax.com on your mobile phone or PDA to get started!
Another photo I took. On this brand new state of the art meteorological station in Eastport, ME hangs a brand new combination humidity/ temperature sensor 2 feet downwind from the air conditioner exhaust.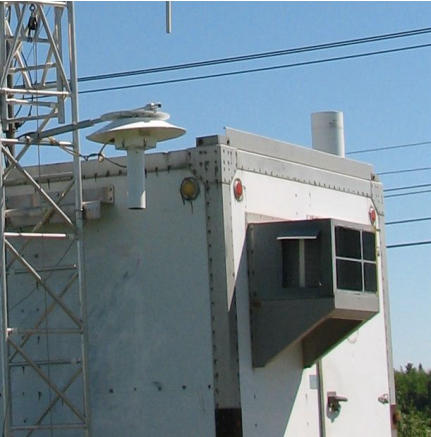 This station sits and cooks away while the buildings that surround it block the wind.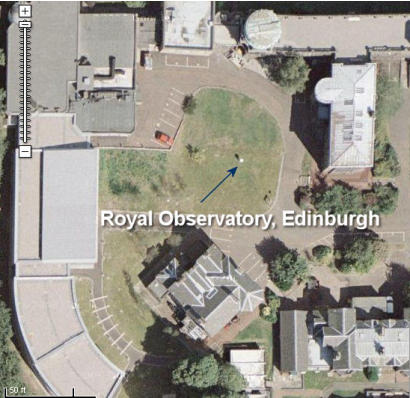 Air conditioning exhaust, metal fencing, blocked wind and dark color wood all ensure this station will show man made global warming. From Anthony Watts' Weblog.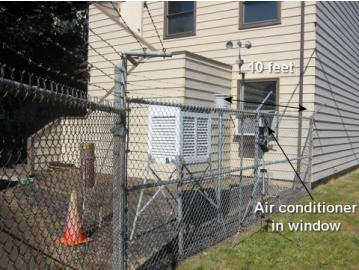 Anthony Watts says the woodchips under this station were hot, but not as hot as the blacktop driveway surrounding this station in Redding, CA. Documented at Surfacestations.org.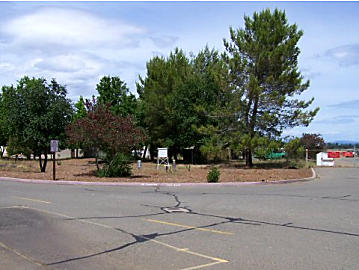 The radiator of the car that parks next to this station may be the least of the problems at this Marysville, CA station. Photo by Anthony Watts, documented at Surfacestations.org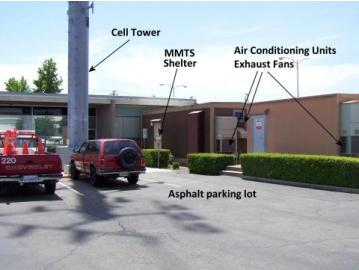 That's me standing on the blacktop below the station on the roof of this Exxon airport gas station. In this case you certainly can say Exxon/Mobile is responsible for global warming. But look on the bright side, no wind problems here. This is a station that is regularly used by the local media in Presque Isle, Maine.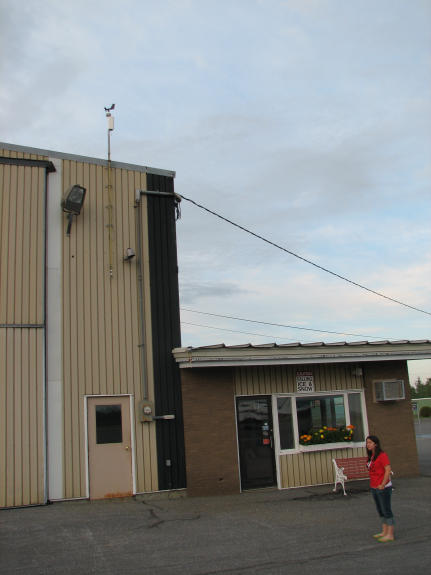 Electra PH is no longer a temperature station. It continued to produce data for many years after the station was removed. Notice the multiple heat sources around it (asphalt, air conditioner, high intensity light, roof, heated office).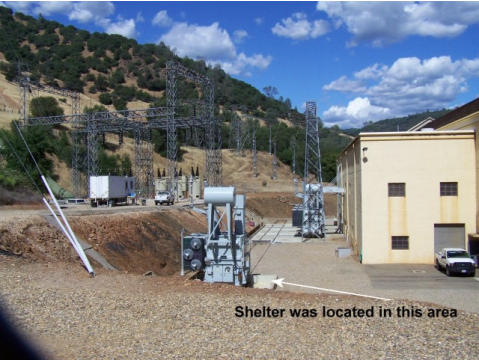 From a study by Roger Pielke comes global warming on major holidays and Super Bowl Sunday (and any other day you're in the mood for barbeque ribs).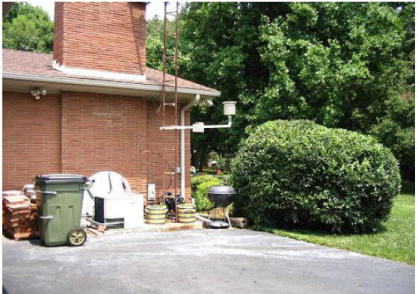 Things here will cool down when you go fishing assuming the metal tower and all that concrete doesn't warm things up too fast. Photo by Russ Steele and is documented on Surfacestations.org.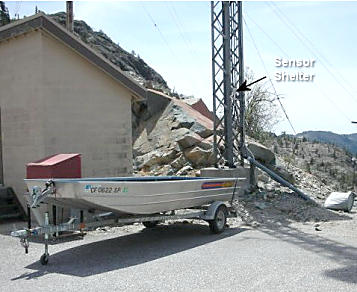 Just a little amount of blacktop road next to this station.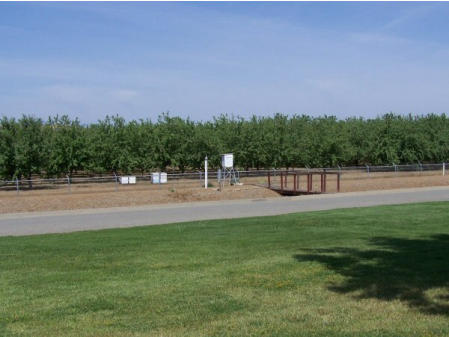 Heat rises in Yolo, CA. Photo by Anthony Watts.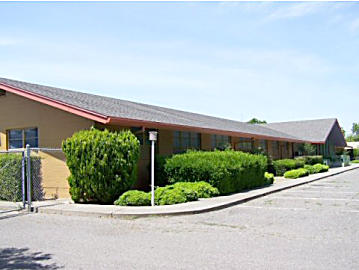 Metal pole heats up, heat rises and wind, when it comes, cools it down in Colusa, CA. Photo by Anthony Watts.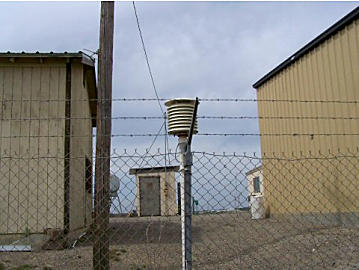 I think all these barbecue pits in the vicinity of temperature stations means these guys get hungry while waiting to record the temperature. But it is at Lodi Fire Station #2, Lodi, CA so we don't have to worry about fire hazards. Photo by Anthony Watts.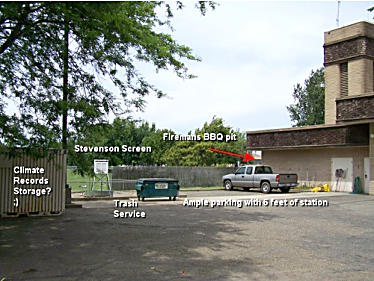 ©
Kristen Byrnes
and Ponder the Maunder - All Rights Reserved. Reprinted on GlobalWarmingHoax.com with Permission.