»
Marvel et al.'s new paper on estimating climate sensitivity from observations


A guest post by Nic Lewis Introduction and summary Recently a new model-based paper on climate sensi ...

»
Reply to Patrick Brown's response to my article commenting on his Nature paper


Introduction I thank Patrick Brown for his detailed response (also here) to statistical issues that ...

»
Polar Bears, Inadequate data and Statistical Lipstick


A recent paper Internet Blogs, Polar Bears, and Climate-Change Denial by Proxy by JEFFREY A. HARVEY ...

»
Brown and Caldeira: A closer look shows global warming will not be greater than we thought


A guest post by Nic Lewis Introduction Last week a paper predicting greater than expected global war ...

»
US East Coast Sea Level Rise: An Adjustocene Hockey Stick


In 2011, Andy Revkin wrote an article (archive) entitled "Straight Talk on Rising Seas in a Wa ...

»
New Antarctic Temperature Reconstruction


Stenni et al (2017), Antarctic climate variability on regional and continental scales over the last ...

»
Reconciling Model-Observation Reconciliations


Two very different representations of consistency between models and observations are popularly circ ...

»
Part 2- The TV5 Monde Hack and APT28


In his attribution of the DNC hack, Dmitri Alperovitch, of Crowdstrike and the Atlantic Council, lin ...

»
From Nigerian Scams to DNC Hack Attribution – Part 1


In Crowdstrike's original announcement that "Russia" had hacked the DNC, Dmitri Al ...

»
Guccifer 2: From January to May, 2016


Within the small community conducting technical analysis of the DNC hack, there has been ongoing con ...

License Plate Frames
Support the Truth


"SKEPTIC"




"It`s Natural"




"Liberty"

* MORE *
Strong and durable metal license plate holder. Uses full color high resolution images. UV and Water Protection. Satisfaction Guaranteed

You can now visit us on your mobile phone! Simply goto http://GlobalWarmingHoax.com on your mobile phone or PDA to get started!
Global warming is measured in tenths of degrees. The temperature stations shown below are not the exception, but the rule. They represent rural areas AKA trees, brush, grass and small towns. Official organizations and the media use the temperature stations below for everything from scientific global warming studies to reporting local weather. Official organizations include NASA, NOAA, NCDC, UK Met Office, CRU and etc.
Let's thank Anthony Watts for his work and remember to support the project at
Surfacestations.org
where most of the stations are being documented.
Aside from the air conditioner exhaust and the building blocking the wind, behind the photographer is a paved runway. Photo By Russ Steele, documentation of Petaluma CA on Surfacestations.org.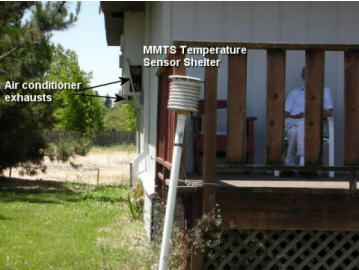 Applicants for sewer construction permits in Aberdeen, WA step off the paved driveway to read this sign that heats up the thermometer above that is not cooled by the wind that is blocked by the structure in the background. Photo by Gary Kobes, documented on Surfacestations.org.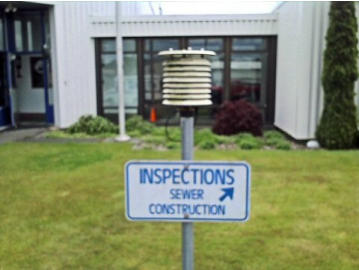 Here is a picture I took of a temperature station in Lewiston, Maine. The temperature station is shielded from the wind on three sides. Blacktop surrounds the station on two sides and it is in the vicinity of that big air conditioning exhaust and barbecue in the background. I was standing on a paved driveway when I took the picture. This is the only location that is not rural; the town is listed as population 40,000.
The next temperature station does not appear to be in a windless area as it is on top of an asphalt roof attached to a metal pipe next to an air conditioning exhaust. Roseburg, OR
Photo by George Taylor, documented on Surfacestations.org.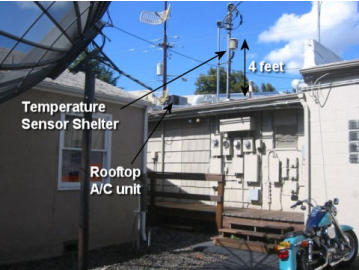 The air-conditioning exhausts or the rock pavement may not affect the next temperature station as much as the jet exhaust on the day of the air show at Lovelock, NV. Photo by Anthony Watts, documented at Surfacestations.org.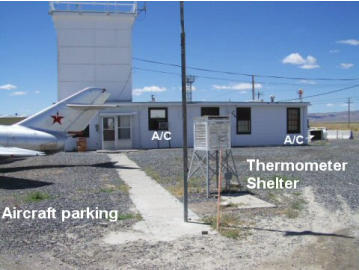 The next photo may end up being the poster child for Global Warming on trash day. Photo by Russ Steele, documented on Surfacestations.org.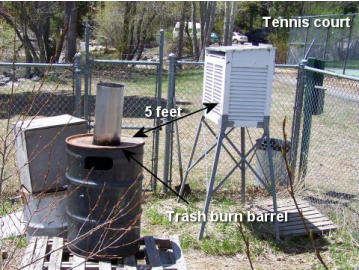 At this Lodi, CA power station, the temperature station is between a paved driveway and hot exhaust fans. Photo by Anthony Watts, documented at Surfacestations.org.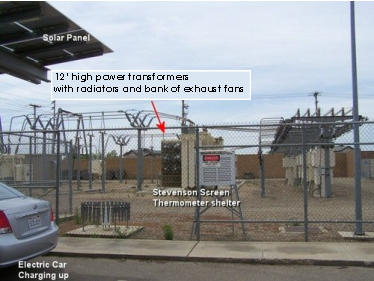 ©
Kristen Byrnes
and Ponder the Maunder - All Rights Reserved. Reprinted on GlobalWarmingHoax.com with Permission.