»
Marvel et al.'s new paper on estimating climate sensitivity from observations


A guest post by Nic Lewis Introduction and summary Recently a new model-based paper on climate sensi ...

»
Reply to Patrick Brown's response to my article commenting on his Nature paper


Introduction I thank Patrick Brown for his detailed response (also here) to statistical issues that ...

»
Polar Bears, Inadequate data and Statistical Lipstick


A recent paper Internet Blogs, Polar Bears, and Climate-Change Denial by Proxy by JEFFREY A. HARVEY ...

»
Brown and Caldeira: A closer look shows global warming will not be greater than we thought


A guest post by Nic Lewis Introduction Last week a paper predicting greater than expected global war ...

»
US East Coast Sea Level Rise: An Adjustocene Hockey Stick


In 2011, Andy Revkin wrote an article (archive) entitled "Straight Talk on Rising Seas in a Wa ...

»
New Antarctic Temperature Reconstruction


Stenni et al (2017), Antarctic climate variability on regional and continental scales over the last ...

»
Reconciling Model-Observation Reconciliations


Two very different representations of consistency between models and observations are popularly circ ...

»
Part 2- The TV5 Monde Hack and APT28


In his attribution of the DNC hack, Dmitri Alperovitch, of Crowdstrike and the Atlantic Council, lin ...

»
From Nigerian Scams to DNC Hack Attribution – Part 1


In Crowdstrike's original announcement that "Russia" had hacked the DNC, Dmitri Al ...

»
Guccifer 2: From January to May, 2016


Within the small community conducting technical analysis of the DNC hack, there has been ongoing con ...

License Plate Frames
Support the Truth


"SKEPTIC"




"It`s Natural"




"Liberty"

* MORE *
Strong and durable metal license plate holder. Uses full color high resolution images. UV and Water Protection. Satisfaction Guaranteed

You can now visit us on your mobile phone! Simply goto http://GlobalWarmingHoax.com on your mobile phone or PDA to get started!
Ponder the Maunder
Experiment
The question is, what is the climate driver? After reviewing the data, there are only two things that can be, either solar variation or increasing CO2 or a combination of both. The swings in the ENSO and volcanic activity were clouding the answer to that question.
Because cooling and warming around the globe caused by El Ninos and La Ninas are a product of heat exchange in a small area of the Earth's surface then the effects of solar, greenhouse gases or a combination of both should be left over if the signal from the ENSO was eliminated.
If solar were the climate driver, then temperatures should have increased until about 1960 then begun to level out with a slight decrease in 1970, rise a little in 1980 through 1990, and again dip in 2000.

The solar overlay in the graph above is based on Foukal 2006 with the latest climate sensitivity (.67) By J. Hansen, NASA GISS. Climate sensitivity is how you compare how many degrees of temperature change comes from change in energy, in this case Watts per meter squared. (Wm squared times Climate Sensitivity = Temperature change). The blue dashes are an estimation of temperature when Cosmic Ray effect (Svensmark Effect) is added in.
If there was warming due to greenhouse gases, then the temperature should have climbed at a slow constant rate with the rate increasing as time goes along.

The light blue line is an estimation of what temperature would look like after adjusting for ENSO and volcanoes if greenhouse gases were the climate driver.
If the climate driver was a combination of solar and greenhouse gases, then temperatures should increase until 1960, then show a smaller but steady rate of increase after 1960 as is shown by the light blue line in the graph below.
Using the "ONI" values (the amount of temperature change created by ENSO) from the NOAA home page, (Appendix

I was able to "wash out the ENSO and volcanic noise" from the global temperatures. I examined the period of 1945 until present because;
that is about when the anomalous cooling began,

temperature and ENSO measurements are not very accurate before that time.
The adjusted temperature is drawn onto the graph below in purple.
For good measure, an estimate of the cooling effects of the nuclear testing (in brown) is also included. The climate effects of the nuclear weapons are very small and for a short amount of time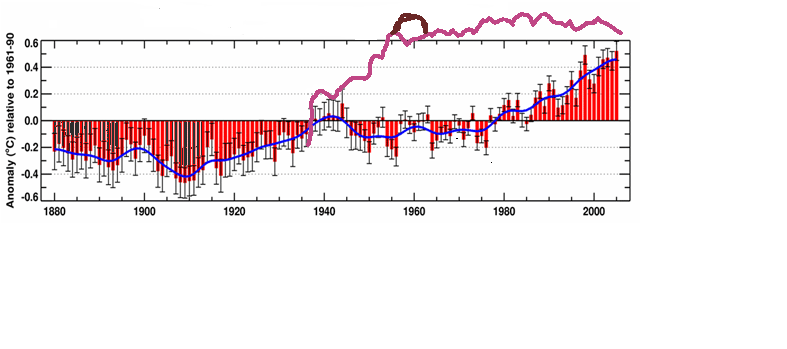 The results were quite surprising, and rather clear. There was no sign of greenhouse warming at all. Only the clear fingerprint of solar activity was left. For some reason, probably not known to greenhouse theorists and their scientists, greenhouse gases did not play a role in late 20th century warming. It was simply a matter of solar variation being clouded by El Ninos and La Nina
©
Kristen Byrnes
and Ponder the Maunder - All Rights Reserved. Reprinted on GlobalWarmingHoax.com with Permission.