»
Marvel et al.'s new paper on estimating climate sensitivity from observations


A guest post by Nic Lewis Introduction and summary Recently a new model-based paper on climate sensi ...

»
Reply to Patrick Brown's response to my article commenting on his Nature paper


Introduction I thank Patrick Brown for his detailed response (also here) to statistical issues that ...

»
Polar Bears, Inadequate data and Statistical Lipstick


A recent paper Internet Blogs, Polar Bears, and Climate-Change Denial by Proxy by JEFFREY A. HARVEY ...

»
Brown and Caldeira: A closer look shows global warming will not be greater than we thought


A guest post by Nic Lewis Introduction Last week a paper predicting greater than expected global war ...

»
US East Coast Sea Level Rise: An Adjustocene Hockey Stick


In 2011, Andy Revkin wrote an article (archive) entitled "Straight Talk on Rising Seas in a Wa ...

»
New Antarctic Temperature Reconstruction


Stenni et al (2017), Antarctic climate variability on regional and continental scales over the last ...

»
Reconciling Model-Observation Reconciliations


Two very different representations of consistency between models and observations are popularly circ ...

»
Part 2- The TV5 Monde Hack and APT28


In his attribution of the DNC hack, Dmitri Alperovitch, of Crowdstrike and the Atlantic Council, lin ...

»
From Nigerian Scams to DNC Hack Attribution – Part 1


In Crowdstrike's original announcement that "Russia" had hacked the DNC, Dmitri Al ...

»
Guccifer 2: From January to May, 2016


Within the small community conducting technical analysis of the DNC hack, there has been ongoing con ...

License Plate Frames
Support the Truth


"SKEPTIC"




"It`s Natural"




"Liberty"

* MORE *
Strong and durable metal license plate holder. Uses full color high resolution images. UV and Water Protection. Satisfaction Guaranteed

You can now visit us on your mobile phone! Simply goto http://GlobalWarmingHoax.com on your mobile phone or PDA to get started!
Ponder the Maunder
Conclusion and Discussion
Before I begin, it is important to note that according to NOAA, El Ninos and La Ninas are not affected by increases in CO2 or any global warming that CO2 is claimed to caused.
It was while I was trying to find the cause of the unusual cooling period from 1945 to 1975 that I noticed a possible breakthrough. The cooling period from 1945 should not have occurred according to either of the competing solar or greenhouse theories, nor does it make sense from the standpoint that both theories may have contributed equally to the warming of the last 40 years (Solanki 2007).
The graph below is temperature observations since 1880 from the National Oceanic and Atmospheric Administration (NOAA). Notice the cooling period between 1945 and 1975. According to the greenhouse theory, this cooling period should never have happened because the atmospheric CO2 was steadily increasing. The same is true for the solar theory, solar activity was on the rise since 1910, the end of the Kristen minimum, and continued until 1960, then leveled out and has slightly fluctuated since. Before that period there was striking correlation between solar activity and temperature.
The graph below is the El Nino Southern Oscillation for about the same time period. This graph shows the strength and duration of El Nino and La Nina events. Notice how in 1998 there is a large El Nino, and notice how the global mean temperature in the graph above suddenly begins to climb at the same time. In the graph above, notice how the temperature drops between 1992 and 1995. But notice how there is a strong El Nino at the same time, this is the effect of Mt Pinatubo causing cooling despite the strong El Nino.
Notice 1943, there were several consecutive La Ninas, right about the same time that the anomalous cooling period began. At this time, solar activity was increasing and CO2 was increasing.
It became quite apparent to me that the El Nino Southern Osscilation was simply running negative between 1943 to 1975 and the globe experienced cooler temperatures, after that, it began to run more positive, thus the globe began to warm. To better demonstrate this point, the two graphs below cover the two time periods.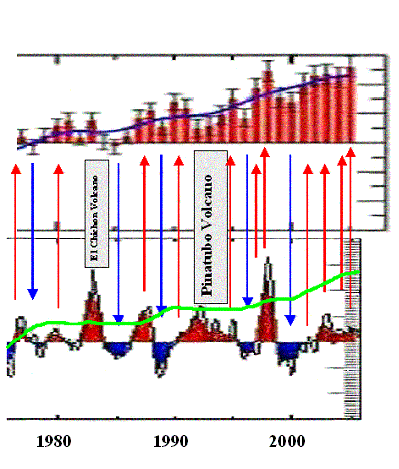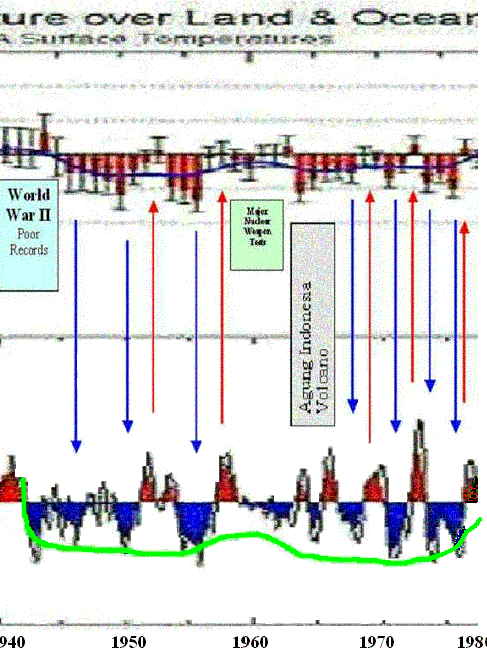 The graph below is the same ENSO graph with those two periods highlighted using temperatures from NOAA (green line).
I conclude this paper with the following comments. There is sufficient evidence to conclude that the IPCC and other champions of greenhouse theory have miscalculated why the Earth is warming. On the other hand, it really does not matter because it will not be long before the fossil fuels that the greenhouse theorists say are the cause of global warming will run out. It would be absolutely irresponsible for the people of the world to ignore this reality and do nothing while the debate continues. Regardless of the outcome of this debate, there is common ground that both sides can find that will lead to solutions. I would be the first person that would point to overpopulation as a root cause and yell, "STOP HAVING BABIES!!!" I would also point out that when the oil and coal have run out there needs to be a system of energy production in place to satisfy the world's energy needs, and that such a system of energy production will be just as profitable as the system in place today. I would point out to the wealthy oil people and countries, that their children are going to be poor and broke unless they start to invest some of their profits in wind, geothermal, solar and etc. very soon.
Further research on the cooling effects of nuclear testing in the 1950's and 1960's needs to be done.
Solar activity is and has always been what drives the climate system.
Steps need to be taken to create distance between science and political parties, and science and financial motives.
The CO2 molecule has been given way too much power in Earth's atmosphere. The CO2 molecule did not come from the same man who sold Jack his beanstalk beans.
©
Kristen Byrnes
and Ponder the Maunder - All Rights Reserved. Reprinted on GlobalWarmingHoax.com with Permission.