»
Marvel et al.'s new paper on estimating climate sensitivity from observations


A guest post by Nic Lewis Introduction and summary Recently a new model-based paper on climate sensi ...

»
Reply to Patrick Brown's response to my article commenting on his Nature paper


Introduction I thank Patrick Brown for his detailed response (also here) to statistical issues that ...

»
Polar Bears, Inadequate data and Statistical Lipstick


A recent paper Internet Blogs, Polar Bears, and Climate-Change Denial by Proxy by JEFFREY A. HARVEY ...

»
Brown and Caldeira: A closer look shows global warming will not be greater than we thought


A guest post by Nic Lewis Introduction Last week a paper predicting greater than expected global war ...

»
US East Coast Sea Level Rise: An Adjustocene Hockey Stick


In 2011, Andy Revkin wrote an article (archive) entitled "Straight Talk on Rising Seas in a Wa ...

»
New Antarctic Temperature Reconstruction


Stenni et al (2017), Antarctic climate variability on regional and continental scales over the last ...

»
Reconciling Model-Observation Reconciliations


Two very different representations of consistency between models and observations are popularly circ ...

»
Part 2- The TV5 Monde Hack and APT28


In his attribution of the DNC hack, Dmitri Alperovitch, of Crowdstrike and the Atlantic Council, lin ...

»
From Nigerian Scams to DNC Hack Attribution – Part 1


In Crowdstrike's original announcement that "Russia" had hacked the DNC, Dmitri Al ...

»
Guccifer 2: From January to May, 2016


Within the small community conducting technical analysis of the DNC hack, there has been ongoing con ...

License Plate Frames
Support the Truth


"SKEPTIC"




"It`s Natural"




"Liberty"

* MORE *
Strong and durable metal license plate holder. Uses full color high resolution images. UV and Water Protection. Satisfaction Guaranteed

You can now visit us on your mobile phone! Simply goto http://GlobalWarmingHoax.com on your mobile phone or PDA to get started!
Ponder the Maunder
Problems with Greenhouse Theory
The following section is an attempt to explain how molecules transfer heat from the surface of the Earth then up through the atmosphere and eventually into space. (The information from this section is compiled from dozens of science web sites and discussions with 2 scientists, I did my best!)
Atmospheric Football
We all understand the game of American football, but in the game of "atmospheric football", the rules are different. In this game there is no "out-of-bounds", no tackles, no scrimmage line, and no dead ball. In this game there is constant pressure by the coaching staff to move the ball up field (equilibrium) and by up field I mean straight up. Here, even the defense moves backwards, or up field. A play starts at the goal line where the quarterback takes the snap (a photon is emitted by the Earth's surface or heat is transferred by collision). The quarterback either hands the ball to a runner (heat is transferred to another molecule via collision) or the quarterback passes the ball (molecule emits the photon). In our game, when the ball is passed, it must turn back and forth (oscillate) at precisely the right speed (wavelength) in order to be caught (molecule absorbs the photon). If the football is not caught, then it continues in the same direction until another player catches it. If the passed ball is oscillating at the right speed and is caught, the receiver becomes happy ( molecule becomes excited) and the receiver begins to run up field. As usual, when someone runs, they begin to heat up (the excited molecule heats up from kinetic energy). Sometimes the receiver is hit in the secondary and becomes less happy, of course the player that hit him becomes more happy (heat is transferred from molecule to molecule via collision). Sometimes the receiver will run all the way to the other end of the field for a touchdown where he will throw the ball into the ground or spike the ball (excited molecule relaxes and re-emits the photon) and the ball will bounce in any direction. But in atmospheric football, there are many more fields to continue on, field after field… and the ball is never down or dead. So another player catches the ball and continues to run until he collides with another player or makes it to the next goal line where he spikes the ball.
In reality, especially in the bottom of the atmosphere, the player with the ball never makes it to the goal line to spike the ball ( the molecule doesn't reach its relaxed state and emit a photon) because of collisions. It takes a CO2 molecule time to go through the process of absorption, relaxation and re-emission. During this time the molecule suffers many collisions with other molecules. Now imagine myriads of footballs and players all moving up the field at once with trillions and trillions of happy players running onto the field and footballs being hiked every second, photons being absorbed creating excited molecules and excited molecules colliding with each other, transferring their energy as they move upward as heat rises (moves up field). Not only will the heated molecules move upward, but they will also move from side to side, moved by wind and the Coriolis effect. This is what you would see if you were the size of a molecule watching heat being transferred from the Earth's surface up into the atmosphere as it rises to reach equilibrium. By now you should have figured out that the players represent molecules in the atmosphere. The description above would describe the atmosphere on a dry sunny day. Now let's add some water vapor. Water vapor, being a greenhouse gas can also catch the football. But water can catch the ball at many different wavelengths compared to CO2, but CO2 can not catch the ball at as many wavelengths as water vapor. There are also thousands of water molecules for every CO2 molecule. This is the problem with greenhouse theory when it comes to CO2 discussed earlier. Just how many of the photons do the CO2 molecules catch, especially considering that there are many more water vapor molecules in the air around them?
This is a huge problem for the IPCC and greenhouse gas theorists. Not only do they have enormous numbers of calculations to make for each cubic meter of atmosphere, but those calculations change every few seconds depending on temperature, humidity, elevation, latitude, local geography, clouds, wind, time of day, season, and etc. They try to use super computers to make these calculations, but even the best computers are not powerful enough, which is why computer climate models are still only "an approximation of reality" (Veiser 2000).
In the atmosphere the molecules represent the following percentages:
N2= 78.08%
O2= 20.93%
ARGON= .93%
CO2= .038%
Other gases make up the remaining fraction.
Water vapor is not considered as a part of the atmosphere, its content can vary widely, but is usually present at the average level of 3%.
Another problem that has been suggested with the whole radiative-heat transfer theory proposed by the IPCC is because as altitude increases, density decreases, thus leading to fewer and fewer collisions. There are fewer molecules in a unit of space above than below. I would agree that CO2 molecules would suffer fewer collisions at higher altitudes and have a chance to relax and emit their photons in all directions, 50% in an upward direction and 50% in a downward direction. But the photons headed upward are going to travel farther than the photons traveling downward because of the lower density above. Further, as the photons travel downward and are absorbed by CO2 molecules, they are again subjected to collisions. This makes me wonder how a photon can make it back to the surace of the earth and reheat the surface.
Computer Climate Models
The only way to properly measure the warming effect of a given gas is to use complicated quantum mechanic calculations that are too complex and beyond the ability of today's super computers. "One convenient approach is to remove the chosen constituent (for instance H2O or CO2), leaving all other absorbers and the temperatures, untouched, and monitoring that infrared radiation escaping to space." (w) This method gives the author the ability to offer numerical values that are expected in scientific studies. The problem with this universally used method of determining the effects of individual greenhouse gases is that it can not take into account the overlapping absorption of the same wavelength by different molecules. Nor does it take into account the different effects of the interactions of molecules and photons at different temperatures, barometric pressures, latitudes, altitudes, etc. especially when water vapor and clouds are considered.
This is likely the reason that computer models never seem to be able to predict the climate, not to mention the weather two weeks in advance. Maybe you, or someone you know, received a bill from the cable company that was too high. When you call the billing department you were told "it was a computer error." At this time you may have wanted to say "no, it was not the computer that messed up, it was the person that hit the wrong keys when they entered the data into the computer." The errors in computer climate models are because the values used as a foundation are in error.
There are some "methods" to prevent incorrect outcomes that would obviously result by using incorrect values as a basis for predicting climate. The common trick by people who predict climate is to give a few different possible predictions, i.e:
Prediction 1) The climate will be cooler

Prediction 2) The climate will stay about the same temperature

Prediction 3) The climate will get warmer
This always gives them the ability to say "ah-ha, see, I was right!" Of course, it also gives their detractors the ability to point to one of the two incorrect predictions and say, "ah-ha, see, you were wrong!" An example of this exact problem can be seen in Michael Mann's 2006 testimony to Congress.
Glaciers
There has been a lot of discussion about how receding glaciers are indicators of global warming. Most of the Earth's glaciers are receding while the others show no change or increase in volume. The reason that some glaciers are increasing in volume is because changes in precipitation patterns.
According to a study of Greenland's glaciers by Glaciologists Jacob Yde and Neils Knudson, glaciers in Greenland started melting over 100 years ago before CO2 levels rose above interglacial norms.
Also, a study by NASA shows that while the Antarctic and Greenland ice sheets are melting near the seashore, the center of the ice sheets are increasing in mass.
Global average sea level in the last interglacial period (about 125,000 years ago) was likely 4-6 meters higher than during the 20th century, mainly due to the retreat of polar ice. Ice core data indicate that average polar temperatures at that time were 3 -5 °C higher than present because of differences in the Earth's orbit. The Greenland ice sheet and other Arctic ice fields likely contributed no more than 4 m. of the observed sea level rise. There may have also been a contribution from Antarctica. (IPCC 2007)
Political Problems
Suppose my stepdad cooked a wonderful pot of stew, my mom made a great salad and I baked a tasty pie. Then suppose we all started to argue over whose was best. Suppose we bickered so much that we all just ended up eating only what we made. We would have lost the benefit of the meal.
The greatest disservice to understanding global warming has been the introduction of politics, rather than the analysis of quality science. When a scientist publishes a study, that study should be reviewed by another or group of scientists who then publish their review. The initial scientist then has an opportunity to refute anything in the review. A separate group of scientists should then publish an objective finding of what was learned. This process would ensure a much more effective advancement of science and learning. But unfortunately this is not the case. There are corporate and business interests that use their economic power to corrupt science to ensure profits. There are also people who are so polarized by their political beliefs that they are incapable of considering new data unless it supports their views. Both sides are guilty of each and there are scientists who are harassed by each side. Both sides are supported by financial interests, whether it is "big oil," "green industries who want sequestering contracts" or "countries seeking payments, technology transfers and industrial competitive edges." And both sides are severely biased by polarizing views. What both sides need to do is realize that there is good data being discovered in each new study that is published.
Many good scientists are being intimidated by accusations from political activists. One example of this comes from a public blog entry by Astrophysicist, Nir Shaviv,
"Anyway, if you "smell oil", perhaps it is because we were told too many times that if someone is against anthropogenic GHG he is 'one of them, one of the bad guys'. The climate community turned many of us into paranoids. You smell oil everywhere even where there is no drop of it. The difference between us, though, is that my research led me to change my preconceptions, so I am not gullible to the propaganda I hear (and I admit I used to be before stumbling into the field)."
One example of this area of the debate is surrounding the need for the Kyoto Accords.
The IPCC
The Intergovernmental Panel on Climate Change was created in 1988 within the United Nations framework to assess the risk of human induced climate change. The IPCC has since been discussed and their reports criticized in most debates on global warming. The reports and evidence produced by the IPCC have most often been used to promote the Kyoto Protocols. (w)
The Kyoto Protocols are a treaty whereby cooperating countries must reduce their per-capita CO2 emissions below 1990 levels. (w)
"The Protocol also reaffirms the principle that developed countries have to pay, and supply technology to other countries for climate-related studies and projects." (w)
Industrial competitors of the US such as China and India are exempt from emission reduction requirements of the Kyoto Protocol as are all third world countries.
Former members of the Soviet Union will benefit from the Kyoto Protocols because their economies have shrunk and their current emissions are already well below 1990 levels. (w)
European countries quickly signed the Kyoto Protocols, because they are financially benefited by the treaty, and because environmental organizations are powerful in Europe. (w)
In reality, the United States is the country that would be required to pay the majority of money to other countries because of the likelihood that the U.S would not meet emission requirements. This would result in the American consumer paying higher energy costs. The U.S Senate has already passed an unanimous resolution rejecting the current Kyoto Protocols. (w)
In my view, the IPCC and their public relations people have created a trust issue. One reason is that the release of their 2007 summary was accompanied by a press release claiming that the report was the product of "The world's leading climate scientists." Who made these people the worlds leading climate scientists? The press release.
Another example of this trust problem is demonstrated in the IPCC graph below. This graph was released with the IPCC's 2007 summary that concluded that they are 90% certain that man made CO2 is responsible for much of 20th century warming. This graph is based on their radiative heat transer theory. It attempts to demonstrate how much each radiative forcing component has contributed to global warming. Now look at the column on the far right labeled "LOSU." This is the level of scientific understanding for each component. Notice how most components have a medium or low level of understanding. Does this make you think that they are 90% certain of their conclusion?
Now look at the last component of the climate system, solar forcing. Notice that it comes with a "low" level of understanding. What bothers me is that the IPCC completely ignores the scientific understanding, studies and experiments related to the effect of galactic cosmic rays on cloud cover, such warming effect almost completely negates any warming that the IPCC theorizes is created by man made greenhouse gases.
"The 2% change in low clouds during a solar cycle will vary the input of heat to the Earth's surface by an average of about 1.2 Wm squared, which is not trivial. It can be compared, for example, with 1.4 Wm squared attributed by the Intergovernmental Panel On Climate Change for the greenhouse effect of all of the additional carbon dioxide in the air since the Industrial Revolution."
(C5)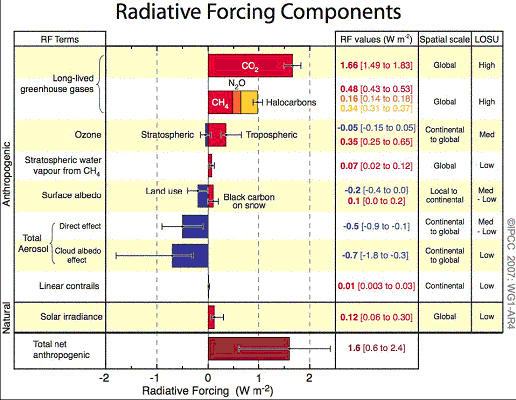 Scientific Consensus
Contrary to statements by political organizations, most scientists feel that it is possible that anthropogenic greenhouse gases "may" be responsible for some of the warming of the last 30 years, but have not made conclusive decisions. This is because of the following reasons:
1) Current estimations of greenhouse warming are based on computer models that have not been perfected and the values of different climate components are not scientifically proven, or are poorly applied.
2) Science still does not know what role water vapor plays in the greenhouse gas scenerio.
3) There are still other possibilities that can account for late 20th century warming.
4) A growing body of "empirical" evidence suggests that solar activity, its amplifiers such as cosmic ray flux and the resulting feedbacks such as increased atmospheric water vapor and decreased albedo are responsible for as much as 95% of 20th century warming.
The Climate Driver
A recent paper by Dr. Jan Veizer of Ottawa, Canada, based on dozens of studies and his own research of 40 years, concluded that solar activity has been the "climate driver" for billions of years. While the climate can be affected by the many factors listed above, it is the sun and its effects that have caused changes in climate for 4 billion years. Dr Veizer first set out to prove that CO2 was historically what caused changes in climate, but noted,
"Personally, this last decade has been a trying period because of the years of internal struggle between what I wanted to believe and where the empirical record and its logic were leading me."
Dr. Veizer did not discount the possibility that man made greenhouse gases contributed to warming of the last 30 years.
The same holds true for most scientists.