»
Marvel et al.'s new paper on estimating climate sensitivity from observations


A guest post by Nic Lewis Introduction and summary Recently a new model-based paper on climate sensi ...

»
Reply to Patrick Brown's response to my article commenting on his Nature paper


Introduction I thank Patrick Brown for his detailed response (also here) to statistical issues that ...

»
Polar Bears, Inadequate data and Statistical Lipstick


A recent paper Internet Blogs, Polar Bears, and Climate-Change Denial by Proxy by JEFFREY A. HARVEY ...

»
Brown and Caldeira: A closer look shows global warming will not be greater than we thought


A guest post by Nic Lewis Introduction Last week a paper predicting greater than expected global war ...

»
US East Coast Sea Level Rise: An Adjustocene Hockey Stick


In 2011, Andy Revkin wrote an article (archive) entitled "Straight Talk on Rising Seas in a Wa ...

»
New Antarctic Temperature Reconstruction


Stenni et al (2017), Antarctic climate variability on regional and continental scales over the last ...

»
Reconciling Model-Observation Reconciliations


Two very different representations of consistency between models and observations are popularly circ ...

»
Part 2- The TV5 Monde Hack and APT28


In his attribution of the DNC hack, Dmitri Alperovitch, of Crowdstrike and the Atlantic Council, lin ...

»
From Nigerian Scams to DNC Hack Attribution – Part 1


In Crowdstrike's original announcement that "Russia" had hacked the DNC, Dmitri Al ...

»
Guccifer 2: From January to May, 2016


Within the small community conducting technical analysis of the DNC hack, there has been ongoing con ...

License Plate Frames
Support the Truth


"SKEPTIC"




"It`s Natural"




"Liberty"

* MORE *
Strong and durable metal license plate holder. Uses full color high resolution images. UV and Water Protection. Satisfaction Guaranteed

You can now visit us on your mobile phone! Simply goto http://GlobalWarmingHoax.com on your mobile phone or PDA to get started!
Ponder the Maunder
Climate Reconstruction
It is important to reconstruct climate conditions so we can compare them to present climate conditions and judge if there are anomalies (anything out of the ordinary).
Methods of Reconstruction
There are many methods of reconstructing components of the Earth's climate. Each has its critics and supporters. I have reviewed arguments for each and have made common sense determinations on the effectiveness of each.
Instrumental Records
For obvious reasons, instrumental records are the most accurate of all methods of determining global temperature, CO2 levels, precipitation and etc. Instrumental records are the most severly limited because they can only analyze recent conditions. Temperature records have been measured instrumentally for about the past 150 years and CO2 has been measured instrumentally for about the past 40 years. Sunspots have been observed in Europe for about 400 years and in China for over 1,000 years.
"Following the invention of the telescope in about 1610 A.D., systematic scientific observations start to become available from Europe. Identification of possible intense historical geomagnetic storms using combined sunspot and auroral observations from East Asia."
(Wang 2002) To analyze conditions further back in history, scientists must analyze natural devices such as ice cores, tree rings and lake and ocean sediments.
Problems with instrumental temperature measurments can be related to their geographical location. For instance, records of temperatures taken from the ground can be biased by regional considerations such as geography or "urban heat islands."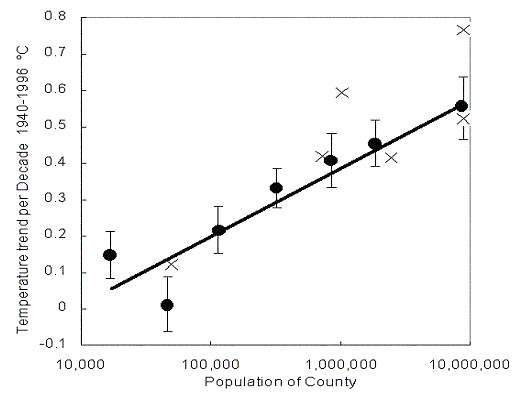 "Surface temperature trends for the period of 1940 to 1996 from 107 measuring stations in California counties. After averaging the means of the trends in each county, counties of similar population were bound and plotted as closed circles along with the standard errors of their means. The six measuring stations in Los Angeles County were used to calculate the standard error of that county, which is plotted alone at the county population of 8.9 million. The "urban heat island effect" on surface measurements is evident. The straight line is a least-squares fit to the closed circles. The points marked "X" are the six unadjusted station records selected by NASA GISS for the use in their estimate of global temperatures."
I feel the most accurate instrument for measuring mean global atmospheric temperature is satellites because they
"sweep over almost the entire globe as they take their measurements, covering about 95 percent of the Earth's surface. Oceans and continents, forests and factories are all incorporated into the satellite figures."
(C1) Satellite records are severely limited for observing history because they have only been in existence for the past four decades.
Bickering over Thermometers
There has been a lot of controversy about what thermometer system to use: satellite or surface thermometers. The fact is that each is measuring the temperature of different areas and both sets of data are valid and valuable to understanding global warming. The satellite thermometer measures atmosphere from the surface up to 5 miles. The surface temperature record is just that, the surface. The satellite record is a better measure of the atmosphere as it conducts heat from the surface. The surface record is a better measure of the heat that is entering the conduction system and better reflects the ocean temperatures that play a major role in that process. Below is a graph showing satellite temperature measurements for the past 27 years,
"The data used were obtained by the National Oceanographic and Atmospheric Administration TIROS-N satellite, and interpreted by scientists Dr. Roy Spencer (University of Alabama at Huntsville) and Dr. John Christy (University of Alabama at Huntsville) at the Global Hydrology and Climate Center (GHCC)"
(A1)
This graph is a record of air temperatures only in the lower troposphere (this is the Earth's atmosphere to 8 km or 5 miles up where all of the temperature variations affect everything from glacial melting to the air we breathe. This is also the part of the atmosphere where CO2 levels are measured for the Keeling Curve.)
The graph below is taken from Wikipedia and represents data from the Climatic Research Unit, School of Environmental Sciences, University of East Anglia, Norwich UK and covers the same time period as the satellite temperature record in the graph above.
These data are often used in the instrumental portions of the temperature reconstructions mentioned later in this paper. The trick to why these two temperature graphs look so different is found in the FAQ section on the East Anglia web page.
Question: "What are the basic raw data used?"
Answer: "Over land regions of the world over 3000 monthly station temperature time series are used. Coverage is denser over the more populated parts of the world..."
This statement has led many critics to point to urban heat island effect and how it makes average global temperature readings seem higher than they really are. If a majority of your thermometers are measuring temperatures where concrete holds heat longer at night and storm drain systems quickly remove water that would otherwise evaporate and thus cool the area, then you would expect increasing temperatures over time in growing populated areas. East Anglia claims that they have dealt with the problem of heat island effects but I have not been able to find their explanation or methods of this correction. The explanation continues,
"For marine regions sea surface temperatures (SST) measurements taken on board merchant and some naval vessels are used."
This statement about using sea surface temperature leads to the next
FAQ: Why are sea surface temperatures rather than air temperatures used over the oceans?
Here one must understand that the temperature of the ocean surface is used as the basis of the air temperature above. This is an accurate method of determining the temperature of the air just a few meters above the ocean. Once again, if the ocean temperature is increasing, as this report suggests, then the air temperature within a few meters of the ocean will also increase. (A2)
Ice Cores
Ice cores are samples from layers of snow and ice, and in these ice core samples are layers of different materials that fell from the atmosphere when that layer of ice formed. This is how scientists can tell when something happened with the atmosphere by measuring isotopes in the ice or gases in the bubbles of the ice core.
Scientists have used ice cores drilled from glaciers all over the world to determine many climate factors. There are many arguments related to reconstructing climate factors using ice cores. The most effective argument against is related to learning the age of the ice being analyzed. It takes many years for snow to develop into ice. There are also suggestions that CO2 degrades in this time (CO2 levels are measured from tiny air bubbles in the ice). Scientists have admitted that they calibrate their ice core data using variances of as much as 93 years. Ice cores seem to be the most accurate preinstrumental measure of most climate factors because: 1) There has been substantial peer review of this measuring technique without substantial disagreement. 2) There are no major anomalies in the data. 3) There has been calibrating data from other sources.
What some people seem to have missed is that ice cores tell a story of temperature for their location. Isotopes that are indicators of solar activity are not limited by region restriction because unlike temperature and precipitation, solar variation is not regional.

Tree Rings
Let's face it, if there ever was a good, accurate way to tell when something happened, tree rings are a quality method to use. A new tree ring grows every growing season, or every year. There is little disagreement about tree rings being a good way to reconstruct particular levels of isotopes in the atmosphere during a particular time. Tree rings are also a good source for data if you want to know what a particular growing season was like. However, there is great disagreement when only tree ring width and density is used to measure climate factors related to a growing season such as sunlight, temperature or precipitation.
"Tree rings are only laid during the growing season, not the whole year, and so they tell us little or nothing about annual climate."
Sediments
Here I break sediments into two areas; ocean and lake bottom. Ocean sediment records are useful in measuring many climate factors. For instance, when attempting to measure past temperature, scientists might study past water levels; when the Earth warms, polar ice melts and is added to the total amount of water in the ocean causing water levels to rise.
Lake sediments are also useful in examining some climate factors in some areas. For instance, as global temperatures cool, some regions experience increased precipitation. Therefore, there are thicker sediment layers in some lakes in years when the global climate is cooler.
In both lake and ocean sediments, scientists also observe minerals and isotopes in the sediment and related fossils.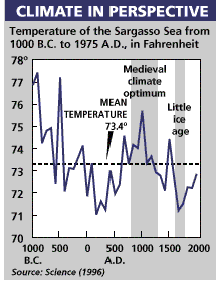 Stalagmites/Stalactites
"These limestone structures, built from calcium carbonate deposited by running water, are layered like rings in a tree, with stalagmites usually having sharper, more easily studied rings."
"The dating techniques are based on the radioactive decay of uranium and allow scientists to determine the ages of material much older than can be determined using carbon dating."
(A3)
Each year, as water seeps down into the ground and into a cave, stalagmites and stalactites grow by a small amount.
Scientists have attempted to use only stalagmite ring width to help determine climate variables. In one such study, the rings of a stalagmite was compared to tree rings in the same region
"and found no correspondence."
(Polak and Amerson 2001)
Stalagmite studies can yield a wide range of calibrated and accurate information on isotopes.
The graph below is from a study (Neff et al 2001) of a stalagmite in Oman showing correlations between isotope levels of C14 (solar activity) and O18 (temperature) over a period of millions of years.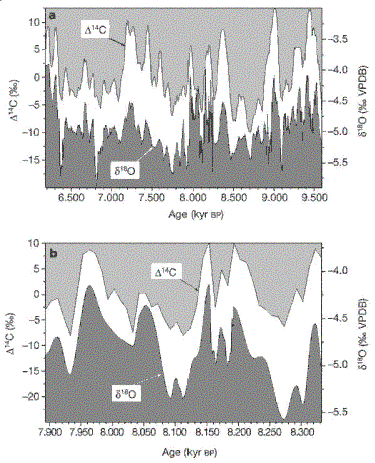 Historical Records
While historical records beyond 150 years do little to give accurate data on climate factors such as temperature, they are confirming evidence of long term trends in changing climate. Human behavior is human behavior. When the climate warms, humans will settle in higher latitudes and elevations where the land can be cultivated. When faced with approaching glaciers, humans will move out of their way. It is a simple matter of survival. One example of historical records confirming climate change is Viking settlements (1000 A.D.) in Greenland during what is known as the Medieval Warm period. When the climate was warmer about 1,000 years ago, the Vikings settled parts of Greenland. About 400 years later when the climate began to cool, they abandoned their settlements.
Some historical records, such as those from East China, were of direct observations of day to day weather. The graph below is a climate reconstruction using those records.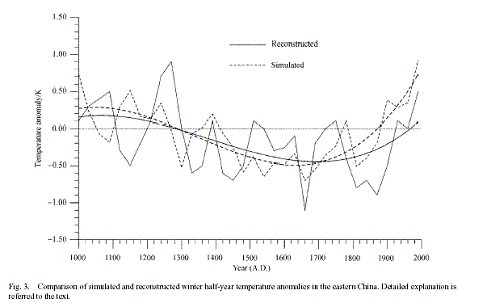 Calibration
Calibration is when you try to determine the year that a portion of ice core, tree ring, ocean sediment etc. was formed. For example, a scientist might have a portion of an ice core and not know what year the ice formed. Let's suppose that there is a recent layer of dust in the ice core that looks like layers of dust from Mt. Tambora from other ice core samples. Since every volcanic eruption has its own mineral "fingerprint" the scientist could determine that this particular layer of dust and the ice surrounding it was formed shortly after 1815 A.D.
Isotopes
Oxygen 18
"O-18 is used to retrieve the original temperatures of the precipitation during different years by analyzing the isotope ratio of the respective annual layers of ice."
(A4)
The graph below is from Quelccaya ice cap, Peru and shows temperature reconstruction using O-18 isotopes from about 400 A.D. to 1990.
Carbon 14
"Carbon-14 is produced in the upper layers of the troposphere and the stratosphere by thermal neutrons absorbed by nitrogen atoms. When cosmic rays enter the atmosphere, they undergo various transformations, including the production of neutrons. The resulting neutrons participate in the following reaction: n + N14 -> C14 + H1

The highest rate of carbon-14 production takes place at altitudes of 9 to 15km (30,000-50,000 ft), and at high geomagnetic latitudes, but the carbon-14 readily mixes and becomes evenly distributed throughout the atmosphere and reacts with oxygen to form radioactive carbon dioxide."
(A6)
The graph below is a solar activity reconstruction using C14 and shows the events associated with solar activity over the last 1,100 years.
Beryllium 10
"Sunspot activity can be deduced from beryllium-10 in Greenland and Antarctic ice cores. The reasoning is as follows: more sunspots imply a more magnetically active sun which then more effectively repels the galactic cosmic rays, thus reducing their production of Be-10 in the Earth's atmosphere. Be-10 atoms precipitate on Earth and can be traced in polar ice even after centuries. Using this approach, scientists... have reconstructed the sunspot count back to the year 850..."

"Beryllium 10 produced in the atmosphere by cosmic rays readily attaches to aerosols and gets snowed out onto ice caps, leaving a clear signal in the ice core of variations in the cosmic ray flux... The decrease in Beryllium 10 since 1900 reflects the decrease in the cosmic ray flux over this period. The reason is that the solar magnetic flux has increased by almost a factor of 2 since 1900, for reasons that are not fully understood."
Work done with Beryllium-10 shows that the sun goes through prolonged period of anomalous behavior in addition to its regular 11 year cycle. (A7)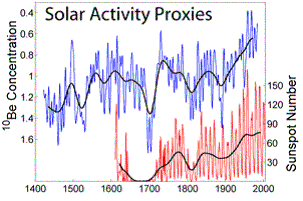 Temperature and Sunspot Reconstructions
The graph below is a sunspot reconstruction for the last 12,000 years. This graph shows a relatively stable sun until about one hundred years ago (Solanki et. al 2005). The blue line is the sunspot number from Be10. The red line is the observed sunspot number for the last 400 years. This study indicates that the sun is burning brighter now than it has at any time in the last 11,000 years.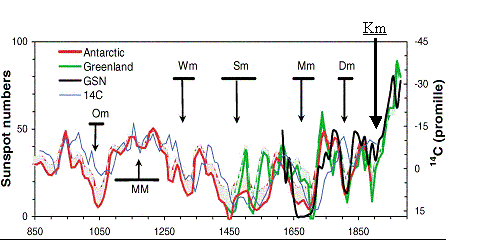 The next graph is a sunspot reconstruction from the last 1,200 years and shows the climate and solar events (Kristen Minimum added). Notice the strong sunspot number on the right known as the modern max. This is comparable to the tip of the "hockey stick" that is shown in temperature reconstructions later in this paper. (Solanki 2004)

The graph above is a temperature reconstruction for the 1,800 years by Moberg et al 2005. Temperatures were taken from tree rings and lake sediments.
"The red line on the graph are direct instrumental measurements from the past 150 years. The gray indistinct plots are the measurements taken from data. The black line is a 5 year average of the data."
There are many temperature reconstructions available, and of all the temperature reconstructions, the 2005 Moberg reconstruction received the least criticism.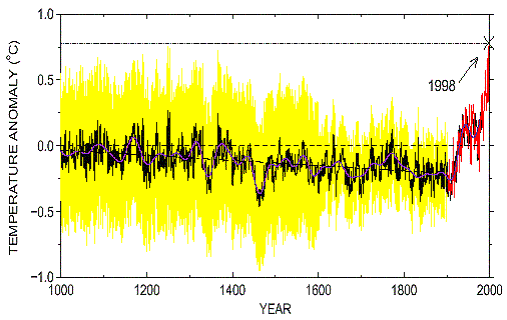 The graph above is a temperature reconstruction of the Northern Hemisphere by Michael Mann, Associate Professor, Departments of Meteorology and Geosciences, Penn State University. This graph became to be known as
"the hockey stick."
The yellow area on the graph shows the margin of error, and the red area on the right is the temperature record of the past 150 years. The reduction in the margin of error at about 1600 A.D. is due to the addition of Oxygen 18 isotopes from ice cores added to data that is based on tree ring width and density. (A8)
This temperature reconstruction sent shock waves through the climatology community as it suggested that the global temperature over the past 1,000 years changed very little until the last 150 years. To this point, the overwhelming scientific consensus, based on numerous studies, was that solar variation was responsible for global temperature variations including 20th century warming. Amongst the fiercest criticism was that this reconstruction
"turned the Little Ice Age and Medieval Warm Period into non-events."
This temperature reconstruction was incorporated into the IPCC 2000 report on climate changed despite the fact that the title of the study was
"Northern Hemisphere Temperatures During the Past Millennium: Inference, Uncertainties and Limitations."
The IPCC went on to say that there was a
"discernible human influence on global climate."
Following this statement, Michael Mann went on a
"grand tour of major media outlets."
Following the release of the IPCC report, Mann, an accomplished professor and researcher, came under fire from skeptics that at one point forced him to modify his graph. Mann was not without support, principally from other climatologists who have in general recreated his conclusions and environmental organizations that were politically benefited. The debate over climate change became an ugly political fight with charges and counter charges being flung back and fourth. Mann was criticized principally by McKitrick and McIntyre of Canada who criticized details of Michael Mann's data and methods. Web sites were in turn set up to criticize skeptics of Michael Mann. This political environment created difficulty in writing this paper as the political, financial, and organizational motives of each source of information needed to be assessed.
Perhaps the most damage to Michael Mann's credibility came from Michael Mann himself in his 2006 testimony before a congressional oversight committee where he stated,
"Hundreds of scientists work in this field and we are a competitive bunch. We compete for scarce research dollars, academic recognition and professional standing."
He further testified that the word
"likely"
only carried a
"65% probability"
and that his work in 1998 that was accepted by the IPCC was temperature reconstruction in its infancy. If anything in his 2006 testimony is valid, it is that most studies in the seven years since "...using different data and different statistical methods have re-affirmed...Northern Hemisphere warmth appears to be unprecedented over at least the past 1,000 years." (A9)
What Michael Mann and his supporters never mentioned is that solar activity is also unprecedented for the past 1,000 years and this was known to science at that time. What was not known to science at that time is that solar activity is actually unprecedented for the last 11,000 years. (Solanki et al. 2006) What every one else seemed to miss is that Michael Mann's temperature reconstruction, while it contained some flaws that caused changes in mean Northern Hemisphere temperatures to appear smaller, contained nothing new. Michael Mann's graph was a temperature reconstruction of the Northern Hemisphere. The scientific community already knew that the largest changes in temperature are observed at the poles. Temperature changes in the tropics are minimal and an average of all temperature changes of an entire hemisphere will be about one-eighth of the temperature changes at the poles.
"Dansgaard and Oeschger were correct when they told us that the climate shifts were moderate, rising and falling over a range of about 4 degrees C in Northern Greenland, with very little temperature
change at the equator and only half a degree when averaged over the Northern Hemisphere."
(A10)
The most reasonable criticisms of Michael Mann's study, and later studies used to back up his conclusions, was where data taken primarily from trees in one location was compared to data taken by surface records from other areas, especially the oceans. None of the temperature reconstructions used by the IPCC includes reconstructions that use data from the oceans, but they compare those reconstruction temperatures to present data sets that include ocean temperature. This would be like me taking temperatures from trees in Maine for the past thousand years and comparing them to instrumental temperature records of the past 100 years from Southern California. The other most reasonable criticism of Michael Mann's conclusions was where he tried to claim the Medieval Warm period and Little Ice Age did not exist globally. A 2003 study by Soon and Baliunas compiled over 100 studies, both before and after Mann's study, which clearly indicated the presence of these two climate events.
As for Michael Mann, his credibility in the eyes of the scientific community as a whole will likely never recover. While researching this paper I read emails and blog entries from college professors and graduate students who all seem to think that Michael Mann's behavior throughout the whole process hurt him. They felt that he should have placed more emphasis on the truth; that his tree ring study was a relatively new branch of science and that there would be more work needed to perfect his methods. That when presented with an error in his data or methods he should have said, "Thank you, here is the corrected version." Instead, he argued and escalated the problem. He will only have supporters on one side of the debate who are politically polarized. The real loss to science will be the data in Michael Mann's study that gives information on past regional weather patterns.
©
Kristen Byrnes
and Ponder the Maunder - All Rights Reserved. Reprinted on GlobalWarmingHoax.com with Permission.