»
Marvel et al.'s new paper on estimating climate sensitivity from observations


A guest post by Nic Lewis Introduction and summary Recently a new model-based paper on climate sensi ...

»
Reply to Patrick Brown's response to my article commenting on his Nature paper


Introduction I thank Patrick Brown for his detailed response (also here) to statistical issues that ...

»
Polar Bears, Inadequate data and Statistical Lipstick


A recent paper Internet Blogs, Polar Bears, and Climate-Change Denial by Proxy by JEFFREY A. HARVEY ...

»
Brown and Caldeira: A closer look shows global warming will not be greater than we thought


A guest post by Nic Lewis Introduction Last week a paper predicting greater than expected global war ...

»
US East Coast Sea Level Rise: An Adjustocene Hockey Stick


In 2011, Andy Revkin wrote an article (archive) entitled "Straight Talk on Rising Seas in a Wa ...

»
New Antarctic Temperature Reconstruction


Stenni et al (2017), Antarctic climate variability on regional and continental scales over the last ...

»
Reconciling Model-Observation Reconciliations


Two very different representations of consistency between models and observations are popularly circ ...

»
Part 2- The TV5 Monde Hack and APT28


In his attribution of the DNC hack, Dmitri Alperovitch, of Crowdstrike and the Atlantic Council, lin ...

»
From Nigerian Scams to DNC Hack Attribution – Part 1


In Crowdstrike's original announcement that "Russia" had hacked the DNC, Dmitri Al ...

»
Guccifer 2: From January to May, 2016


Within the small community conducting technical analysis of the DNC hack, there has been ongoing con ...

License Plate Frames
Support the Truth


"SKEPTIC"




"It`s Natural"




"Liberty"

* MORE *
Strong and durable metal license plate holder. Uses full color high resolution images. UV and Water Protection. Satisfaction Guaranteed

You can now visit us on your mobile phone! Simply goto http://GlobalWarmingHoax.com on your mobile phone or PDA to get started!
Ponder the Maunder
Climate in Context
The Earth has been in an ice age for quite some time, which is interrupted by periods of "interglaciation" (warm climate) about every 100,000 years, when mean global temperatures rise 10 to 12 degrees Celcius.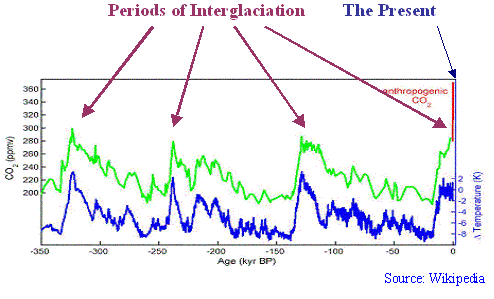 The blue line in the graph above is a reconstruction of global temperatures for the past 450,000 years taken from ice cores from the Vostock glacier in Antarctica. The green line in the graph above shows how closely changes in carbon dioxide and temperature correlate. But as you can see, the man made increase in atmospheric carbon dioxide (in red) nearly sky-rockets off this chart, but the temperature does not follow.
Also, some have tried to say that CO2 has caused temperature changes during this time; not true. "... new high-resolution studies show that at times of cold to warm transitions, temperature changes come first, leading CO2 changes by several centuries (Mudelsee, 2001; Clark, 2003; Vakulenko et al., 2004). If so, the CO2 levels would be response to, and not a cause of, the change in temperature (climate). CO2 may then serve as a temperature amplifier, but not as the climate driver." (C6)
It is generally understood that periods of glaciation and interglaciation are caused by changes in the Earth's orbit around the sun, not by changes in atmospheric CO2 as some have recently tried to suggest.
The graphics above represent the changes in the Earth's orbit around the sun. There are also changes in the Earth's angle and wobble as it moves through space that contribute to major climate changes. Taken together they are known as the "Milankovitch Cycles." As the Earth goes farther away from the sun, or as the angle of the Earth changes, climate changes.
The Spectrum
Photons are the basic unit of light, they are particles that have no charge or mass. They are also called electromagnetic radiation. The photon is always the same thing, but oscillates at different speeds. The spectrum is how light is organized from the fastest oscillation to the slowest. There are six types of light in the spectrum; radio waves, infrared, visible light, UV light, X-ray, and gamma rays. Each part of the spectrum has its own frequency (number of oscillations in a second) and wavelength (the distance in which a photon travels at the speed of light in one oscillation). The photons with the highest frequency and the shortest wavelengths have very high energy (the gamma rays). The low frequency photon with the longest wavelength has low energy (radio waves).
©
Kristen Byrnes
and Ponder the Maunder - All Rights Reserved. Reprinted on GlobalWarmingHoax.com with Permission.