»
Marvel et al.'s new paper on estimating climate sensitivity from observations


A guest post by Nic Lewis Introduction and summary Recently a new model-based paper on climate sensi ...

»
Reply to Patrick Brown's response to my article commenting on his Nature paper


Introduction I thank Patrick Brown for his detailed response (also here) to statistical issues that ...

»
Polar Bears, Inadequate data and Statistical Lipstick


A recent paper Internet Blogs, Polar Bears, and Climate-Change Denial by Proxy by JEFFREY A. HARVEY ...

»
Brown and Caldeira: A closer look shows global warming will not be greater than we thought


A guest post by Nic Lewis Introduction Last week a paper predicting greater than expected global war ...

»
US East Coast Sea Level Rise: An Adjustocene Hockey Stick


In 2011, Andy Revkin wrote an article (archive) entitled "Straight Talk on Rising Seas in a Wa ...

»
New Antarctic Temperature Reconstruction


Stenni et al (2017), Antarctic climate variability on regional and continental scales over the last ...

»
Reconciling Model-Observation Reconciliations


Two very different representations of consistency between models and observations are popularly circ ...

»
Part 2- The TV5 Monde Hack and APT28


In his attribution of the DNC hack, Dmitri Alperovitch, of Crowdstrike and the Atlantic Council, lin ...

»
From Nigerian Scams to DNC Hack Attribution – Part 1


In Crowdstrike's original announcement that "Russia" had hacked the DNC, Dmitri Al ...

»
Guccifer 2: From January to May, 2016


Within the small community conducting technical analysis of the DNC hack, there has been ongoing con ...

License Plate Frames
Support the Truth


"SKEPTIC"




"It`s Natural"




"Liberty"

* MORE *
Strong and durable metal license plate holder. Uses full color high resolution images. UV and Water Protection. Satisfaction Guaranteed

You can now visit us on your mobile phone! Simply goto http://GlobalWarmingHoax.com on your mobile phone or PDA to get started!
Follies in Measuring Global Warming II
New England Colleges
by: Kristen Byrnes
Thanks to the hard work of KBSF and Surfacestations.org volunteers, New England is the first region of the country where all active USHCN temperature stations have been photo-documented. 5 of the stations we surveyed are at great colleges here in New England. I don't know if any of the worlds leading climate scientists went to school at any of these colleges, but a few of them teach there.
To prevent inaccuracies in measuring temperature, the National Weather Service has guidelines for the sites where temperature stations are located. These include being 100 feet from pavement, that the station is farther than 4 times the height of trees or buildings, that it is 2 m above ground, not on a slope or near a body of water unless it is representative of the area and that it is not near any artificial heat sources.
To be fair to the colleges below, I don't know if they are involved in installing temperature stations so the poor siting should not reflect the quality of the colleges. All of these sites are used by NOAA and NASA GISS in measuring global warming and have been approved by the National Weather Service.

Located at the University of Connecticut Plant Sciences School, this weather station is in a tight race for the best sited college station in all of New England.
UConn at Storrs is a well-known Agricultural Campus that boasts a great Liberal Arts program.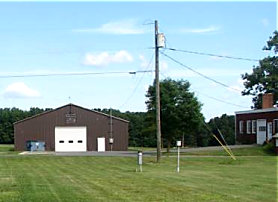 USHCN # 68138
NASA GISS # 425725080020
We thought the only problem with this site was that it violates the NWS distance to pavement, but the NCDC also lists the greenhouse and trees (wind blocks) in their obstruction/exposure section. The white birdhouse on the right is the old homemade shelter.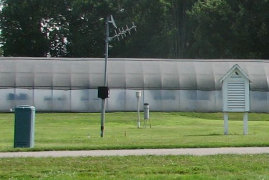 According to their website, "The University of Massachusetts Amherst is the flagship campus of the Commonwealth of Massachusetts' university system." Are you a Music fan? Starting this year, you can take one of two courses on The History of the Greatful Dead!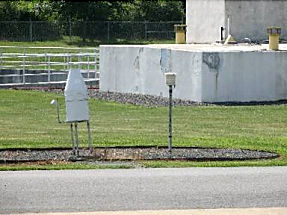 USHCN # 190120
NASA GISS # 425744910010
This is not the worst sited station in the country because concrete, pavement and buildings surround it on only three sides. In case anyone at NCDC reads this, there's mistake on the MMS equipment tab because that's an MMTS, not a Max-Min, it might be lacking an adjustment.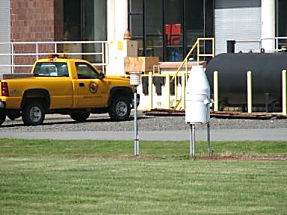 "Founded in 1769 and a member of the Ivy League, Dartmouth includes an undergraduate arts and sciences program and four graduate schools: Arts and Sciences Graduate Programs, Dartmouth Medical School, Thayer School of Engineering, and Tuck School of Business."
Located in Hanover, NH, Dartmouth is also home to the famous Shattuck Observatory where the USHCN weather station is located between the building and parking lot, which is upslope from numerous large buildings and surrounded by trees.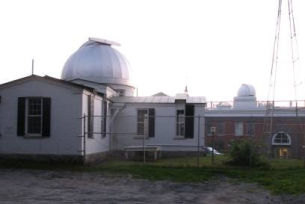 USHCN # 273850
NASA GISS # 425726040020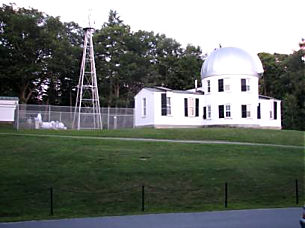 Located way up in potato country at the Aroostook Research Farm, this USHCN station is probably the best sited of all the New England colleges. The parking lot is only 47 feet away and the building and shack are not enough of an obstruction to the wind to be listed by NCDC.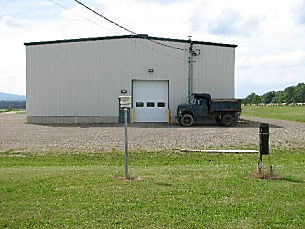 USHCN # 176937
NASA GISS # 425727130030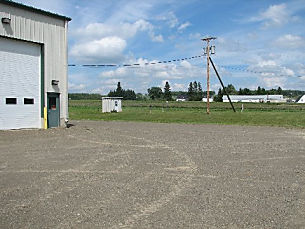 University of Maine at Orono is considered to have one of the best Earth Sciences departments in the country. Their atmospheric science classes are offered a study opportunity of a lifetime, because;
LOOK!
Up in the sky!
It's a bird!
No, it's a plane!
No, it's the USHCN weather station on top of the 3-story physics building!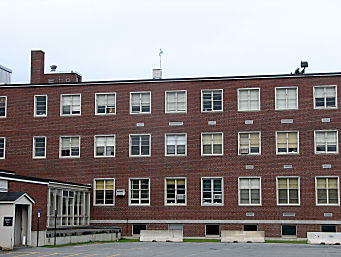 USHCN # 176430
NASA GISS # 425726190030
This site is obviously a little higher than the usual 2 meters above ground that is required by NWS. On any given day, students might study the effects of the 3 air conditioners directly below the temperature station or the nearby chimney, none of which are listed by NCDC's exposure/obstruction report.
©
Kristen Byrnes
and Ponder the Maunder - All Rights Reserved. Reprinted on GlobalWarmingHoax.com with Permission.
Share or Bookmark this Article Using:
| furl

| reddit

| del.icio.us

| magnoliacom

| digg

| newsvine

| Stumble_it

| Facebook

| Google

| Fark

| Sphere

| Netscape
| Technorati

| Yahoo!

|
Add to Favorites and Additional Bookmarks:
GlobalWarmingHoax.com - Where the Truth Heats Up ™